Florida Poly students shine at annual career fair featuring top STEM employers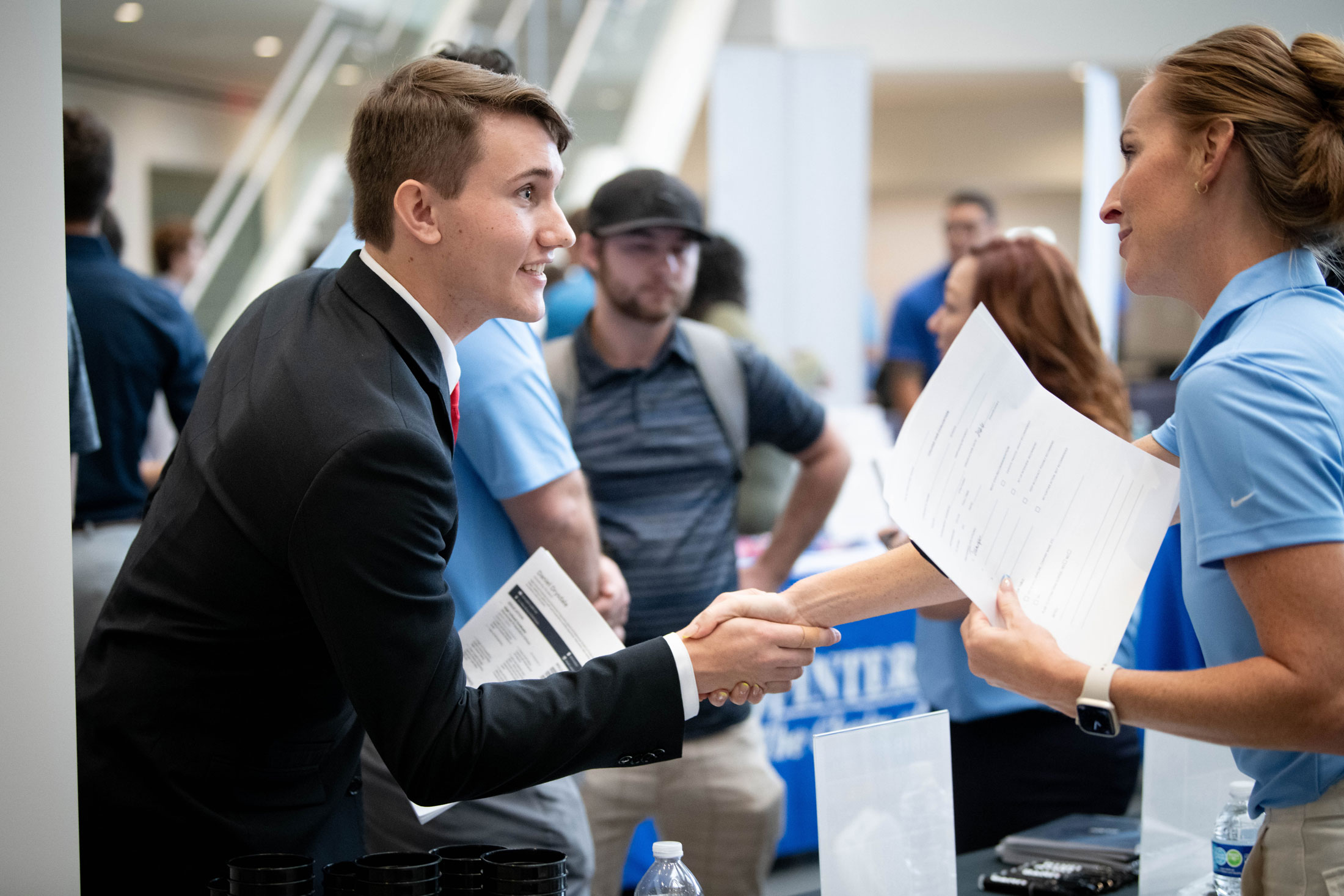 Florida Polytechnic University junior Mackenzie Stanfield dressed to impress at the University's annual fall career and internship fair this week, making a beeline to talk with representatives from two of the world's most respected employers – who also stood to make her professional dreams come true.
The Walt Disney Company and Universal Destinations & Experiences attended the event on Thursday, Oct. 6 at the Barnett Applied Research Center on campus, recruiting Florida Poly's talented STEM students for technical and engineering internships and full-time positions.
"I'm looking for ride development and research positions, ideally," said Stanfield, an electrical engineering major and graduate of Auburndale High School in Auburndale, Florida. "That's something I've always wanted to do. I love roller coasters and would love to be able to create them and make them safe and more of a thrill without increasing speed or danger."
The entertainment giants were among the nearly 60 employers who attended the career fair, making connections with more than 500 Florida Poly students.
Allison Pirpich, the University's director of career services and professional development, said the enthusiastic response from these and other top employers like Honeywell Aerospace, Duke Energy, Citi, Lakeland Regional Health, and Cemex is a sign that Florida Poly's reputation as a leading producer of high-skill, high-demand STEM graduates continues to grow. The companies represented a variety of industries including construction, manufacturing, government, defense, engineering, consulting, aerospace, renewable energy, logistics, and healthcare.
"Having these high-profile companies here means they recognize that our talent is of a great caliber, and it interests some of the state's biggest employers," Pirpich said.
Employers agreed.
"We have 42 internships that we're going to have next summer and we're looking for students in the data science and engineering fields for sure," said Sarah Brown, acquisition manager at Masonite, an international leader in interior and exterior door design, manufacturing, marketing, and distribution. "I've been coming here for four years, and you can just tell the quality of the students. It's fantastic."
Senior mechanical engineering major Matthew DeCicco was eager to get one-on-one time with recruiters from many companies.
"I'm looking for a job from one of these incredible engineering firms that lines up with what I've gotten to do at this University," said DeCicco, who is from Granby, Colorado. "I have quite a bit of experience. I work in the 3D printing lab and there I get ideas from professors, students, and community members and I produce them, going from idea to conception to creation.
"I love that all the employers here are looking to hire Florida Poly grads and they all have jobs available that fit what we are learning about at this University."
Contact:
Lydia Guzmán
Director of Communications
863-874-8557