Polyphonics bring barbershop harmonies to Florida Poly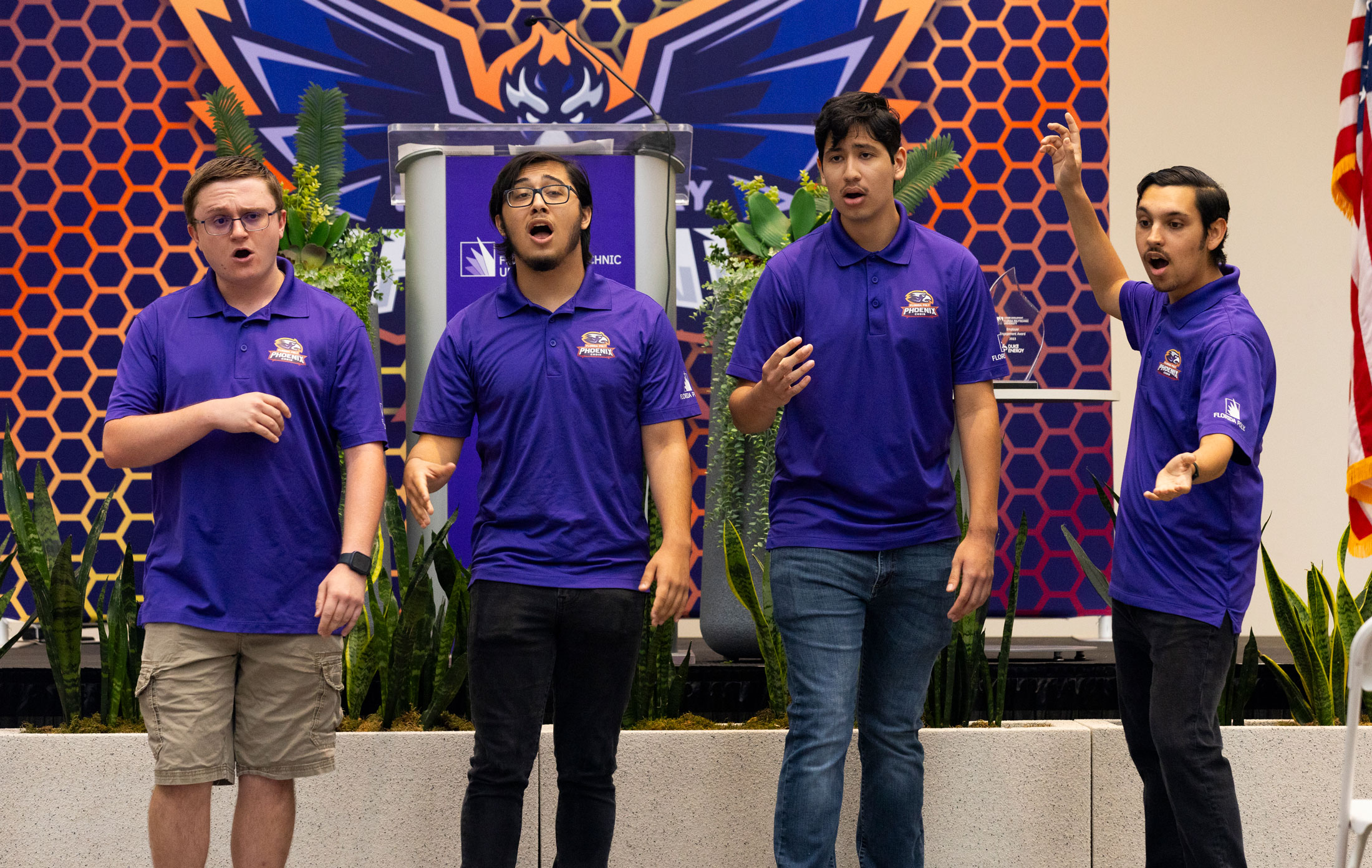 The unmistakable sounds of classic American barbershop music can often be found wafting across Florida Polytechnic University – echoing in the Innovation, Science, and Technology Building, serenading groups at The Nest, and reverberating inside the atrium at the Barnett Applied Research Center.
The silky-smooth voices behind the infectious tunes are the Polyphonics, Florida Poly's new barbershop quartet. With four diverse members with unique backgrounds, voices, and talents, the group has quickly gained popularity on campus.
"We receive an overwhelmingly positive response from other students," said Kaleb Walden, a junior majoring in computer science. "People are often surprised to learn that we're a thriving musical group here at Florida Poly."
The group is an offshoot of the Florida Poly Choir, which boasts musical talent across majors and backgrounds. The quartet formed last fall when junior Nico Galdona, who had prior experience with barbershop music, decided to establish a group at Florida Poly.
"I was in a few barbershop workshops during my high school years and felt a deep connection to this musical style," said Galdona, who is majoring in computer science. "I wanted to bring it to college and continue pursuing my passion."
What he found was passionate students eager to put their talent to work
"I wanted to sing at a lower pitch than what the bass parts offered in choir," said David Zambrano, a quartet member and sophomore majoring in computer engineering. "I found my niche in the barbershop quartet."
Isaac Aguilar, a senior majoring in data science, had prior choir experience and also was quick to join the quartet.
The Polyphonics' performances on campus have left a mark, with notable appearances at Family Day and during the spring 2023 commencement ceremony, where they serenaded people entering the venue. The group has also participated in events like Florida PolyCon and open mic nights, where it always finds a welcoming audience.
"Our group is going strong, and I feel like we've made a lot of progress," Galdona said. "We've learned a lot of songs and have a pretty good repertoire."
Among the harmonizers' favorite songs to sing are tunes that extend beyond the traditional barbershop world, including "For the Longest Time" by Billy Joel, "Kiss the Girl" from Disney's The Little Mermaid, and "It's a Blue World" by The Four Freshmen.
"The barbershop sound, with its four distinct parts, is timeless and versatile, allowing us to adapt it to various genres," Zambrano said.
The group of crooners is working to form a second quartet, expanding the reach of barbershop music at Florida Poly and cementing it as a pillar of life on campus long after its initial members graduate.
Contact:
Lydia Guzmán
Director of Communications
863-874-8557