IFF and Florida Poly discuss partnership at annual Corporate Impact Summit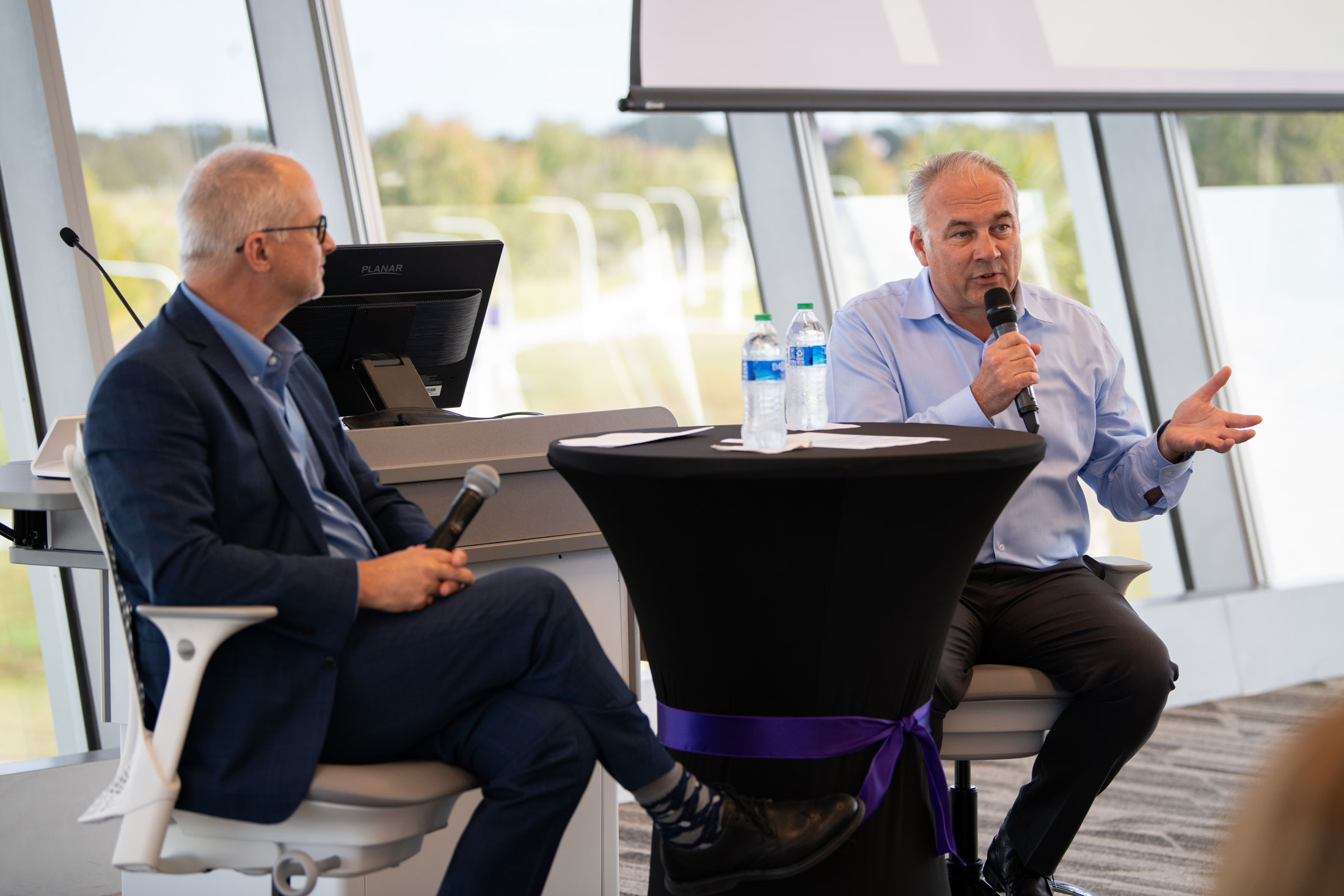 The future of Florida Polytechnic University and its relationship with Fortune 500 company IFF was discussed at Florida Poly's annual Corporate Impact Summit on Thursday, Oct. 26.
The event, sponsored by the University's Corporate Impact Network, attracted dozens of students, employees, and community members to the Barnett Applied Research Center on campus to learn about how Florida Poly's first on-campus industry partnership will be shaped in the near and long term.
Florida Poly President Randy K. Avent and Karel Coosemans, Global Innovation Program Director, Re-Master Citrus at IFF, hosted a fireside chat at the event. IFF is building its Global Citrus Innovation on campus.
"If you study the citrus industry – the whole ecosystem that exists – you always end up in Central Florida, in Polk County," Coosemans said.
Coosemans said IFF's plan at Florida Poly has five main functions: research innovation, training, customer experience, acceleration as a member of an ecosystem, and bringing innovation into its portfolio.
"By working together in the ecosystem discussing the project and making it a joint project, we can get things much faster and bring innovation to the market," Coosemans said.
The innovation cycle demanded by customers has been shortened from years to months in many instances, and the Florida Poly partnership will help IFF achieve that, he said.
The partnership is different than others the company has enjoyed.
"Traditionally in our industry we hire food scientists, biotechnologists, chemists, but we do not hire data analysts or people that develop games," Coosemans said. "But having faculty and students with different backgrounds come in, it helps us realize what we can do."
The company has massive amounts of data for its thousands of products and developments, and it anticipates Florida Poly's engineers, data scientists, computer science professionals, and other STEM degree holders can help IFF spot new areas for innovation, automation, and improvement.
"Engaging corporations is an essential component in advancing Florida Poly's mission, and the Corporate Impact Network is designed to facilitate and foster meaningful interaction with industry partners," said Lidia Vigil, Florida Poly's director of corporate and foundation relations. "Today, we are thrilled to showcase IFF and its unique partnership with Florida Poly, as it is the first company to construct a significant on-campus building to enhance both their business and Florida Poly's education."
Construction on IFF's on-campus building will be completed in early 2024 and its grand opening will be in early 2025.
Contact:
Lydia Guzmán
Director of Communications
863-874-8557