Distinguished professor's $500,000 gift funds Florida Poly's first endowed chair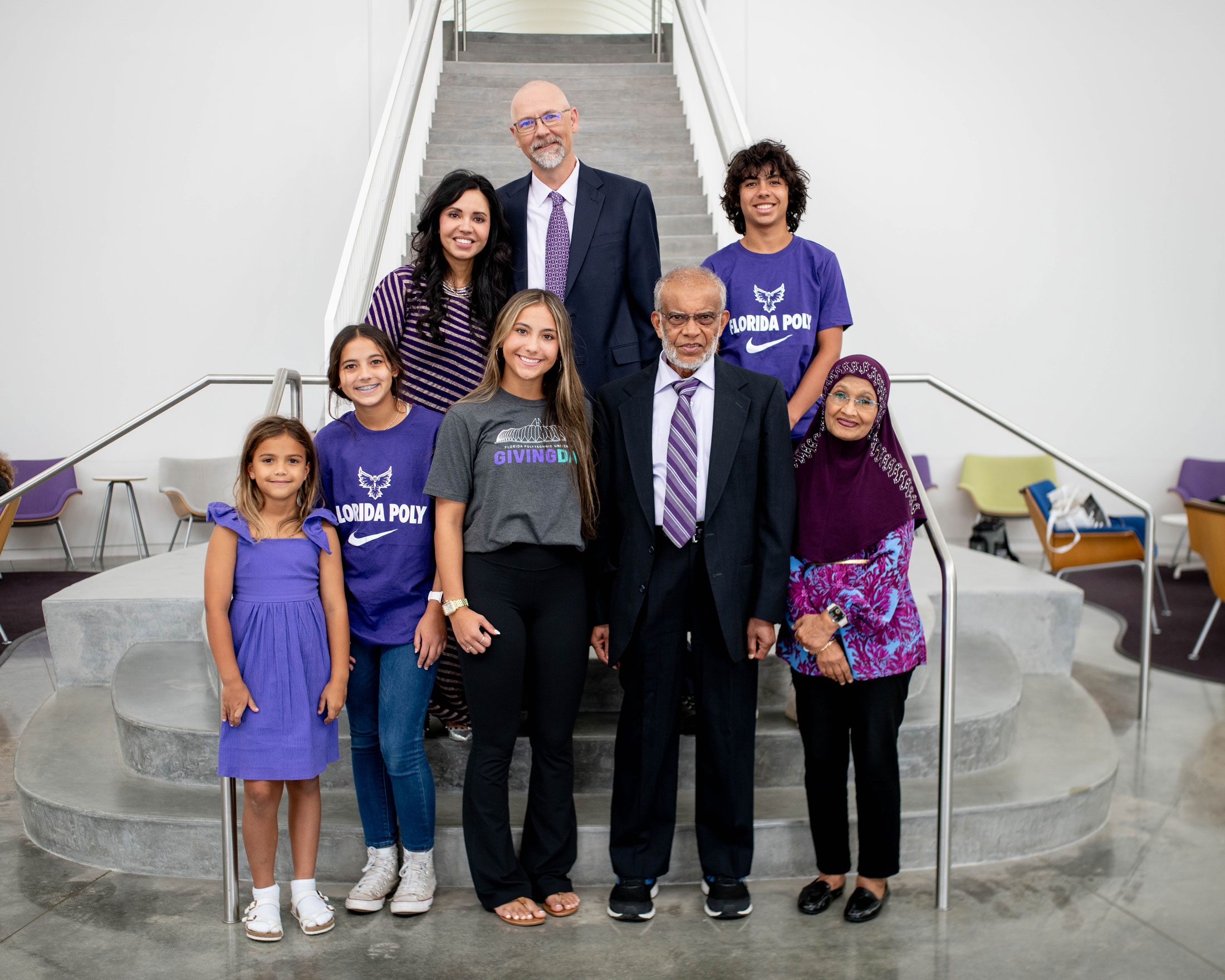 From a modest upbringing to global recognition as a renowned leader in electrical and computer engineering, Florida Polytechnic University professor Dr. Muhammad Rashid is using his personal accomplishments to inspire and improve the future of education in his field.
Together with his wife, Dr. Fatema Rashid, Rashid has donated $250,000 with a matching gift of $250,000 to create the Dr. Muhammad Harunur Rashid Chair of the Electrical and Computer Engineering Department. It is Florida Poly's first endowed chair.
"This is an investment in the University that will promote it to the next level," said Rashid, who consistently has been named to a prestigious list of the top 2% of scientists in the world. "With this coming from an internal faculty, it demonstrates to those outside of the University community that I believe in this University."
The endowed chair will enable Florida Poly to recruit a top-level faculty member to the University, Rashid said, while also helping to inspire other donors to invest in the institution as well.
"This will encourage people who are established in academia to come here, and wherever they go, this will add some recognition to their name," he said.
Dr. Terry Parker, Florida Poly's provost said the University is grateful for the Rashids and their generosity.
"Dr. Rashid and his family have continuously chosen to use their philanthropy and apply it to the University where he's clearly demonstrated his passion for academia during a time in his life where he chooses to work and doesn't have to work," Parker said. "It's lovely that he chooses to give to the University in a way that he and his family want to impact students, programs, and now faculty. We'll do good things with this gift, and we appreciate the Rashids."
Rashid said his actions are very much informed by his personal history.
"I think education is very important. Whatever you do, education gives you the skills and ability to think," said Rashid, who previously served as chair of the Department of Electrical and Computer Engineering. "Education changed my life; it's valuable for people, for society, and for the generation to come."
This desire to change the lives of others for good is the driving force behind his work and his monetary gift.
"Dr. Rashid's incredible philanthropic support for Florida Poly is so important and is a huge help to our talented STEM students, programs, and our faulty" said Kathy Bowman, Florida Poly's vice president for advancement. "We are grateful for his ongoing generous support and long-term commitment to the University."
The gift is not Rashid's first to Florida Poly. In 2018, he and his family established the Drs. Muhammad and Fatema Rashid Chess Scholarship Fund with a $25,000 contribution to help Polk County students with a passion for chess pursue higher education at Florida Poly. In 2019, he contributed $100,000 to create the endowed Drs. Muhammad H. and Fatema Rashid Future Generation Engineering Scholarship to help Florida Poly students pursuing degrees in electrical, computer, or cybersecurity engineering. In 2020, a $10,000 gift established the ECE Fund for Undergraduate Education to assist students with funding to complete undergraduate education projects.
Rashid has written more than 36 textbooks that have been translated into dozens of languages and are used in more than 50 universities, including Purdue University and the University of California, Berkeley.
"From the background I had, I was part of a family that didn't have much," Rashid said. "I lost my father when I was 11 and my mother had no income. I am where I am because of education."
Contact:
Lydia Guzmán
Director of Communications
863-874-8557