3 Florida Poly researchers among world's top 2% of scientists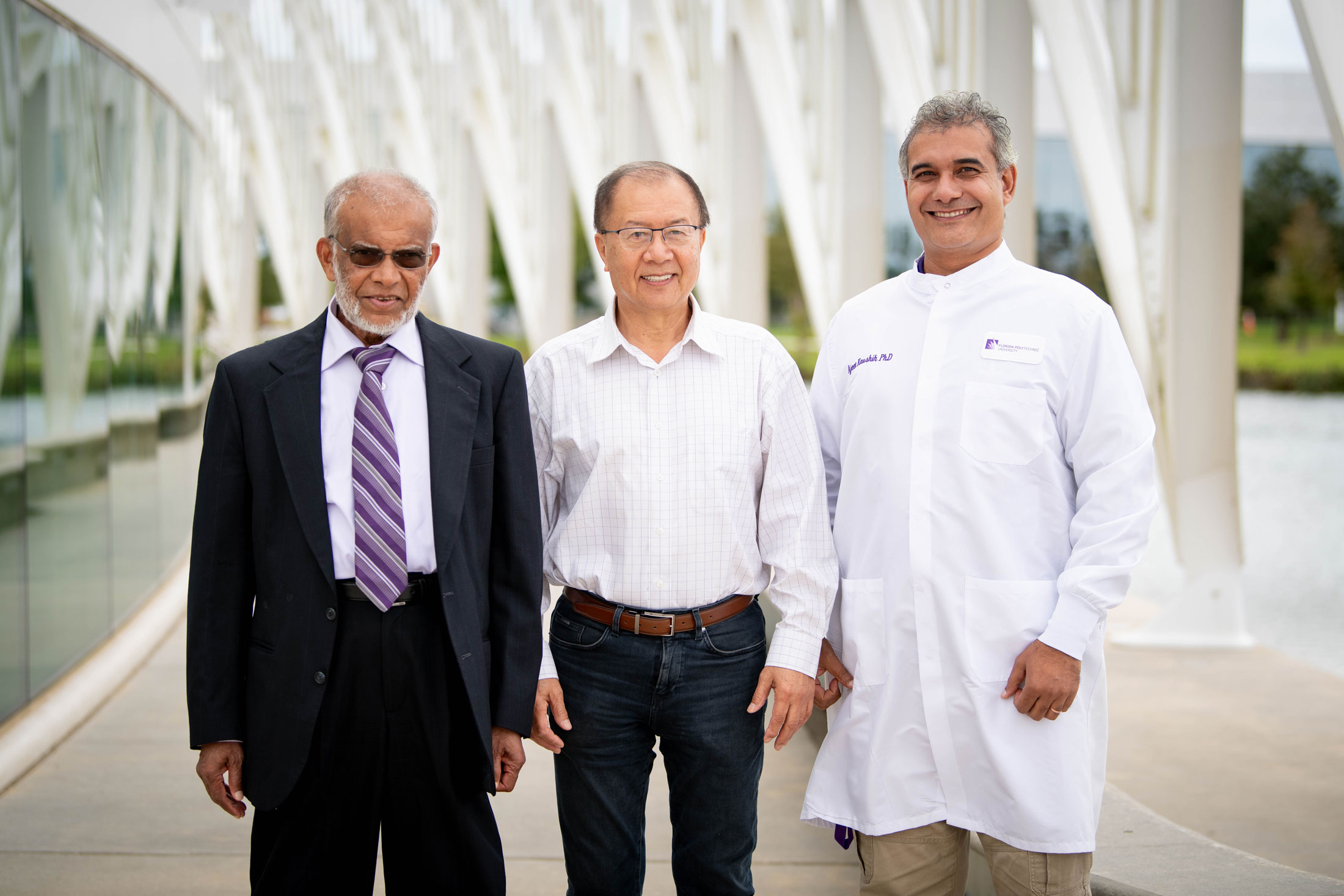 Florida Polytechnic University professors with advanced research in fields such as nanotechnology, rare earth element recovery, and electrical and computer engineering have been named to a prestigious list of the world's top 2% of scientists.
Dr. Ajeet Kaushik, Dr. Muhammad Rashid, Dr. Patrick Zhang are leaders in their respective fields and have actively published their work year after year, sharing their findings and expertise with the scientific world. All were recognized for both their lifetime body of work and their work in the last year.
The annual list, compiled by Stanford University, is based on the number of articles published by the researchers and the citations the papers received. The findings were shared in Elsevier, which publishes some of the world's most prominent journals. Each of the three professors has previously been named to the list.
Dr. Ajeet Kaushik
Kaushik is an assistant professor of chemistry in Florida Poly's Department of Environmental Engineering. His research largely focuses on exploring nanotechnology for health and environmental management, and he has published more than 250 technical papers and 10 books. Kaushik also has held more than 10 editorial positions at respected journals and is a member of Florida Poly's Board of Trustees.
"To have this acknowledgment three years in a row means my work is making a difference in the scientific community," he said. "Florida Poly and my department leadership make this a wonderful and supportive place to do research and the results are showing up on lists like this that acknowledge our work."
Dr. Muhammad Rashid
A professor in the Department of Electrical and Computer Engineering, Rashid has enjoyed a long career advancing work in his field. He has published more than 100 papers and edited or authored more than 36 textbooks that have been translated into dozens of languages and are used in more than 50 universities, including Purdue University and the University of California, Berkeley.
"Sometimes students will come in and they want to talk to some faculty to see how we came to be where we are, and when they interview me, they don't know about all the experience I have," Rashid said. "I want to educate these students and help them have an impact. I want to help them apply their knowledge and go to the next level."
Dr. Patrick Zhang
With expertise in phosphate beneficiation and mining, Zhang continues gaining national and international recognition for his strides in recovering rare earth elements from phosphate processing waste. He is director of research, mining, and beneficiation at Florida Poly's Florida Industrial and Phosphate Research Center.
"I think our research is absolutely important for new technology advancement to contribute to green-energy's future," he said, adding that the recovered elements are critical for renewable energy such as wind turbine, solar power, and electric cars. "I feel good about this recognition every year because you achieve this status not only by publishing papers, but by conducting important work that helps our research community, research staff, and people at large."
Contact:
Lydia Guzmán
Director of Communications
863-874-8557