Autonomous vehicles take center stage at Florida Poly event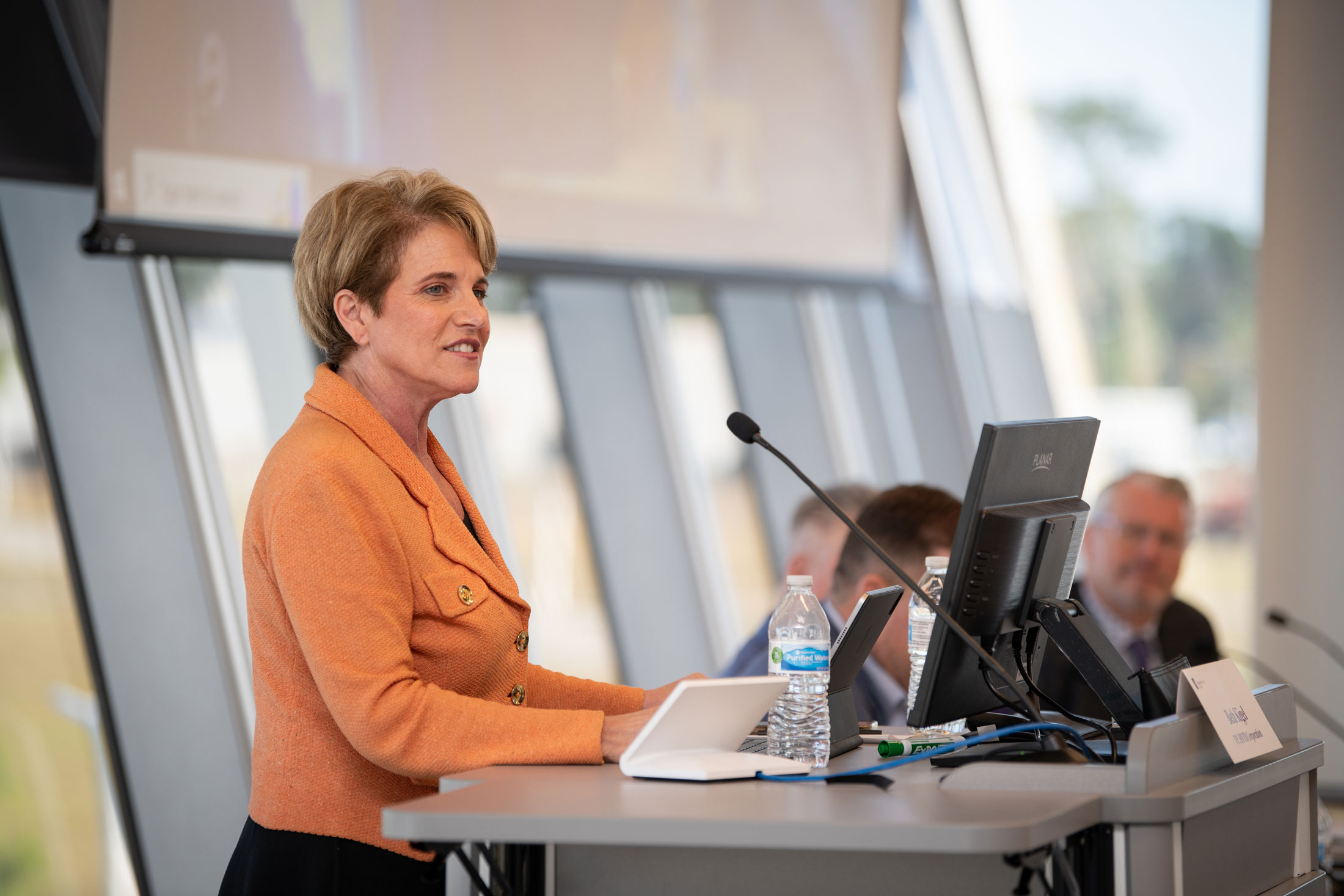 Experts agree that self-driving vehicles are inevitable and will be taking over the roads within the next 20 years, but many issues remain surrounding their technology, safety, and regulatory framework.
Florida Polytechnic University's Office of Public Policy Events brought together experts in policy, law, technology, and commercialization for a panel discussion about what is coming down the road for the future of autonomous vehicles (AV). It was the office's second event of the academic year.
Beth Kigel, vice president at HNTB Corporation and vice chair of Florida Poly's Board of Trustees, moderated the event that attracted students, employees, and community members. HNTB designs and advances transportation infrastructure.
"By taking the human element out of driving there is anticipated to be a big reduction of crashes and traffic fatalities," Kigel said. "Those of us in the industry have seen expectations of as high as 80% in reductions."
On the panel were Florida Sen. Jeff Brandes; Joe Moye, CEO of BEEP; J.W. Taylor, managing partner of the Taylor Nelson transportation law firm; and Dr. Rahul Razdan, CEO of Razdan Research Institute and senior director of special projects at Florida Poly.
Moye said his company, which offers mobility solutions involving autonomous transportation, is deployed across 26 locations in seven states, showing and exploring how AV can integrate into society and provide new ways of transportation. He said the advancement of this technology and its regulatory framework can help solve significant transportation problems.
"Thirty-five percent of bus driver jobs in our country can't be filled today, so we're cutting back services to citizens because we can't get the drivers," he said, adding that this issue and others can be addressed through AV improvements like advanced sensors and camera technology.
"We need to look at the technology beyond the vehicle, like smart infrastructure and how do we communicate with things around us to improve safety," Moye said. "Camera technology will look down the roadway and predict if a vehicle is going to run a stoplight and it will keep the AV where it is."
These kinds of advancements will create new jobs even as driver opportunities may decline.
"You will first see changes in long-haul trucking, mining operations, trucking operations, and agricultural," Brandes said. "Most farms will be automated shortly, and I think it's happening a lot quicker than most people could imagine."
While individualized on-demand fully autonomous vehicles may not be immediately and widely available, the technology will much more quickly be integrated into predictable and controlled environments, such as shuttle routes and mining, the panel members said.
Razdan emphasized two transformational technologies that changed the modern world, including computer development and the arrival of smartphones.
"Autonomy is the next edge, and it will have as much of a pervasive impact as what those two have done" he said. "Autonomy is going everywhere."
Contact:
Lydia Guzmán
Director of Communications
863-874-8557