Florida Poly alum helping smart cities be smarter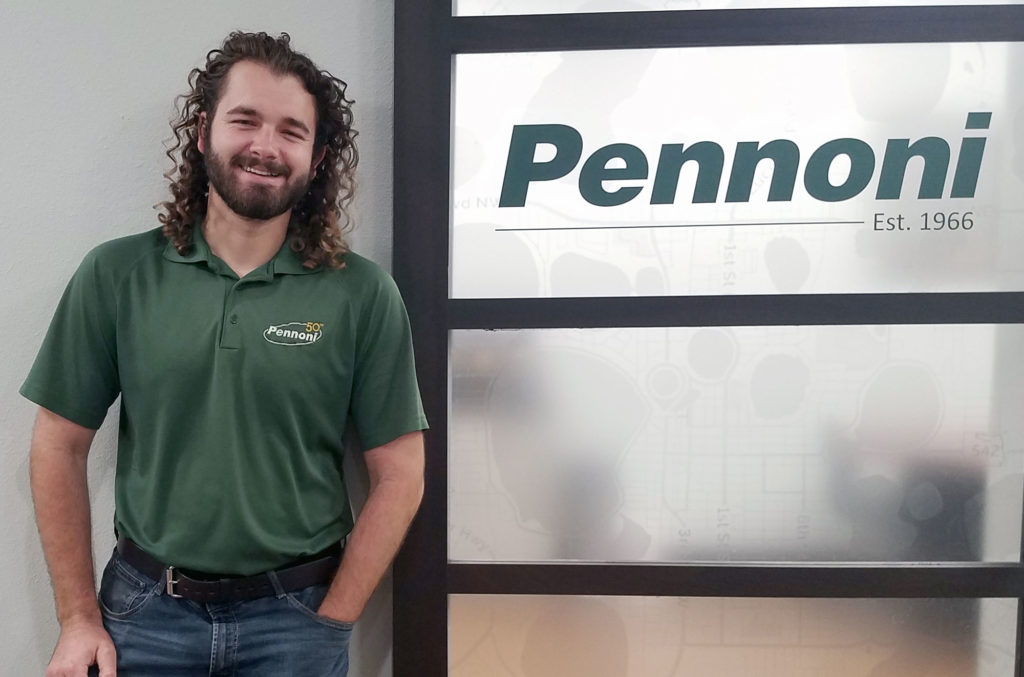 As metropolitan areas continue transitioning to the "smart cities" of tomorrow, Florida Polytechnic University alum Mitchell Mefford '18 is working with community and industry leaders to help ensure their organizations are wise when it comes to energy.
Mefford is a graduate engineer at Pennoni, a multidisciplinary engineering firm based in Philadelphia, Pennsylvania. He works in the company's offices in Winter Haven, Florida, where he focuses on energy-related work to complement their smart community and solution services. This includes performing energy audits to help clients obtain energy spend visibility; fulfilling their green and renewable energy production requirements by buying and selling renewable energy credits; and reducing their overall energy spend.
"We have a smart city initiative to help cities be smarter in their decision-making using technology and sound planning principles, including energy use and conservation," said Mefford, who graduated from Largo High School in Largo, Florida. "We do energy management, manage renewable energy credits, and find creative, less costly energy solutions for our clients. This focus is something that's certainly gaining interest. I like the complexity of it."
Mefford joined Pennoni while still a student at Florida Poly. He completed an internship with the company in 2016 and continued working there through graduation, when he earned a bachelor's degree in mechanical engineering. Today he is pursuing a Master of Business Administration degree online from Southern New Hampshire University.
"I work with a lot of business people and I can speak to them in their language and not just the engineering language," he said.
Mefford said Florida Poly prepared him for not just success in the workplace, but also continued success in completing his advanced degree.
"From the time I started to the time I graduated, Florida Poly changed the way I think, even outside the academia part," Mefford said. "I can find answers to things I wouldn't have been able to find before Florida Poly."
When he isn't advancing energy progress or working on his MBA, Mefford can be found performing technical inspections on vehicles at SRO Motorsports races across the country – another job that stemmed from a college internship during his time at Florida Poly.
"I'll fly out for the weekend to somewhere like Portland, or Sonoma and I get to mess with Ferraris and Bentleys," said Mefford, a native of Woodburn, Kentucky. "You definitely have a lot of surreal experiences and you get used to it, but not a lot of people get this kind of opportunity."
Current Florida Poly students would do well to follow his example of seeking out different types of internships and diversifying their portfolio before graduation, he said.
"I would work on getting as much work experience as possible to not only have a ton on their résumé, but also to work with different kinds of people," Mefford said. "Students should be proactive and constantly looking for things to do and ways to improve, especially as they graduate from Florida Poly and have the advantage of being part of that unique experience."
Contact:
Lydia Guzman
Director of Communications
863-874-8557