Florida Poly senior rockets toward SpaceX dream job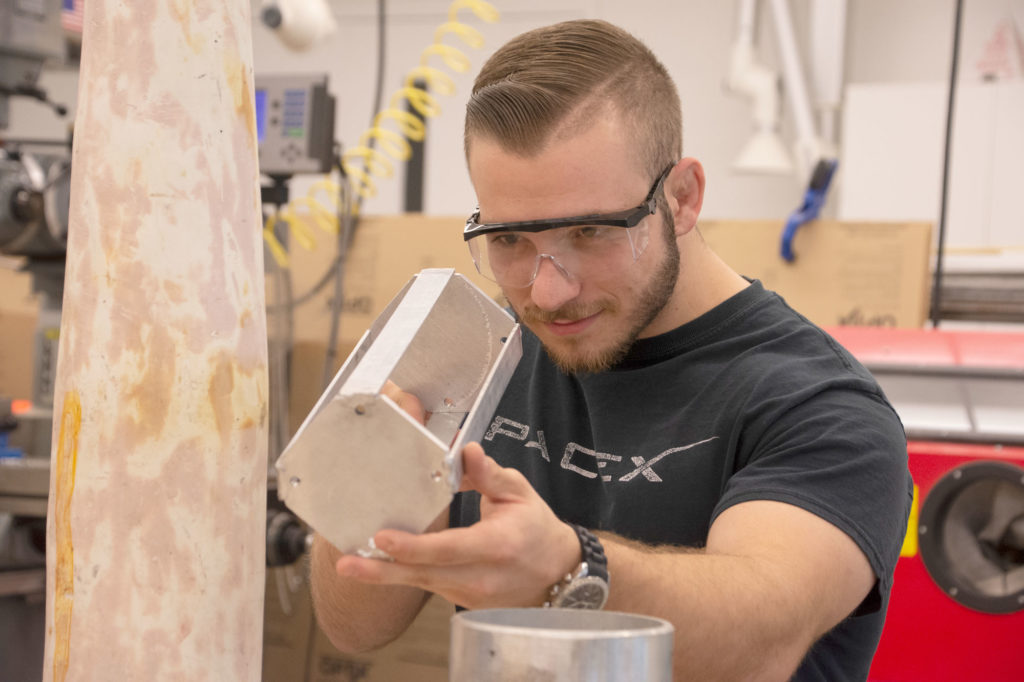 Airplanes, rockets, and all that lies beyond our world have always fascinated Geoffrey Doback.
The Florida Polytechnic University senior dreamed about working for NASA when he was just a child. As he entered middle school, Doback learned about SpaceX, a private aerospace and transportation company working to revolutionize space technology and eventually enable people to live on other planets. That awareness changed his life.
"This was a company that was pushing the boundary and that's something I wanted to do: push boundaries that have never been seen before," said Doback, from Tampa, Florida.
After he graduates from Florida Poly with a bachelor's degree in mechanical engineering this May, Doback will begin working at SpaceX as an associate engineer at the company's Cape Canaveral, Florida, location.
After years of hard work, relentless studying, and dogged determination, he couldn't be happier.
"I really do have to pinch myself sometimes," Doback said. "I've always dreamed of doing this and I'm really ready to graduate now."
In summer 2019, Doback interned at the NASA Marshall Space Flight Center in Huntsville, Alabama, working on rocket propulsion systems. The year before, he worked on research funded by the NASA Florida Space Grant Consortium.
Doback made the most of both experiences and together with the University's résumé coaching services, active participation in organizations like Astro Club, and strong education, he leveraged them to help secure a rigorous SpaceX interview and ultimately land the job.
"I felt confident going into the interview because this is what I do every day, so in theory it shouldn't be that hard," he said. "And with all the hands-on experience I got with my clubs and classes, I pretty much knew there was nothing I should get wrong if they asked a technical question about rockets."
The University's top-quality labs and caring faculty made all the difference in his success, he added.
"I'm extremely thankful for Florida Poly and would not be here getting ready to join SpaceX without them," Doback said.
Doback is aware that big dreams like his might seem unattainable to some, but he said students should not compromise on their goals and instead work hard to achieve them.
"For anyone who has a goal, if you tell yourself you can't have it or you think it's crazy in the first place, you're defeating yourself before you even start," he said. "If you have a goal you really care about, put all your resources and mind toward it.
"You might just achieve it."
Contact:
Lydia Guzman
Director of Communications
863-874-8557