New Phoenix rises into existence at Florida Poly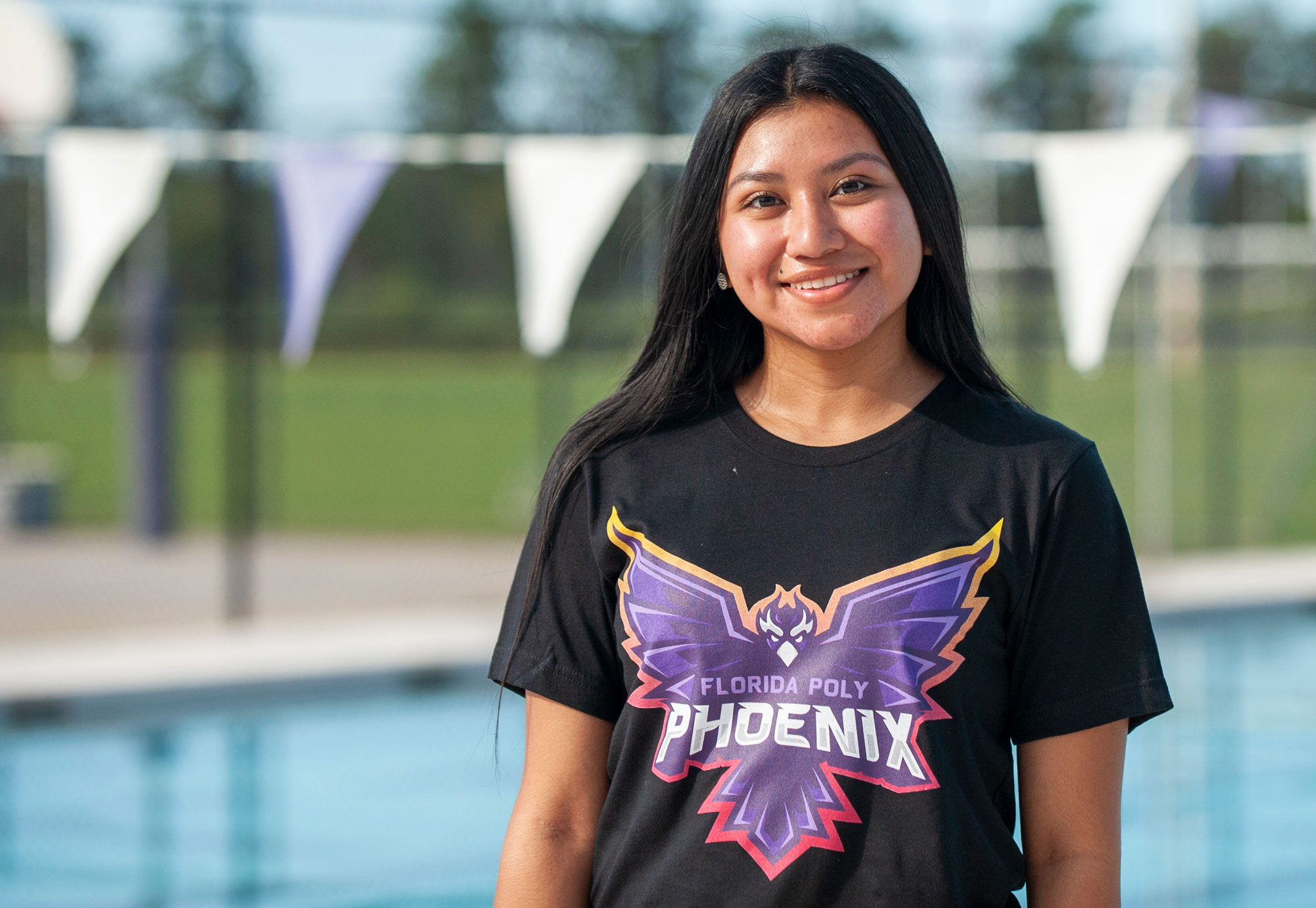 A bolder, more energized Florida Polytechnic University Phoenix was unveiled on June 26, culminating a thoughtful design process that incorporated student opinions and guidance.
"The moment I saw the design, all I could say was 'wow' because it truly represents Florida Poly and its students," said sophomore Maggie Delgado, who is majoring in business analytics. "I absolutely love the new Phoenix. It shows that we are bold, fierce, and not afraid to take on whatever challenges come our way."
The dynamic new spirit mark features a striking, stylized Phoenix with a versatile and expressive face and body. The Phoenix is surrounded by a rich background that evokes the flames from which the fabled creature rises.
"The Phoenix is designed to represent the student experience and it truly is a reflection of who we are as a campus community," said Dr. Kathryn Miller, Florida Poly's vice provost of student affairs.
The new Phoenix was developed by well-known gaming illustrator Travis Howell, founder of gaming design company Creative Grenade.
"We spent a lot of time looking at other phoenix designs and wanted to make sure that the Florida Poly Phoenix has a unique pose, features, and emotion," Howell said.
With a professional portfolio that includes working with more than 250 different esports teams, live streamers, and gaming organizations during his 14-year career, Howell was recommended and handpicked by students to take on the project. The process that ensued involved multiple meetings to gain student feedback and direction.
"I like that we were able to work with such a great esports designer," said Connor Coddington, the University's Student Government Association president. "Florida Poly is a community of gamers and I think it's cool that we get to embody that with our logo and our mascot."
The new Phoenix spirit mark already has been emblazoned on a wide variety of materials, including T-shirts, hats, tumblers, and cloth face coverings. The Florida Poly community can download free Phoenix digital swag and learn more about the creature's yearlong creation process at the new Florida Poly Phoenix webpage.
A costumed mascot that fully brings the Phoenix to life will also make its debut this fall.
"Like colorful banners that are brought into historical wars, flying high and proudly at the front of battlefields, the Florida Poly Phoenix logo will be a representation of the whole University and a visual to rally behind," Howell said. "When Florida Poly students and staff represent their colors and brand, it communicates to others that you're all proud to be a part of a connected story and movement."
Coddington, a senior majoring in computer science, said the new Phoenix should indeed elevate the pride students have in their University.
"We can see the Phoenix and know this is our school and our mascot and everyone will know that we are Florida Poly," he said. "When people see the Phoenix, they will know that we are a school that really does things differently."
Contact:
Lydia Guzman
Director of Communications
863-874-8557