First academic honor society at Florida Poly takes root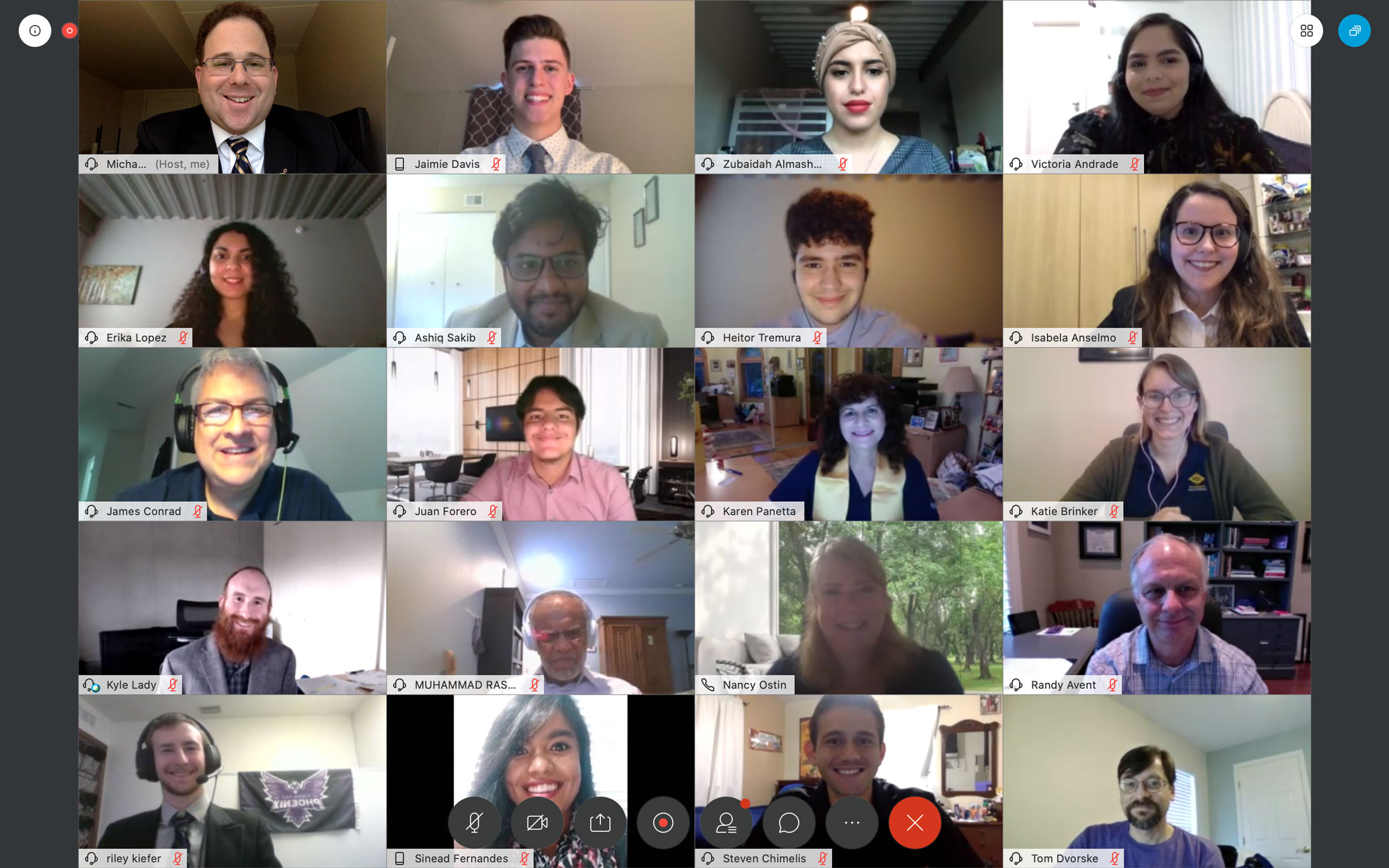 Florida Polytechnic University engineering and computer science students with stellar grades, involvement, and character are now eligible for selection to the new Mu Omega Chapter of the Institute of Electrical and Electronics Engineers Eta Kappa Nu (IEEE-HKN) academic honor society. This is Florida Poly's first academic honor society, recognizing students who excel academically and among their peers.
"Eta Kappa Nu was founded on the ideals of scholarship, character, and attitude," said senior Jaimie Davis, the chapter's founding president. "We are here to connect with the community and to overall enrich the environment which we are part of."
An installation ceremony formally recognizing the chapter and welcoming the first group of 10 inductees took place on Thursday, Sept. 3.
"HKN is global professional organization with more than a hundred years of legacy and the students who get inducted are exposed to a widescale academic and industrial experience that will help develop their leadership and networking skills, while also giving back to the community" said Ashiq Sakib, assistant professor of computer and electrical engineering at Florida Poly and the chapter's faculty advisor.
Sakib was inducted as a member of the honor society's Gamma Tau Chapter at North Dakota State University in 2016. He said members can attend annual conferences organized by IEEE-HKN, enrich their personal networks, and enjoy exclusive access to other opportunities that will help them grow and get ahead professionally.
"From a department perspective, this is a wonderful addition to have," Sakib said. "Students can put this on their resume and people know that you for sure are among the best and brightest students of the university or department. From a student's perspective, getting selected to the society will be a validation of his or her commitment and efforts."
Davis, an electrical engineering major from Fort Myers, Florida, began seeking to establish the honor society at Florida Poly in 2018. He pitched it to anyone who may be interested and secured the support of University leaders. Once the University received ABET accreditation last summer, the application to form a new chapter was able to move forward.
Now that the group is official, its members are focused on making a difference.
"One of the things we're looking at is doing tutorial sessions for gateway courses before exams to help people brush up on their calculus one, two, or three, or circuits one or two," said Davis, who is also treasurer of IEEE at Florida Poly. "These are classes everyone in this honor society has taken and excelled at, and since we have these amazing people, we can offer our thoughts and give tutorials and workshops."
Isabela Anselmo, who is pursuing a master's degree in electrical engineering at Florida Poly, is excited to get started.
"I think with this membership, all the members and I will have great opportunities to meet new people in the area and help each other and other students academically," said the native of Belo Horizonte, Brazil.
Davis, now a lifetime member of IEEE-HKN, said the chapter also will create a strong foundation of excellence that future academic honor societies can build upon.
"It's going to be a great help to Florida Poly in ushering the next leaders into our community," he said.
Contact:
Lydia Guzman
Director of Communications
863-874-8557