Professor and student gain prestigious Fulbright appointments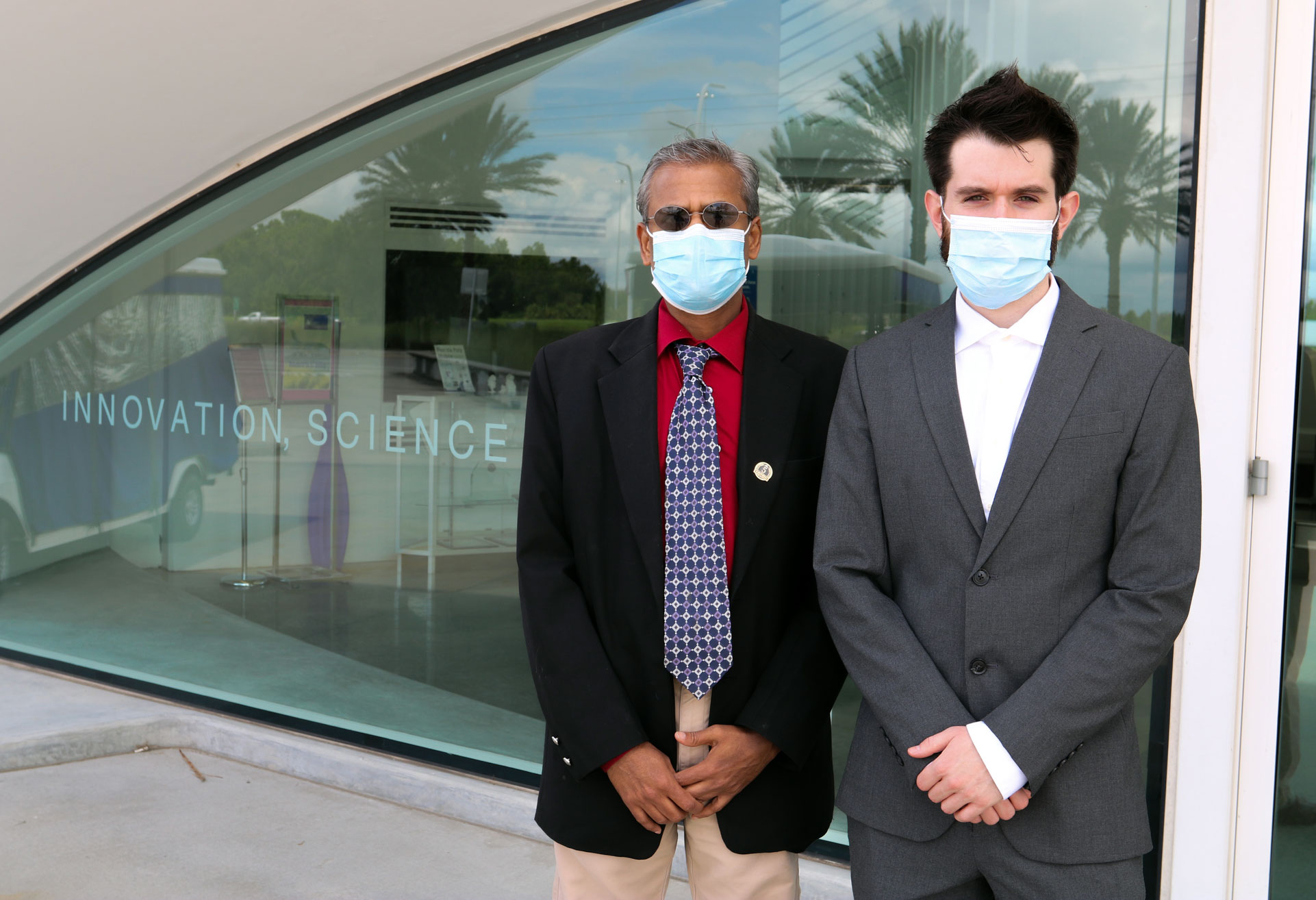 A Florida Polytechnic University assistant professor and a senior computer science student have been selected by the Fulbright Program for prestigious academic appointments.
Dr. Sesha Srinivasan, chair of Florida Poly's Department of Natural Sciences, was selected to the Fulbright Specialist Program. The effort allows overseas universities, cultural centers, and other institutions to develop collaborative projects with leading U.S. academic professionals.
Gage Roper, a senior majoring in computer science with a concentration in cybersecurity, was selected to take part in Fulbright Canada's Killam Fellowship Program. Killam Fellows study at a leading Canadian university for a semester.
"These help build our reputation in the international community," said Srinivasan, who will serve in the Fulbright Specialist Program for three years.
Srinivasan nominated Roper for the fellowship. The two met when Roper took Srinivasan's physics 2 class two years ago.
"After the first exam, I did not do well. I went to him afterward and I said, 'I don't know what's going on. I think I'm going to drop the course,'" Roper said. "He was like, 'No, stay in it and I'll help you out.' He ended up setting up tutoring sessions with the TA for me and I put in a lot of work in the class and end up with an A."
Roper said if he can progress from doing poorly in that class to being named a Killam Fellow, anything is possible.
"This is a very competitive selection. I was competing against people from Harvard and Yale," he said. "To be selected means they saw something in me, and I was able to prove myself."
Roper was unable to travel to Canada to take part in the program this semester due to COVID-19 restrictions, but he is hopeful he will be able to do so in January 2021.
"I never thought I was going to have a college degree in the first place, but now being on the cusp of achieving that and receiving something so great as the Killam Fellowship, it has inspired me to pursue my master's degree," said the graduate of Chamberlain High School in Tampa, Florida.
Selection to the Fulbright Specialist Program was a years' long effort for Srinivasan, who first applied in 2016.
"It is a very competitive, prestigious award," he said. "These are professionals from around the nation who are counted as experts for the U.S. Department of State and the Fulbright Program."
During his three-year tenure, Srinivasan can be called upon to collaborate on a variety of projects that can benefit from his research and academic experience. The projects may include consulting on faculty development, developing curricula and materials, lecturing, or evaluating a program.
"This international collaboration will be a benefit to Florida Poly's graduate program," Srinivasan said. "I think that it will motivate and bring more students to Florida Poly for their higher education."
Contact:
Lydia Guzman
Director of Communications
863-874-8557