Virtual fun brings Florida Poly together on Phoenix Family Day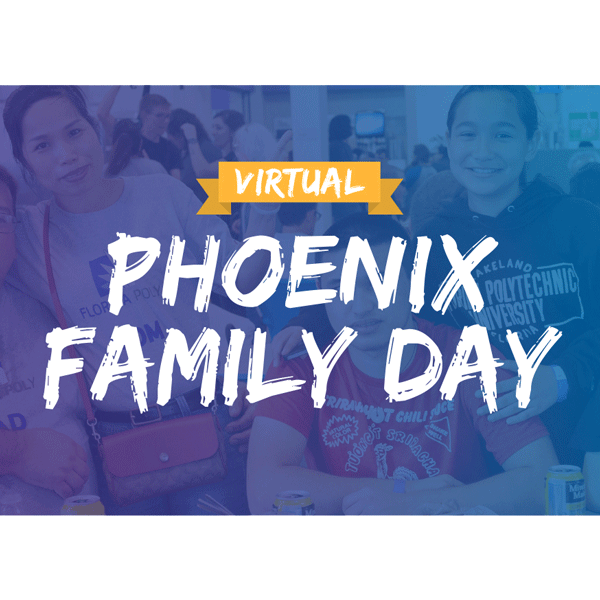 Proud Phoenixes will show off the Florida Polytechnic University way of life – virtually – on Saturday, Oct. 17, during Phoenix Family Day.
The annual event is one of the campus' most treasured traditions. It brings together students and their loved ones, allowing both groups to share in a fun day while exploring Florida Poly's the unique and fun campus life.
This year, the event will be held online due to the ongoing COVID-19 pandemic.
"Even though we are in a pandemic and we may be separated, it doesn't mean we can't come together as a community and share in a very special day," said Tonya Chestnut, Florida Poly's director of student development. "It will be a lot of fun."
Among the planned activities are a family Kahoot trivia game, a live performance by the Florida Poly Band in the Oak Grove, and a family Rocket League esports tournament.
But one of the biggest highlights of the day will be the live, long-awaited reveal of the Florida Poly mascot. The Phoenix spirit mark that was unveiled this summer after an intensive, student-involved design process will come to life in the form of a costumed mascot.
"We've been working toward this for several years and to actually see it come to fruition is so exciting," Chestnut said. "We would have loved to do it with everyone on campus, but I'm just as excited to do the reveal virtually."
In addition to other fun virtual events like a family step-up fitness challenge, students and their relatives can schedule time for a virtual meet and greet to connect with a University vice provost and discuss general issues about a student's experience at Florida Poly.
Dr. Tom Dvorske, vice provost academic affairs, is responsible for academics and matters surrounding the student's academic experience on campus. Dr. Kathryn Miller, vice provost student affairs, is responsible for everything related to extracurricular activities on campus and the student life experience.
Advance registration for these meet-and-greet events is required.
The virtual Phoenix Family Day will be rounded out with a Florida Poly coloring book designed by Lakeland, Florida, artist Bump Galetta, and the University community will share much-loved family recipes.
"I really hope everyone understands the fact that we continue to be a strong community," said Jimmy Surin, assistant director of student development at Florida Poly. "COVID-19 may be something that is putting a damper on some things, but we're still a campus and we're still active."
Plan to join the event live online here.
Contact:
Lydia Guzman
Director of Communications
863-874-8557