Florida Poly Band arises and finds its groove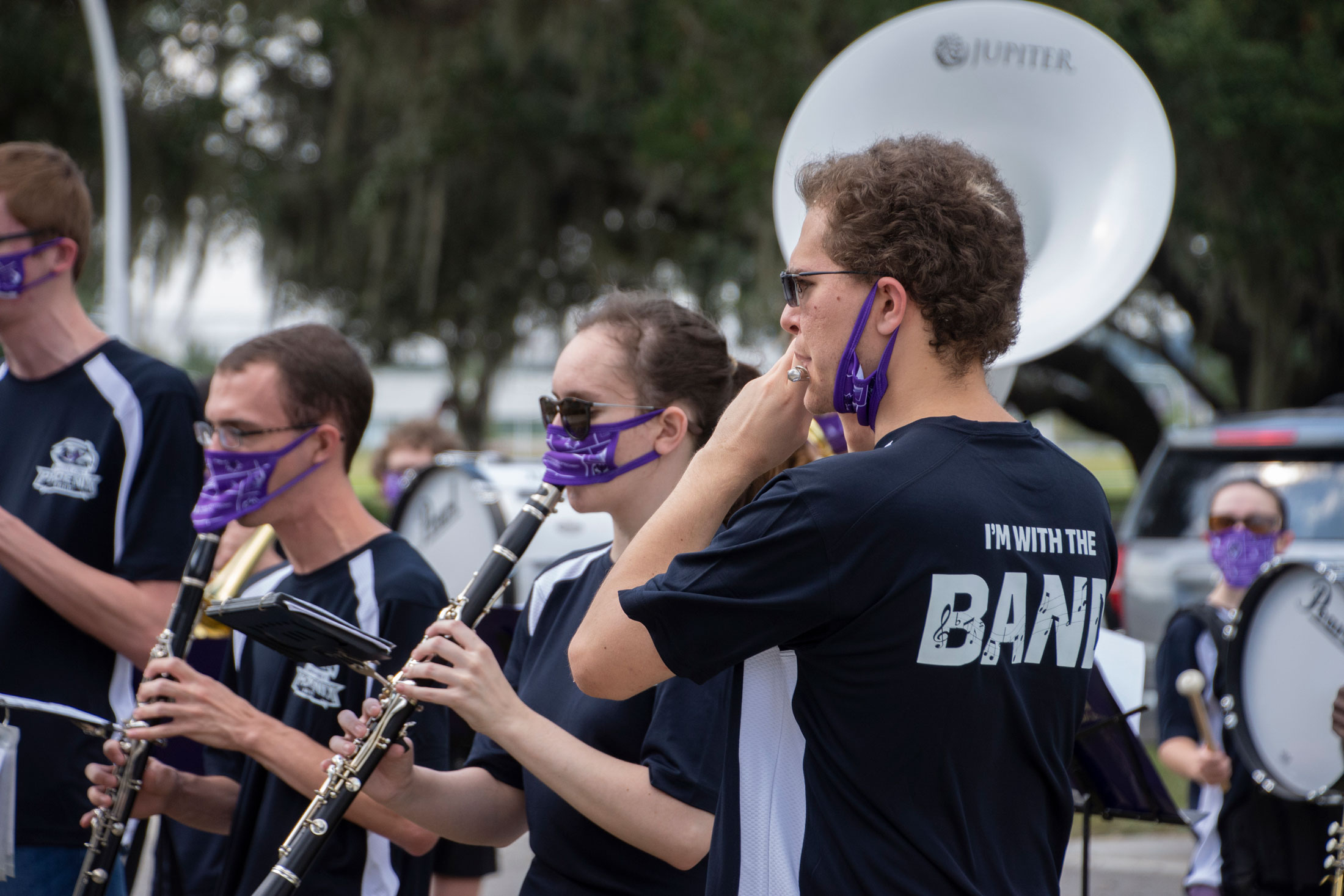 With a funky sound and a style all its own, the Florida Poly Band made its world debut this fall at Phoenix Family Day.
"We were so excited to show off what we have been working on," said Brandon Bangle, a band director at the University. "Our performance was a great success."
Since its formation at the start of the fall semester, the band has coalesced into a fun-loving, rocking unit. It grew from the seeds planted by the Florida Poly Drumline, which was incorporated into the full band.
The band is about 40 members strong, playing as a tight, cohesive family.
"I like the fact that there's a good group dynamic and we can have fun and accomplish a lot at the same time," said Taylor Preston, one of the band's two student conductors.
The band's other student leaders are Gabriel Johnson, student conductor; Joshua Kim, drumline captain; and Aliceon "Alan" Clemmensen, director's assistant.
For Preston, a freshman majoring in computer science, there was no question about whether to join the band.
"I've been in marching band since seventh grade – it's always been a part of what I do," he said. "I was so happy when I found out there was going to be a band here at Florida Poly, and if they didn't have one, I was going to start one."
The role Preston currently plays in the band is similar to the work he did as drum major of the Pedro Menendez High School band in St. Augustine, Florida.
"This definitely keeps me sane," he said. "It's kind of like being home."
Today, Preston helps lead the University's eclectic band that features an ensemble of traditional and unusual marching band instruments, including guitars, French horns, and violins. And as the academic year progresses, the students continue to work on new music and may soon include costumes in their performances.
"This band is a place for everyone if they're willing to put in the work," Preston said.
Bangle said that is exactly what the band members have been doing.
"We have come together very well," he said. "Students are enjoying our practices and we are achieving success."
Contact:
Lydia Guzman
Director of Communications
863-874-8557