Florida Poly builds first pipeline to elite US Navy officer program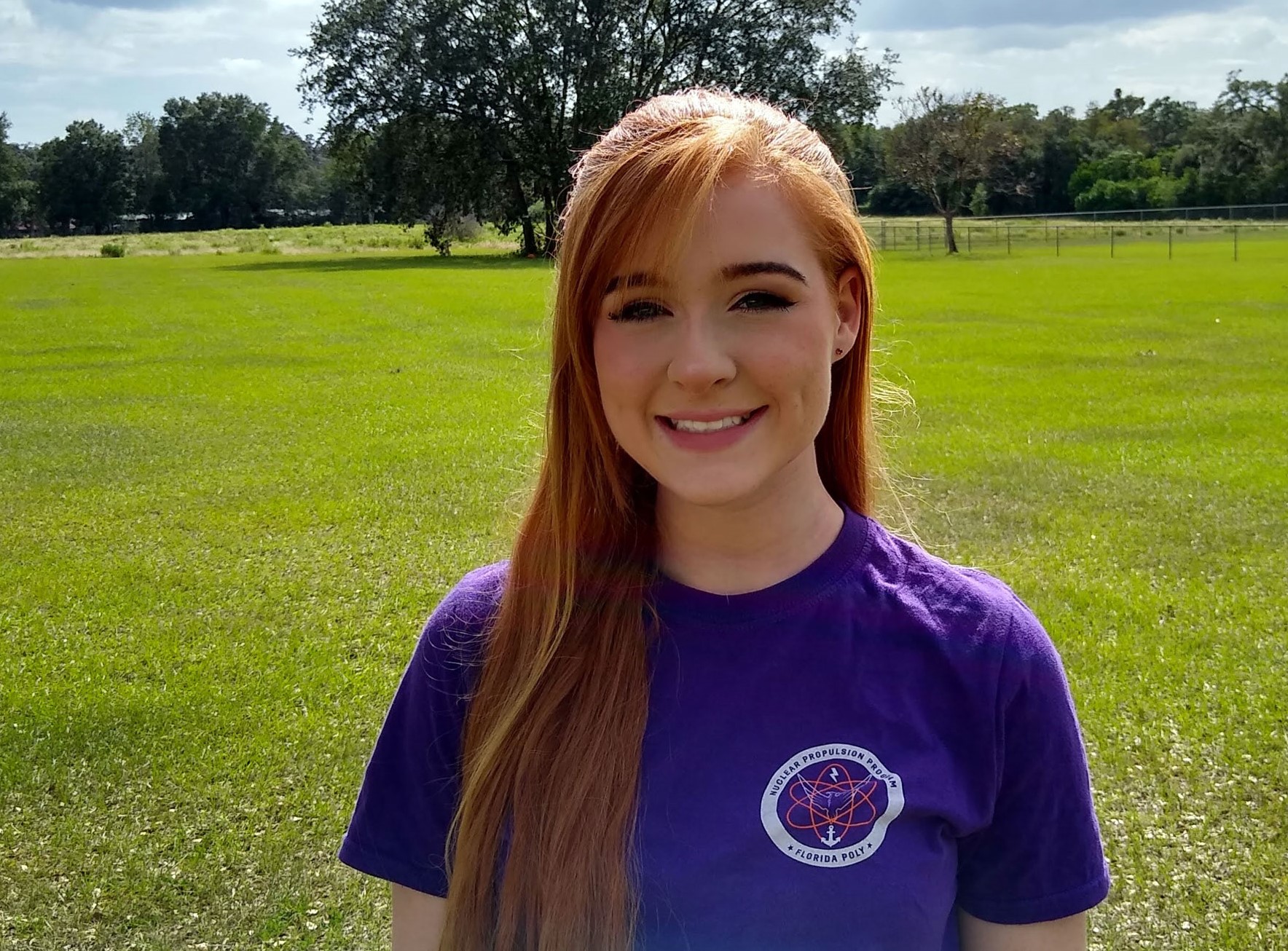 LAKELAND, Fla. – Florida Polytechnic University is paving the way for ambitious, patriotic students to earn their STEM degree before continuing on to serve their county in a notable career as high-tech officer in the U.S. Navy.
The Florida Poly Nuclear Propulsion Pipeline Program provides science-minded students with financial support and military guidance as they prepare to enter the Naval Nuclear Propulsion Program and Naval officer training.
The pipeline program is the first of its kind in the nation. While students at other universities can apply to the U.S. Navy Nuclear Propulsion Officer Candidate (NUPOC) Program, which begins in a student's junior year, the Florida Poly program accepts students in their freshman year, providing a scholarship, training, and support.
"This is really unique – especially because of who we are: a small, selective all-STEM university focused on excellence and making an impact," said Dr. Ben Matthew Corpus, vice provost of enrollment at Florida Poly. "Our students are thoughtful innovators and scientists, who are brilliant and have a higher sense of purpose than I've ever seen at any other university in which I have served. Our collaboration is taking our mutual goals to the highest level of academic, military, and energy science."
Corpus said the pipeline program creates a bridge between high school and the NUPOC Program, which begins in a student's junior year and prepares students for a career after graduation as a nuclear propulsion officer.
"This Nuclear Propulsion Pipeline Program at Florida Poly is designed to prepare students to successfully enter officer training and is created for students who have an affinity toward serving their country given their studies in engineering, and who see the benefit of the highly specialized training for their long-term career," Corpus said. "The financial support students receive for the program is also incredibly unique. Students receive a Florida Poly scholarship on their way to earning significant compensation through the NUPOC program beginning at the end of their sophomore year, just for being a full-time student."
The Florida Poly program launched this semester and currently has 12 students. In the fall of 2021, incoming freshmen admitted to the program will earn a $5,000 scholarship in each of their freshman and sophomore years. In the second term of their sophomore year, those chosen for the Navy's NUPOC program can receive $26,000 in compensation from the U.S. Navy. This increases to $53,000 for each of their junior and senior years. An additional $15,000 signing bonus also is possible.
"Florida Poly's program is a reflection of the University's commitment to providing tangible benefits to its students and graduates," said Cmdr. Donovan Rivera, commanding officer of Navy Talent Acquisition Group Miami. "It's clear to me that Florida Poly wants to provide the greatest scope of relevant opportunities to its students – from more traditional career opportunities to challenging and unique opportunities within the military."
Students in the Florida Poly program will receive mentorship from peers in the program, as well as support and mentorship from members of the military.
"The mentorship will provide participants with a clear picture of what is required to become a competitive applicant for the Navy's NUPOC Program," Rivera said. "Mentorship will consist of a wide range of subjects: physical fitness and preparation, nutrition, career development and academic counseling, and Navy familiarization."
In addition to the financial and mentorship benefits, students in their junior year are eligible for military healthcare and life insurance benefits, and they receive a military ID that allows access to low-cost shopping options on military bases and access to gym facilities.
For Elisa Rexinger, a junior majoring in computer engineering, acceptance to the Florida Poly Nuclear Propulsion Pipeline Program is providing a path to a rewarding career.
"I was inspired to apply for the program after learning how I could use the engineering skills I'm learning at Florida Poly in a way that serves my country in projects far more significant than I could imagine," said Rexinger, a graduate of Brooksville High School in Dade City, Florida. "The academic curriculum and personal support offered by Florida Poly has been invaluable in preparing me for a Naval career."
She said the financial and other benefits will make a big difference.
"The benefits allow participants to fully focus on their academics, without the need to split their attention with outside work, and to support themselves financially," said Rexinger, who hopes to become a nuclear submarine officer. "Personally, this would allow me to devote my full time and attention to preparing academically to reach my full potential as a candidate."
To learn more about the program, contact NuclearPropulsion@floridapoly.edu.
Contact:
Lydia Guzman
Director of Communications
863-874-8557