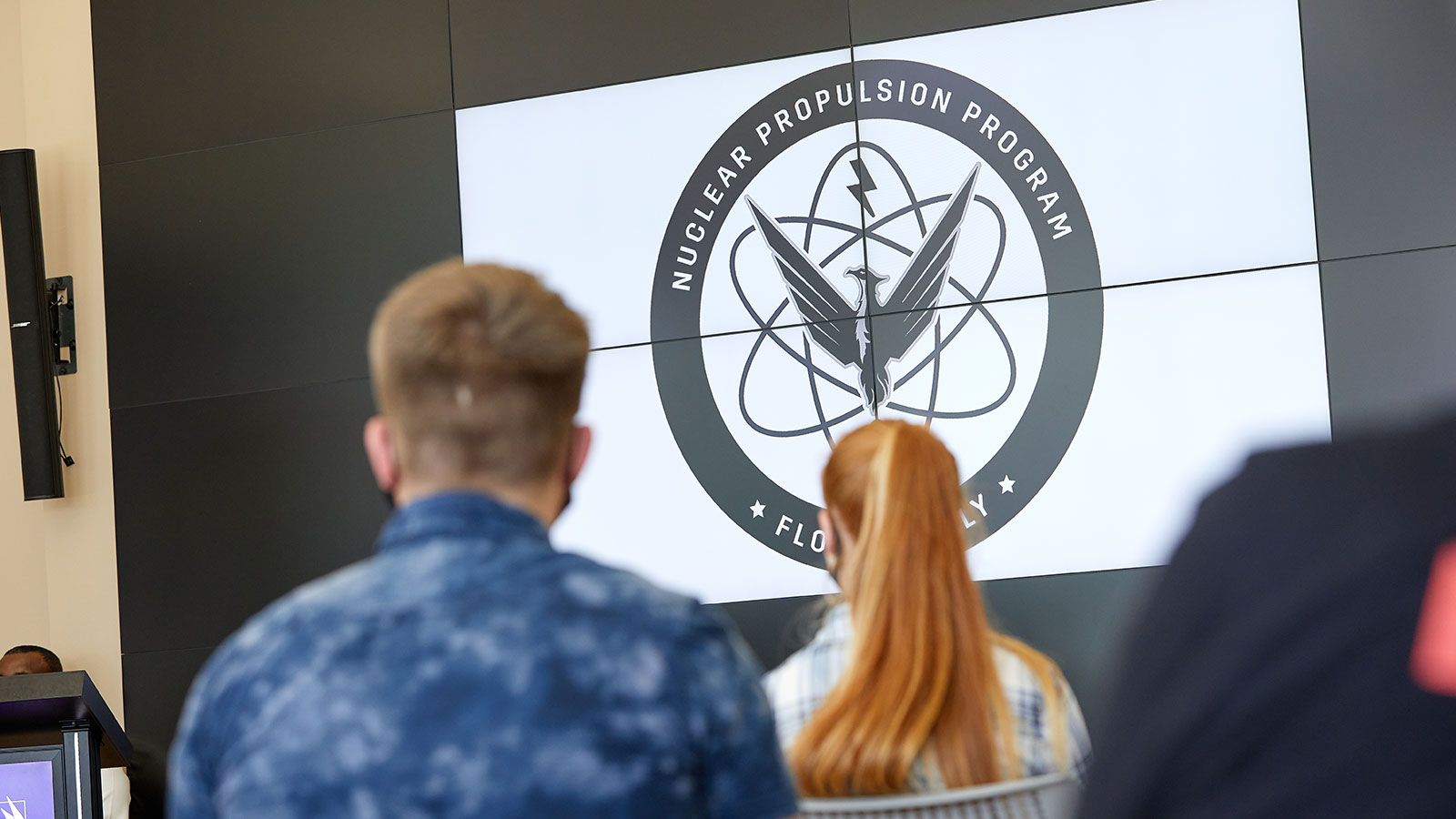 Nuclear Propulsion Pipeline Program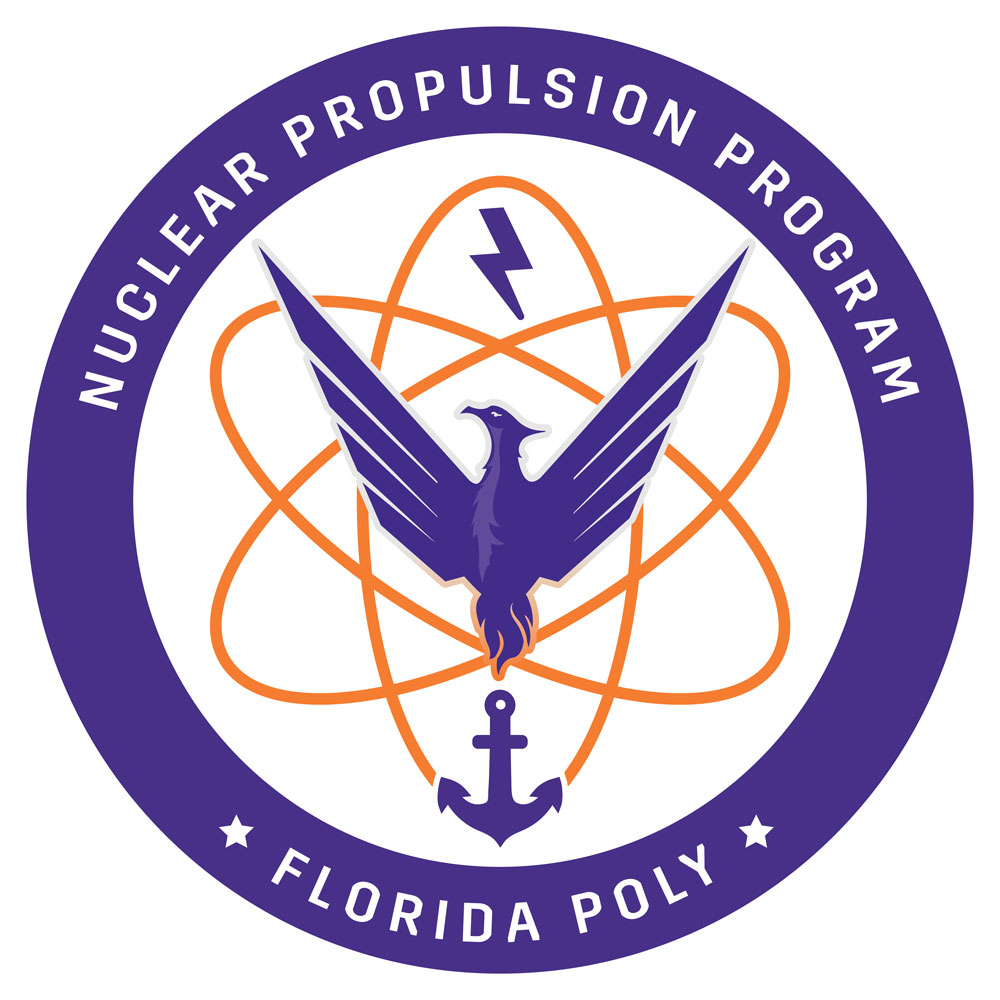 Florida Poly has collaborated with the U.S. Navy to prepare students for access to the Navy's prestigious Nuclear Propulsion Officer Candidate Program (NUPOC). It is the first pipeline program of its kind in the country.
This program is specifically designed to identify students who aspire to serve in U.S. Navy's elite programs. Students develop the skills, training, and preparation to build a profile that will help make them competitive as they move through the program. The program provides a scholarship in the first and second year, and entrants are awarded compensation of $53,000 in each of their junior year and senior year, to help admitted students fund their studies at Florida Poly. NUPOC is one of the U.S. Navy's most distinguished and challenging officer programs.
Benefits of the Program
The Florida Poly Nuclear Propulsion Pipeline Program is a highly selective program with a limited cohort of STEM students who enter Florida Poly as freshmen and begin preparing for U.S. Navy interviews from U.S. Navy officers, NUPOC officers, and University administrators. Beginning in their junior year, selected students are eligible for military healthcare and life insurance benefits, receive a military ID that allows access to low-cost shopping options on military bases and access to gymnasium facilities, and receive $53,000 in each of their junior and senior years, as well as a $15,000 signing bonus and a $2,000 bonus upon completing post-graduate nuclear propulsion training. Students in the program will develop strong bonds with friends and colleagues who can be counted on for life, with whom you will stand for and alongside as courageous and noble peers who share the highest values of integrity and honor for our country.
Florida Poly's Pipeline to NUPOC
Florida Poly has designed and launched a dedicated pipeline program that prepares students toward eligibility for the U.S. Navy's elite NUPOC programs in nuclear submarines, surface warfare, or naval reactor engineering – each of which requires talented STEM students in all majors offered at Florida Poly. The program is academically focused, given the requirements for leading nuclear propulsion operations within the U.S. Navy and beyond. Students maintain a full-time courseload throughout all four years of study as they complete their undergraduate degrees, and are not required to provide duty to the Navy during the week or on weekends during their years at Florida Poly. The generous financial support is meant to help students focus on their academic progress as there are several GPA requirements for higher levels of nuclear training roles.
Fall 2022 students who are selected to enter the Pipeline Program will receive $10,000 over the course of their freshman and sophomore years of study.
Completion of the Florida Poly Nuclear Propulsion Pipeline Program at the end of sophomore year maximizes a student's preparation for the U.S. Navy's NUPOC interview process and examinations, which provides a unique opportunity to get paid while completing a bachelor's degree at Florida Poly and a challenging, prestigious, and exciting career to follow.
Carousel placeholder image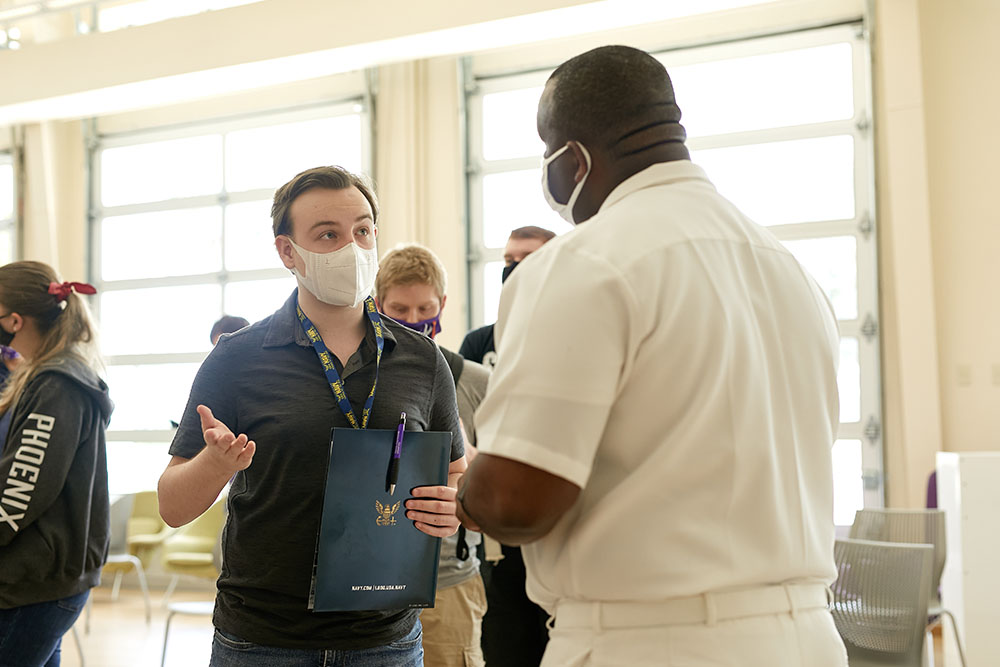 Carousel placeholder image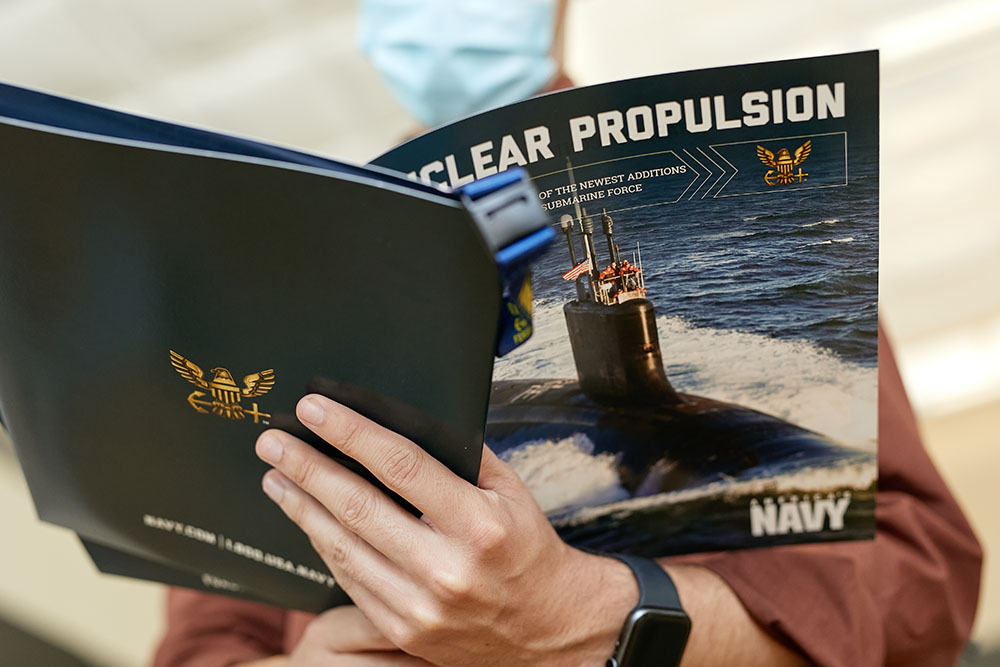 Carousel placeholder image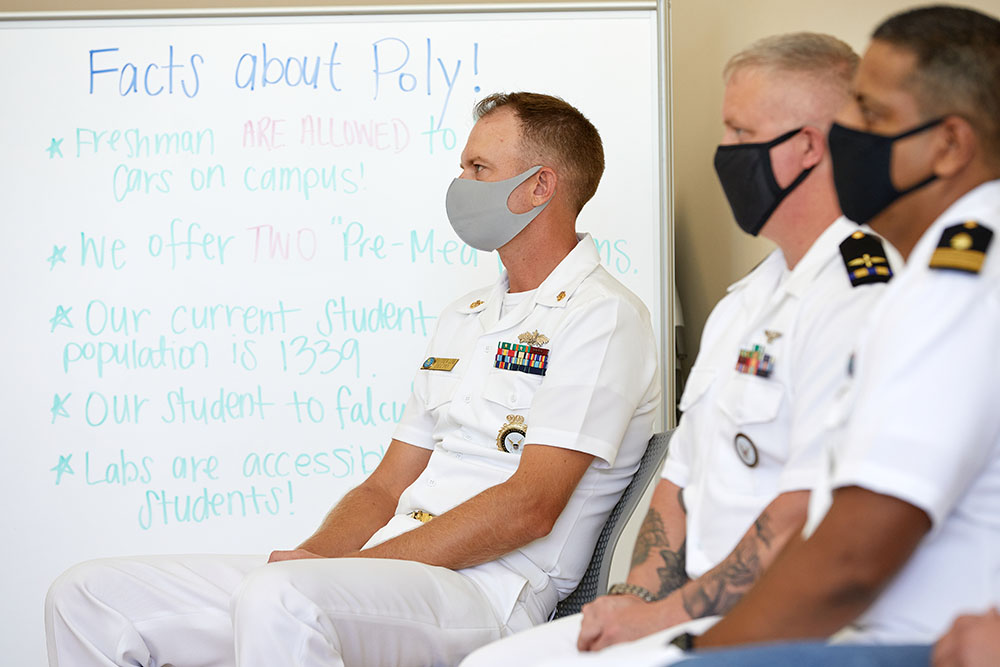 How the Program Works
Throughout their freshman and sophomore years, students in the Pipeline Program will be part of a coordinated campus community and participate regularly in activities with U.S. Navy and campus personnel. These activities and events – which include leadership seminars, mentoring, an expert speaker series, fitness programs, and field trips – are designed to maximize students' exposure to key U.S. Navy mentors and provide unique opportunities to learn about and prepare for the NUPOC process and the Navy Nuclear Officer career field.
During their sophomore year, students in the program who have successfully completed the required Florida Poly coursework (Calculus 1 and Calculus-Based Physics 1) with a minimum GPA of 3.0 will be invited to begin the screening process for the U.S. Navy NUPOC Program.
Florida Poly and U.S. Navy officers will then collaboratively assist eligible students in the military screening and evaluation process for the Navy NUPOC Program, which currently requires medical screening, academic screening, a technical interview to evaluate the applicant's knowledge of calculus and physics, a security clearance eligibility determination, and a personal interview with the director of naval reactors in Washington, D.C.
Scholarship Breakdown
For Fall 2022, freshmen who enter the Florida Poly Nuclear Propulsion Pipeline Program will receive a $5,000 scholarship during their freshmen year and a $5,000 scholarship for their sophomore year to support their studies. These scholarships are limited and it is recommended for students to submit their application to the program by April 15th to receive scholarship consideration.
Junior Year (students who successfully complete interview with admiral and are accepted into the NUPOC program)
$53,000
Senior Year (students who completed previous step and maintain a GPA above 3.2)
$53,000
Student Eligibility
Students should have the potential to be leaders who are looking to harness their high level of skill in math and science to be applied in a meaningful way that will serve men and women with a deep commitment to advancing and protecting national interests, and/or gain skills that will catapult a career in a rapidly expanding global industry. To be considered, students must be nominated by a guidance counselor OR a high school calculus, physics, computer science, or engineering teacher. Typical GPAs average a 3.0, and average board scores are approximately an SAT of 1300 or an ACT of 28.
Application to Program
Applying to Florida Poly's Nuclear Engineering Pipeline Program is one sure way to get the most out of your college experience while preparing you for expertise, prestige, and an adventurous career where you will make a significant impact. If you are an incoming freshmen or transfer, you can click the button below to apply. You must have an undergraduate admissions application in process or completed, and you will not receive a decision unless you are granted admission to the university.
After Graduation: Officer Training
Upon graduation, students who have successfully completed the NUPOC program begin the formal training process to become a U.S. Navy Officer in the Naval Nuclear Propulsion Program. The program leads to an appointment on active duty as an Ensign in U.S. Navy, serving aboard a nuclear-powered submarine or surface ship. Appointees will begin by completing the Officer Candidate School (OCS) for their specialized area.
Our Community and Leadership
Florida Poly is establishing a community forged by leaders currently serving in the U.S. Navy who are guiding and mentoring students as they work through their freshman and sophomore years in the Pipeline Program.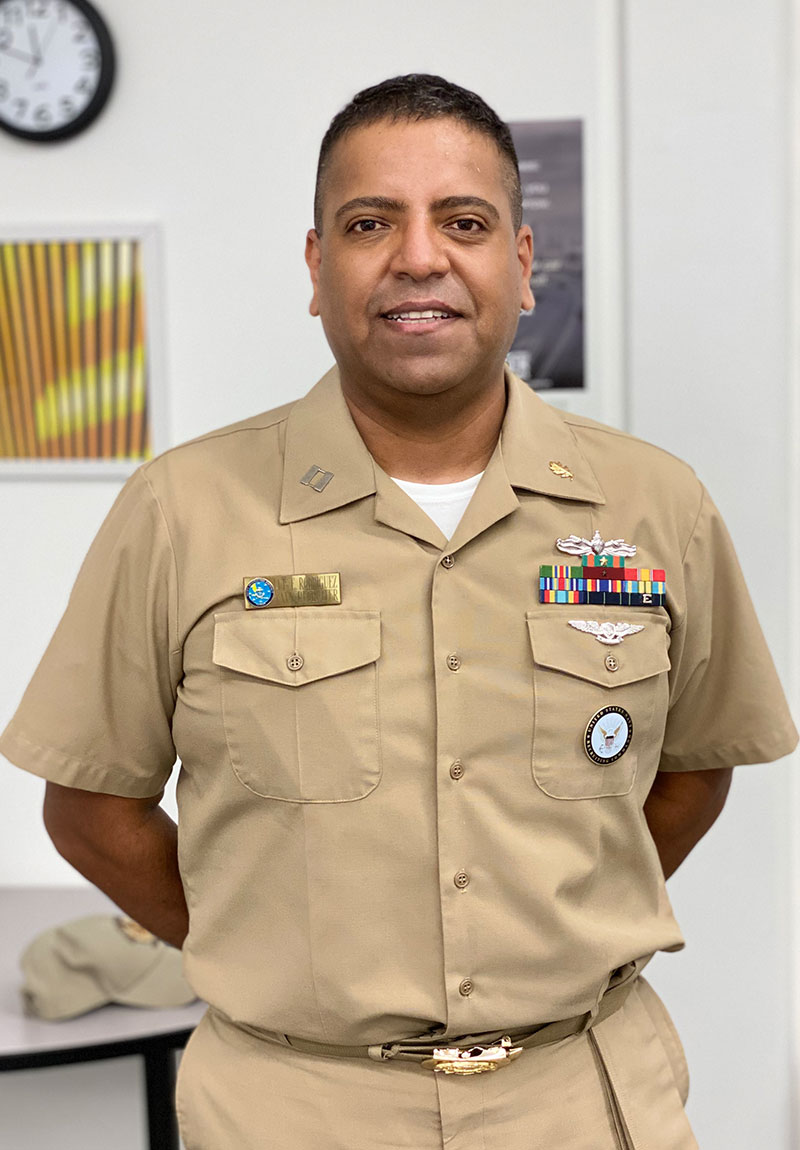 Lieutenant
Luis E. Rodriguez
Lt. Luis E. Rodriguez was born and raised in Lima, Peru. He migrated to the U.S. as an adult and worked mostly for Citigroup in New York. He joined the U.S. Navy in 2003, starting in the Navy Reserves as UT3 (Seabee Battalion Bravo at Fort Schuyler, Bronx, New York). He converted to active duty as a disbursing clerk and later changed to the personnel specialist rate. He worked five years aboard USS George Washington CVN-73, a nuclear-powered aircraft carrier. There, he was selected for a Collegiate Officer Program. At the end of his collegiate time, he left the enlisted ranks as an E7 and was commissioned as a medical service officer.
As an officer he did tours at Portsmouth (in finance), with the Marines at the 24th Marine Expeditionary Unit (as an operational planner), and with the Bureau of Medicine and Surgery BUMED HQ/DC (as a comptroller, managing the BUMED annual budget of more than $400 million). He is currently a general officer recruiter, NUPOC manager/coordinator, and division officer for the Gulf Coast South area of Florida.
LT Rodriguez holds six U.S. college degrees. Among them, a graduate degree in international security form Harvard University, a master's degree in public health (administration/finance) from Old Dominion University and Eastern Virginia Medical School, a bachelor's degree in business from Excelsior College, and a bachelor's degree in history from Thomas Edison State University. Additionally, he has been a college instructor in calculus in Peru, and in the history of western civilization at Park University.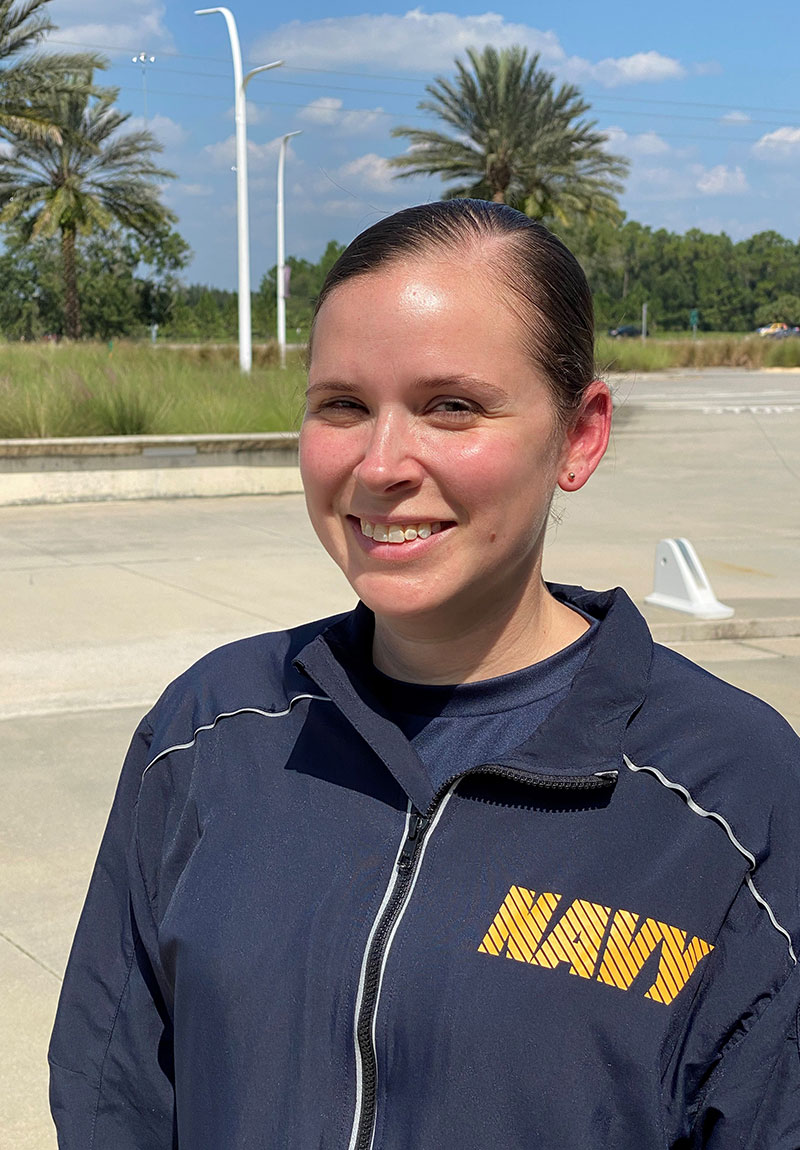 Chief Petty Officer
Kristy Medina
A native of Philadelphia, Pennsylvania, Hospital Corpsman Chief Petty Officer Kristy Medina enlisted in the Navy on July 7, 2004, attending basic training at Recruit Training Command in Great Lakes, Illinois.
Upon graduation, she began training at Hospital Corpsman Basic "A" School at Naval Station Great Lakes. She is currently serving as a Medical Officer Program Recruiter and Senior Medical Department Representative for Navy Talent Acquisition Group (NTAG) Miami at the Navy Officer Recruiting Station in Tampa, Florida. Chief Petty Officer Medina has earned her Enlisted Surface Warfare Qualification. Her personal awards include the Navy and Marine Corps Commendation Medal (three awards), Navy and Marine Corps Achievement Medal (eight awards), and the Military Outstanding Volunteer Service Medal.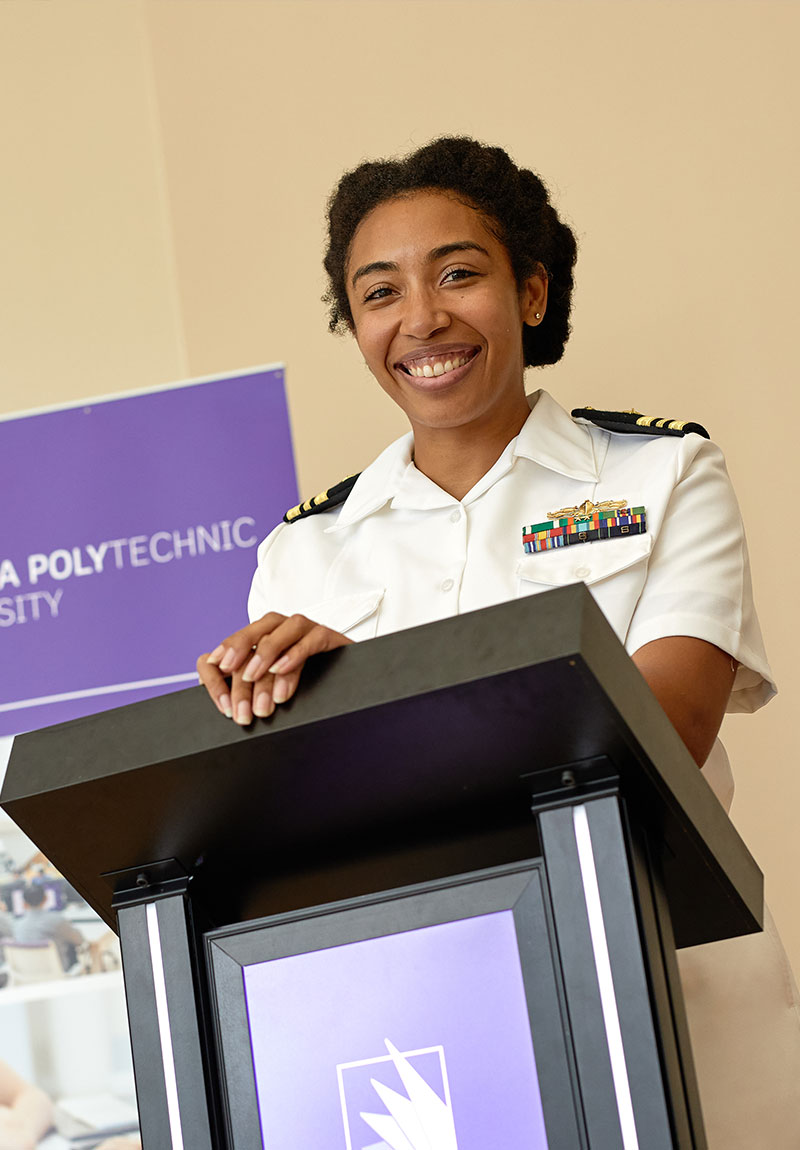 Lieutenant Commander
Erica Reid-Dixon
Lt. Cmdr. Erica Reid-Dixon has a bachelor of science degree in political science and comparative government from the United States Naval Academy, as well as a masters's degree in international relations and an executive masters of business administration degree. She most recently served as the second in command of Navy Operational Support Center (NOSC) Portland, directly supporting the NOSC commanding officer in order to provide strategic depth and deliver operational capabilities to the Navy and Marine Corps team and joint forces from peace to war. She has also served as a leadership instructor and lead planner for the Experiential Leadership Programs at the U.S. Naval Academy.
Jackson Durhan is a third-year student at Florida Polytechnic University, currently pursuing a degree in Mechanical Engineering. Jackson has always been fascinated by naval history, and ships that made that history. He has read about and studied naval vessels, especially nuclear vessels, for years before finding out about the NUPOC Pipeline Program, so the program naturally sparked his interest. He comes from a long line of family members who served and has a desire to give back to his country through service. In his free time, Jackson enjoys reading, playing guitar, playing games with friends, and trail biking.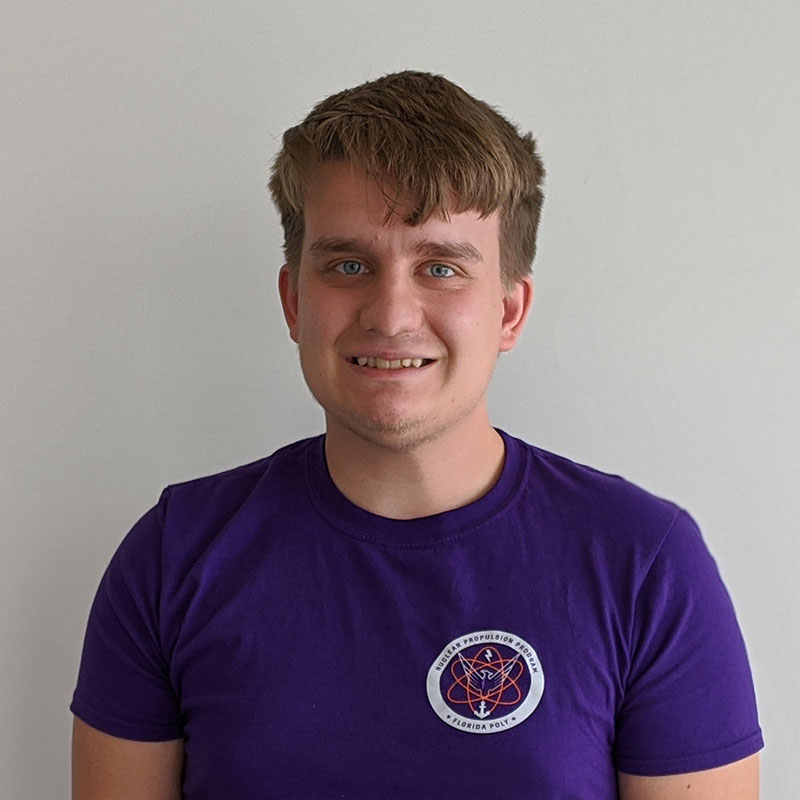 Louis Roscoe is a junior at Florida Polytechnic University where he is currently studying Environmental Engineering. His decision in choosing this major is one that stems from his studious personality combined with his love for plants and animals alike. Because of this, people that know Louis well would describe him as being extremely selfless as his motives for choosing such a major is to help aid the world in becoming a cleaner and healthier place. This selflessness and studious disposition that Louis possesses is something that has driven him to go above and beyond in everything that he does whether it be schoolwork, community participation, or his involvement in organizations back in high school and now here in college. To list a few of his high school accomplishments would include him leading as a Co-Commanding Officer of his NJROTC unit, serving as Vice-President of the Environmental Club, and serving as Vice-President of the National Honors Society in his high school. Some other accomplishments that he has made since graduating high school include working as an OPS Health Educator for his local health department and also him partaking in SGA as the Environmental Engineering Representative during his freshmen year at Florida Poly. Louis finds a deep commitment in taking part in the NUPOC Pipeline Program being offered at Florida Poly as its structure aligns with his interests as well as the fact that the NUPOC program is something he has considered applying for since his junior year in high school. Louis can be seen spending his free time mostly relaxing with his girlfriend, friends, or cat and on occasion playing video games, going for a run, or collecting Pokémon cards.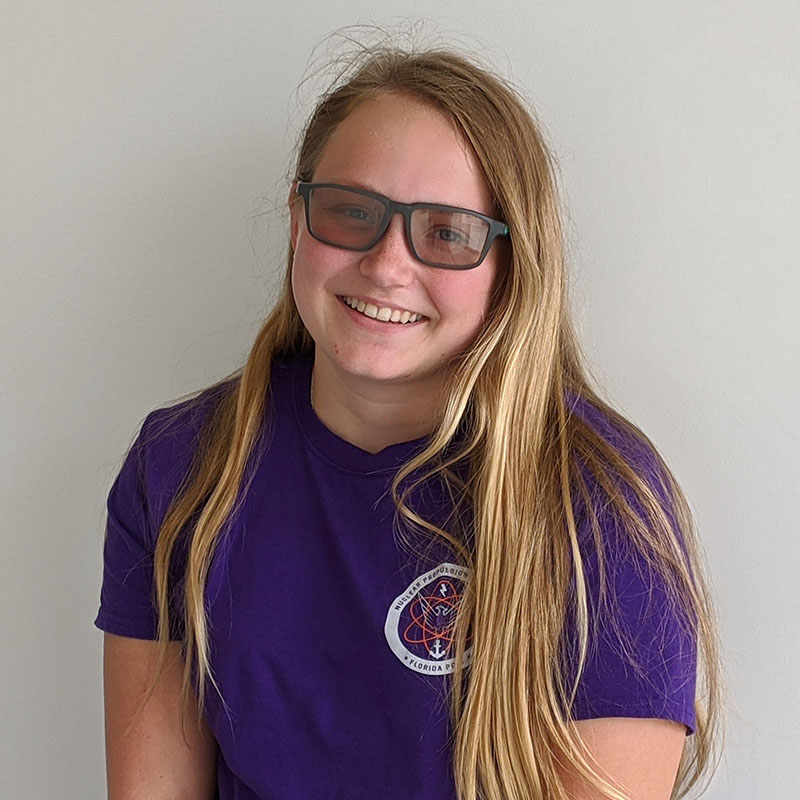 Meghan Miller is a junior at Florida Polytechnic University where she is majoring in Environmental Engineering. Her interest in Environmental Engineering started when she wanted to pursue a career in the water management industry, but it has now led her in a different path, the NUPOC program. Meghan's passion for the NUPOC Program stemmed from being a leader in her NJROTC unit and wanting to continue with the military. In high school, Meghan was the co-commander of her NJROTC unit, president of the National Honors Society, and an avid member of the golf team. At Florida Polytechnic University, Meghan is a member of the Florida Poly Mutants, the school's ultimate frisbee team. When she is not working or doing homework, she likes to sit at home with her cat Persephone, visit her friends and family, or binge watch TV shows.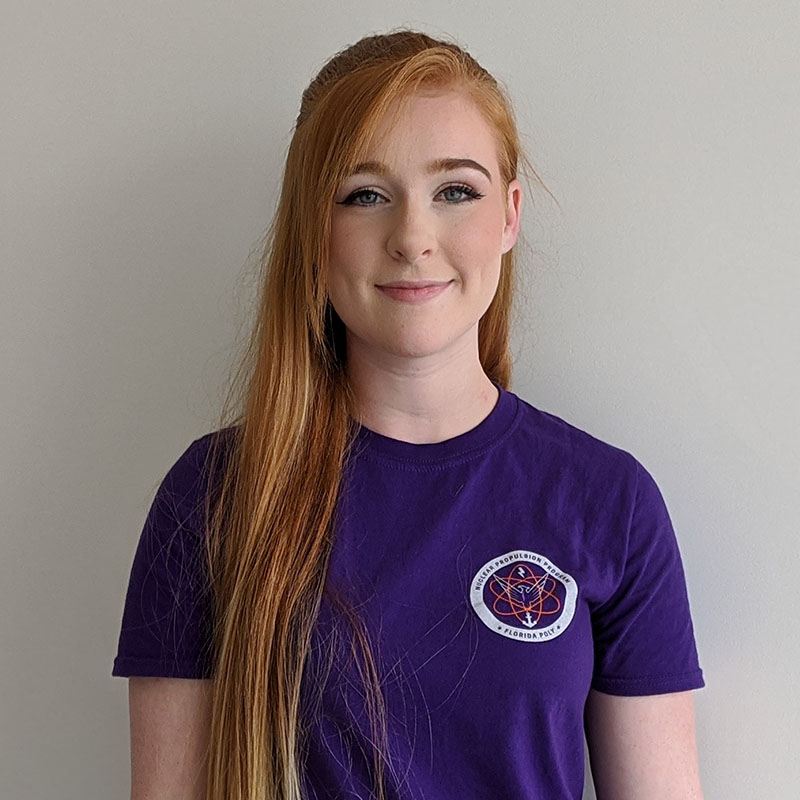 Elisa Rexinger is a junior at Florida Polytechnic University where she is majoring in Computer Engineering with a concentration in Machine Intelligence. Finding her passion for engineering at a young age through disassembling computers and learning her first programming languages to build console games, Elisa finds the field of engineering to be an exceedingly rewarding career path and is driven to apply what she's learning at Florida Poly to the Navy's NUPOC program. In her free time, she can be found writing the next chapter of her historical fiction book or designing user interface templates.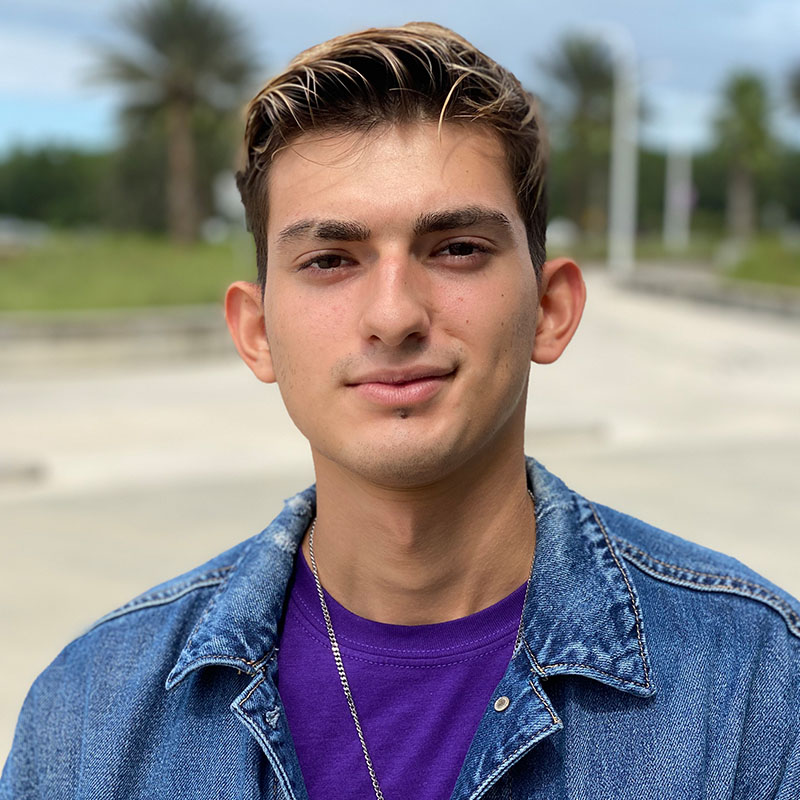 Jancarlos Mercado is a freshman at Florida Polytechnic University and he is majoring in Environmental Engineering with a concentration in Water. He's interest for engineering was born when he watched a video of aerospace engineering when he was 7. He is from Puerto Rico, making it an island makes him think about how water and the environment can be used to our advantage by using solar technology, airpower and hydraulic technology. NUPOC program had an interest on him because he has always found nuclear technology fascinating. As a ex cadet in the civil air patrol, he already has experience in basic military training and knowledge. His hobbies are playing chess, basketball and fishing.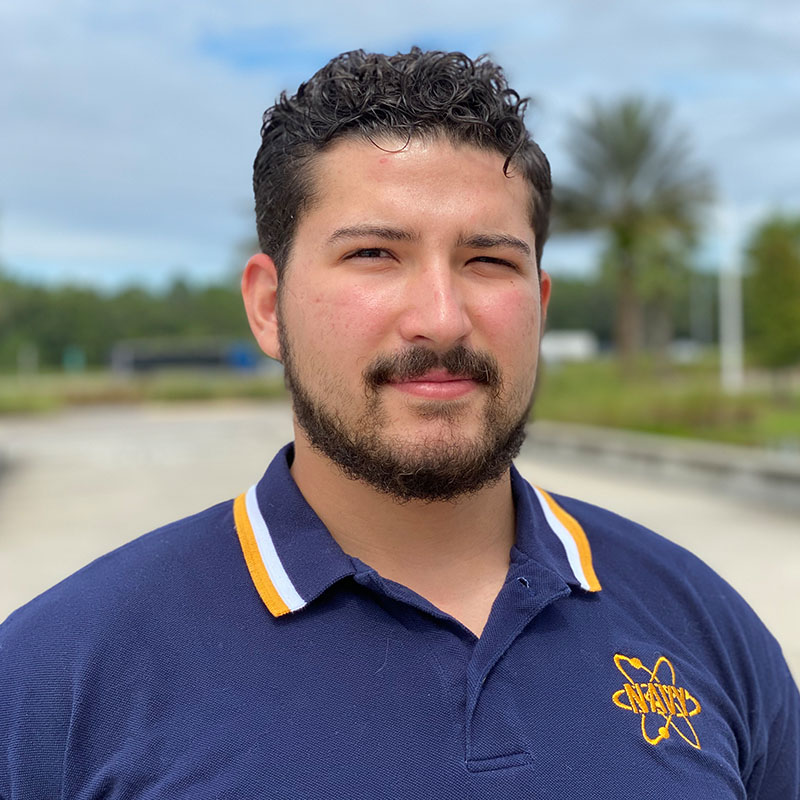 Joseph Boyd is a Nuclear Propulsion Officer Candidate (NUPOC) in the United States Navy. Joseph believes that you can achieve anything through hard work and dedication. This mindset is exactly what is needed to participate in the NUPOC Program. Joseph did an internship at Naval Support Activity Panama City working as an engineering intern to aid in several research and design projects. Joseph is currently a senior working towards a B.S. in Mechanical Engineering from Florida Polytechnic University.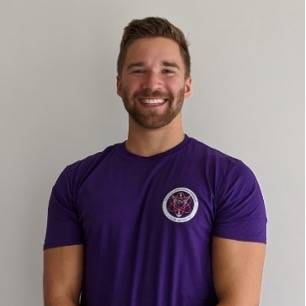 Conner Murphy is a Computer Engineering major with a focus in machine intelligence. In high school, Conner played tennis and was a state champion cheerleader for his high school co-ed team. The rigorous training of competitive cheerleading developed a love for sport and strength training that Conner still enjoys to this day. Conner enjoys snowboarding and skiing in the winter and enjoys getting out of his comfort zone. Conners's favorite experience was a 20-day camping trip in the Bridger Teton national forest and camping in the beautiful backcountry.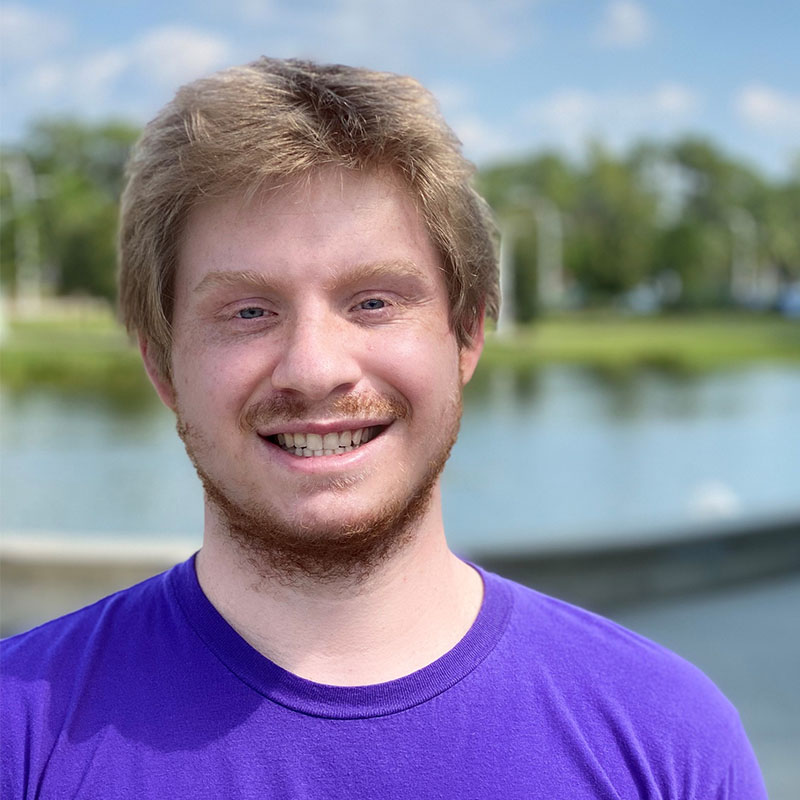 Patrick Cole is a Sophomore at Florida Polytechnic University where he is majoring in Mechanical Engineering with a concentration in materials and advanced manufacturing. He has four older brothers, three of which have served or are still serving in the military. Patrick wants to give back to his country after being given such a great opportunity to explore what interests him. In high school, Patrick played football and was first introduced to engineering. His high school shop teacher inspired him to focus on the manufacturing aspect of engineering because of the variety of applications it had to real world production. At Florida Poly, he is currently the treasurer for American Society of Mechanical Engineers (ASME). In his free time, Patrick enjoys playing video games with his brothers and working out.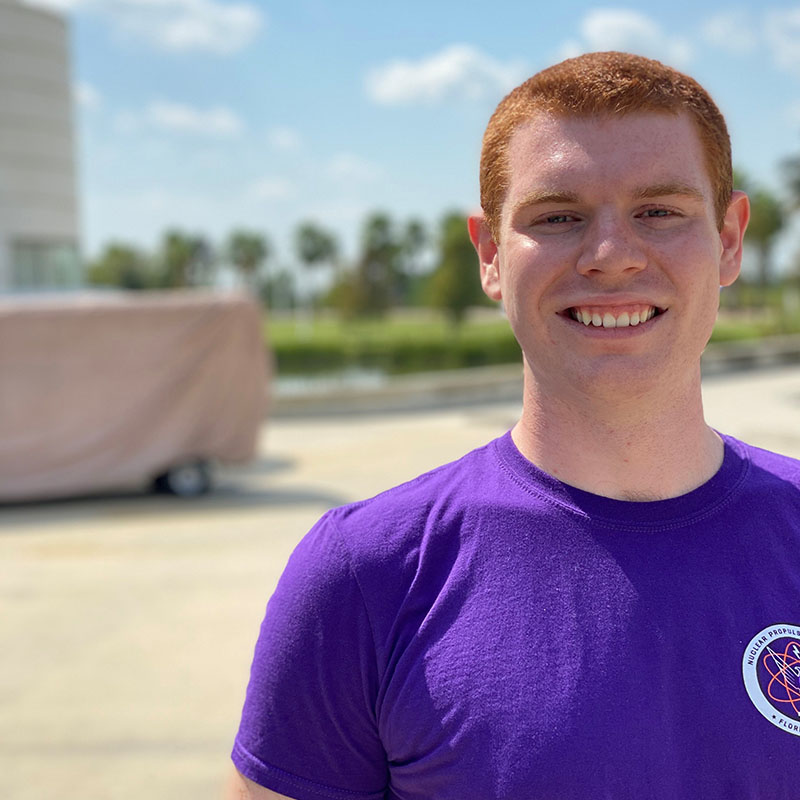 Zachary Curington is a senior electrical engineering student at Florida Polytechnic University. After excelling in college-level math classes through high school, he decided to pursue a STEM degree so he could convert his interest into a career. Inquisitive by nature, he cataloged questions about how the technology which fascinated him worked, driven to intuitively understand as much as possible. A periodic reader, Zachary was fascinated by the technical detail in Tom Clancy's writing, particularly around maritime procedure and nuclear propulsion engines. His religious upbringing instilled an urge to work for the good of others. In his spare time Zachary likes to practice parkour, spend time with friends and family, and learn about a variety of topics.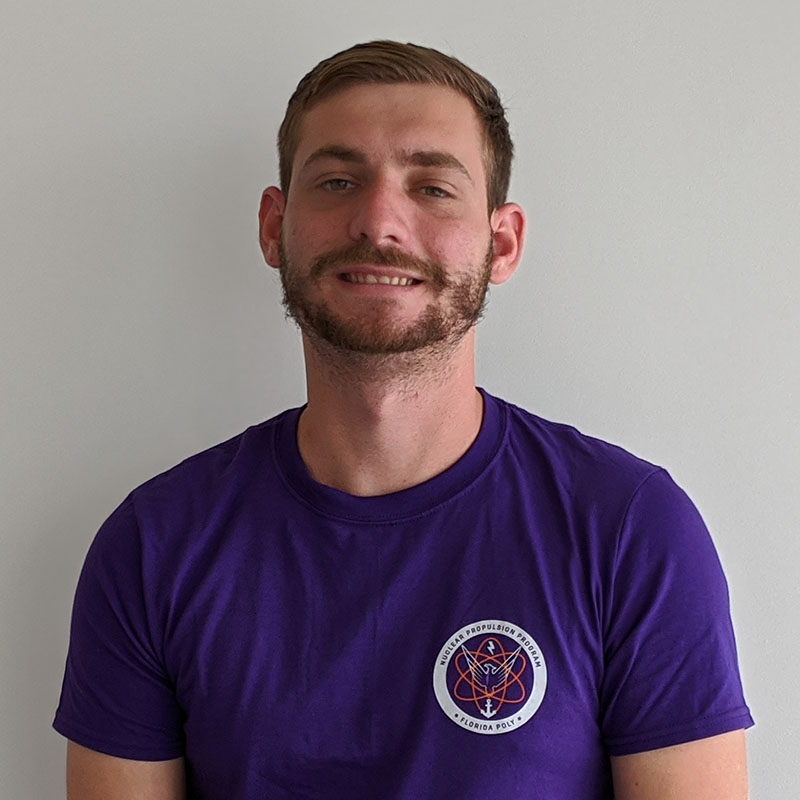 John Privitere is a junior in the computer engineering program concentrating in Autonomous Robotics Systems. He is currently a United States Marine Corps Reservist who has received awards for his hard work and dedication in his field of logistics with the specialized in Hazardous Materials while as assistant section head. At Florida Poly, he has held multiple leadership positions from new student orientation leader to SGA safety committee representative. In his spare time, he loves going to Disney and hanging out with his friends. His favorite campus event is Purple Fire Week, specifically Neon Night because it is a big welcome back event, and everyone gets to have fun and catch up with everyone.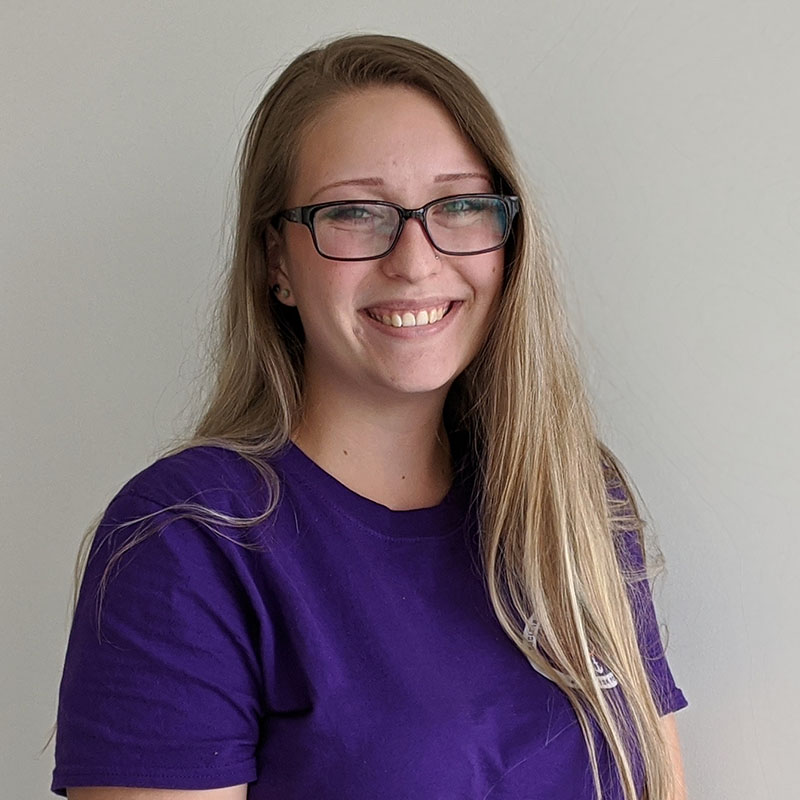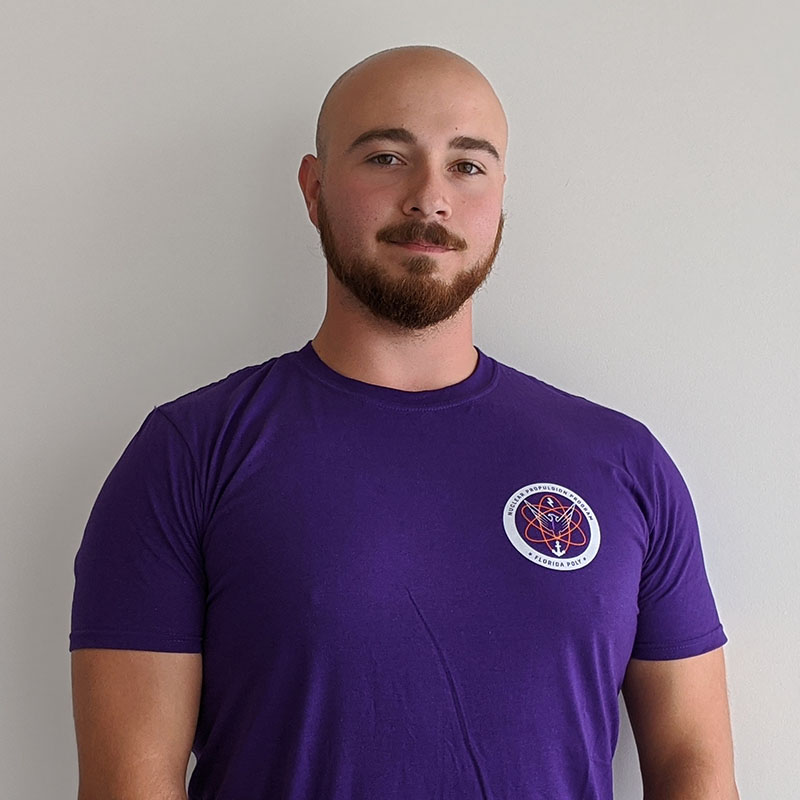 Questions?
For more information about the Florida Poly Nuclear Propulsion Pipeline Program, contact Shelley Esker at NuclearPropulsion@floridapoly.edu or 863-874-4774.