Q&A: Cindy Nguyen finds confident self and sets to conquer big data field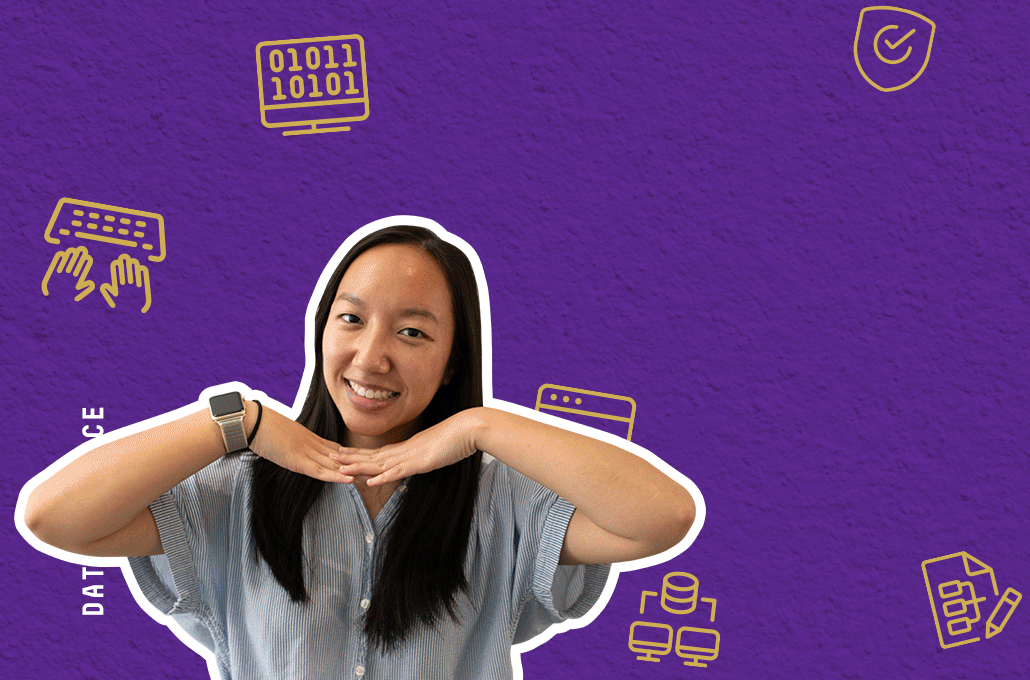 Cindy Nguyen '21 joined Florida Polytechnic University as a brilliant, but timid student who was only interested in learning in class. She quickly realized that stepping out of her comfort zone would give her a more fun, well-rounded college experience. The graduate of Seacoast Collegiate High School in Santa Rosa Beach, Florida, became an Admissions Ambassador and discovered a new passion by joining the Archery Club. And as she earns her bachelor's degree in data science with a concentration in big data analytics, she is excited to make her family proud.
What does earning your degree mean to you?
Earning my degree means a lot because it opens doors and gives me the opportunity to advance further in the data science field. But it means a lot too because I'm the first in my immediate family to go to college. So, I'm doing this for my parents and my family as well. I have a younger brother who is a junior also at Florida Poly. When we were both in high school, I was looking at colleges and my brother heard about Florida Poly first. He went on tour to see it and I came along. I remember thinking it was so cool. Then I did my research on it and here we are.
Why did you choose your major?
I started out in computer science, but soon I began looking into changing my major for something more in tune with my strength in mathematics, which is something I really like. So, I reached out to Career Services and they introduced me to data science, which is a mixture of math and programming. It involves a lot of working with data and that caught my interest, so I switched in my sophomore year. It is exactly what I was looking for in a major. I'm loving it still to this day and I'm excited to start working in the field.
What was your favorite course and why?
There were so many, but I'd have to say Statistical Learning and Data Mining and Text Mining. Those courses really helped me further my interest in data science. They showed me the applications and knowledge about everything like different algorithms and concepts. It was really fun to learn how to understand the data and how to manipulate it because you can do so many things with those skills. It's really fun to code and see how by typing in just a couple of lines can change the whole data set. I find it fascinating.
Where did you complete your internship(s) and what did you gain from the experience?
I did my internship at WellCare Health Plans, now known as Centene. They provided me with a project to work on that required me to learn to use an extract, transform, and loading (ETL) tool. You have this large data set and then you utilize this ETL tool to clean it up and manipulate the data to pinpoint exactly what you want to find. It was a very interesting project and I really enjoyed it. It was a great experience and opportunity.
How well do you feel Florida Poly prepared you for life after graduation?
I think Florida Poly does a great job preparing you. I feel like most of the courses I've taken and my internship experience have really helped prepare me for what I need to know at a job. Also, the services the school offers, like career services, mock interviews, internships, and career fairs. All of those are very helpful. I think students can feel confident about what they've learn and apply it to the job they're going for.
What did you enjoy most about your time at Florida Poly?
I've really enjoyed all the connections I have made. Not only my friends, but also my professors. I've also enjoyed working for the Office of Admissions and with high school students. The position allowed me to share all about what Florida Poly has to offer and how my experience at the University has helped me grow. Being around people is what has been the most memorable for me at Florida Poly.
What was your greatest accomplishment at the University?
Being able to work on a very relevant educational project as part of undergrad research. When COVID-19 first started, every university had to adjust to remote learning. So, Dr. Rei Sanchez-Arias and I worked on a project to develop Jupyter notebooks on scientific computing and data analysis concepts to help professors, students, and whomever is interested in learning about it. We created these materials so you could learn at home with everything laid out, explaining the concepts, providing examples, and including some hands-on learning code. It is something to really help with the remote learning process. I never expected in my undergraduate years to be able to work on a project like this and publish the tool for everyone to use, so I think that's pretty awesome.
What advice would you give an incoming freshman?
Put yourself out there. When I first started, I was very shy. I came in focused on just going to class and learning. But once I put myself out there and met new people through networking, I opened myself to so many opportunities and awesome friends, peers, and mentors. Networking is really important. Now, I feel more confident reaching out and sharing my experiences with future students. So, try something new, something you've never done before. Maybe the Archery Club! What's the worst that can happen? You may find yourself liking something new while meeting great people.
What are your long-term career goals?
Data science is so broad, and it can be applied to any field. So, I'm hoping to go into industry first for a few years to get a feel for where I want to be, for example health or technology. Then I want to go for my master's degree at some point to further my education, maybe within the next five years. I would like to eventually, wherever I'm working, become a data scientist or a project manager. And as I get more years of experience, I would like to share my story and help other women in STEM. I think it's important to raise awareness of the need for more women in STEM fields.
Editor's note: This story is part of a series of Q&As with some of Florida Poly's Class of 2021 graduates.
Contact:
Lydia Guzmán
Director of Communications
863-874-8557