Music Club strikes a chord within Florida Poly students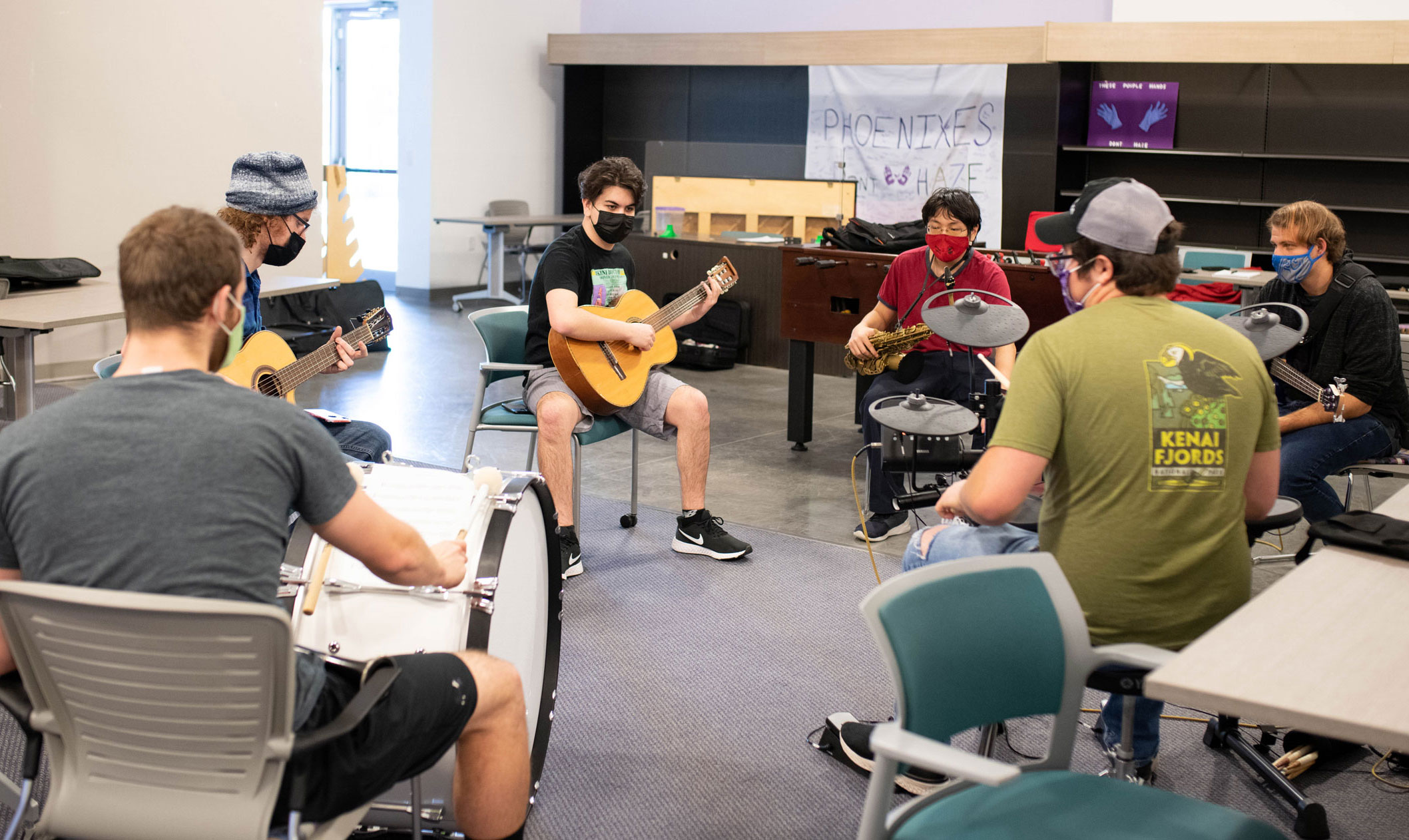 Students at Florida Polytechnic University who make their way to the Wellness Center on Friday afternoons can quickly find themselves swaying to the energetic melodies pouring from the Nest as the Music Club hones its funky rhythms.
The club's main focus is simply gathering in jam sessions to play music, and it welcomes players of all instruments and skill levels.
"It's really casual. We can have some people walking by and getting packages from the mail room and we're over here jamming," said junior Julian Maniquis, the club's new president and alto saxophone player. "Sometimes we even have vocalists who come by and they want to have a backing band and we can all play together."
The club's musical stylings run the gamut of whatever interests its members. During Spring Fest in March, the club did an impromptu performance featuring songs by Daft Punk, Foo Fighters, and more.
"There's no bringing in sheet music. We just learn a song," said computer science major Robert White, the club's outgoing president who graduates this semester. "Alto sax is not in any of those songs, but we put Julian in anyway and it sounds great. If anybody shows up with an instrument, we'll try to fit you in."
White, who plays guitar, said the club and members of the Florida Poly Band often cross over and play together.
"They're a proper band with an instructor and we are a community band, so members of that band will show up and play with us in a laid-back environment," said White, from Miami, Florida.
The two-year-old Music Club offers an especially welcome change of pace from the students' rigorous studies, he said.
"It's just a good stress reliever. We can forget about academics a little bit and just hang out and play music," said Maniquis, a computer science senior from Boynton Beach, Florida.
For sophomore Edan Phillip, a pianist, guitarist, and the club's vice president, the weekly jam sessions offer a relaxed way to continue with his musical passion while pursuing his computer science degree.
"Once I got here, I had my piano in my dorm room and I didn't want to give up on the drive I had because I was at the point where I was getting so much better at it," said Phillip, from Fort Lauderdale, Florida. "Then I saw posters for the Music Club, and it seemed interesting, so I started coming to the meetings."
This fall, the club hopes to begin hosting music workshops focused on music theory or particular musical instruments.
"As the need grows and the community grows, I'd like to see the club expand into whatever the students need it to be," White said.
Contact:
Lydia Guzmán
Director of Communications
863-874-8557