Engineering alumna puts skills to work in ARC construction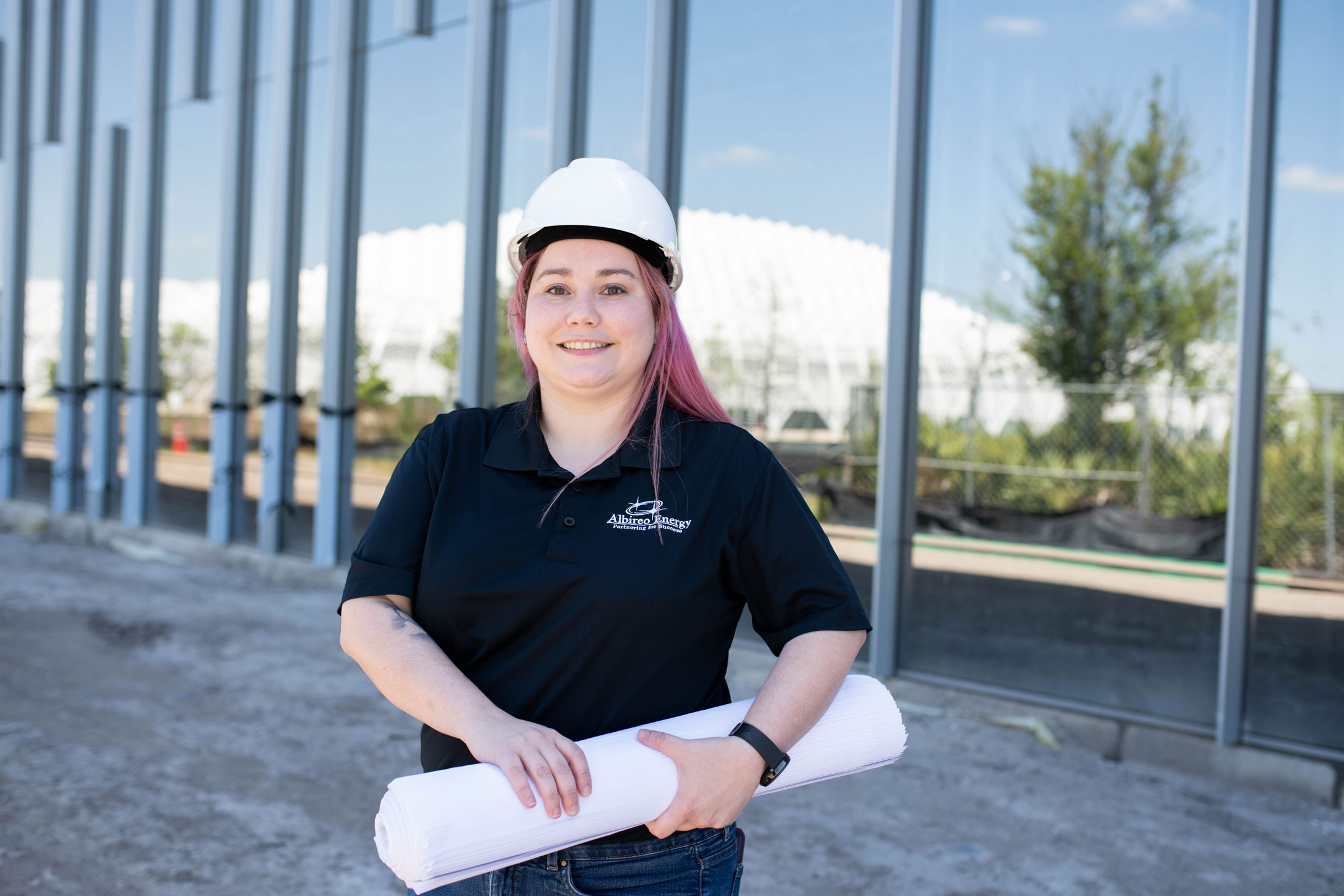 As a project engineer with Albireo Energy, Mehgan O'Connor '18 is getting to make her mark on Florida Polytechnic University in a way that is unrivaled by the rest of her graduating class.
O'Connor is playing a major role as a controls engineer in the construction of the sleek, new Applied Research Center (ARC) on campus.
"I did the controls design and I'm overseeing the project as it goes through the installation process," said O'Connor, who began working with the nationwide provider of building automation and electrical power monitoring systems in 2018. "I will also be doing the programming for all the control systems."
For O'Connor, who received her degree in mechanical engineering from Florida Poly, the experience working on the approximately 90,000-square-foot ARC is a career high.
"This is huge. I feel like I'm giving back to the University by being able to work on the new building," she said. "I jumped at the opportunity to be involved."
Her role as controls engineer is not the first time she has been involved with Florida Poly since her graduation. O'Connor also participated in career fairs to recruit students to work with her at Albireo Energy. She also attended PIVOT, the University's premier philanthropic event, on behalf of the company in 2019.
"Seeing the University grow has been amazing," said O'Connor, from New Orleans, Louisiana. "It makes me feel pride in my degree and my accomplishments at Florida Poly."
O'Connor worked as a teaching assistant for multiple professors at the University and excelled academically. One of these professors who was familiar with both Albireo Energy and O'Connor's work encouraged her to pursue employment there.
"I was very nervous about what it would be like transitioning from being in academics to going to a full-time engineering position in the field," she said. "But the transition went really smoothly, and my performance has been fantastic with the company."
Her supervisor at Albireo Energy agrees.
"Mehgan is an outstanding employee and she would be everything you're looking for in a worker," said Brandon Streicher, engineering manager at Albireo Energy. "She's hardworking, driven, motivated and focused. She represents the University very well."
O'Connor said her coursework in thermodynamics, fluid mechanics, and project management has been instrumental in her job performance.
"You can only fit so much technical knowledge into your head, but my project management class really taught me how to think about things and how to approach problems in an engineering mindset," she said.
As the ARC construction continues, O'Connor is eager to see the project come to life and add to Florida Poly's unique campus environment.
"I love seeing the University grow," she said. "It's super cool. It's going to be a great place for research at the University."
Contact:
Lydia Guzmán
Director of Communications
863-874-8557