Florida Poly scholars program receives $1.5 million gift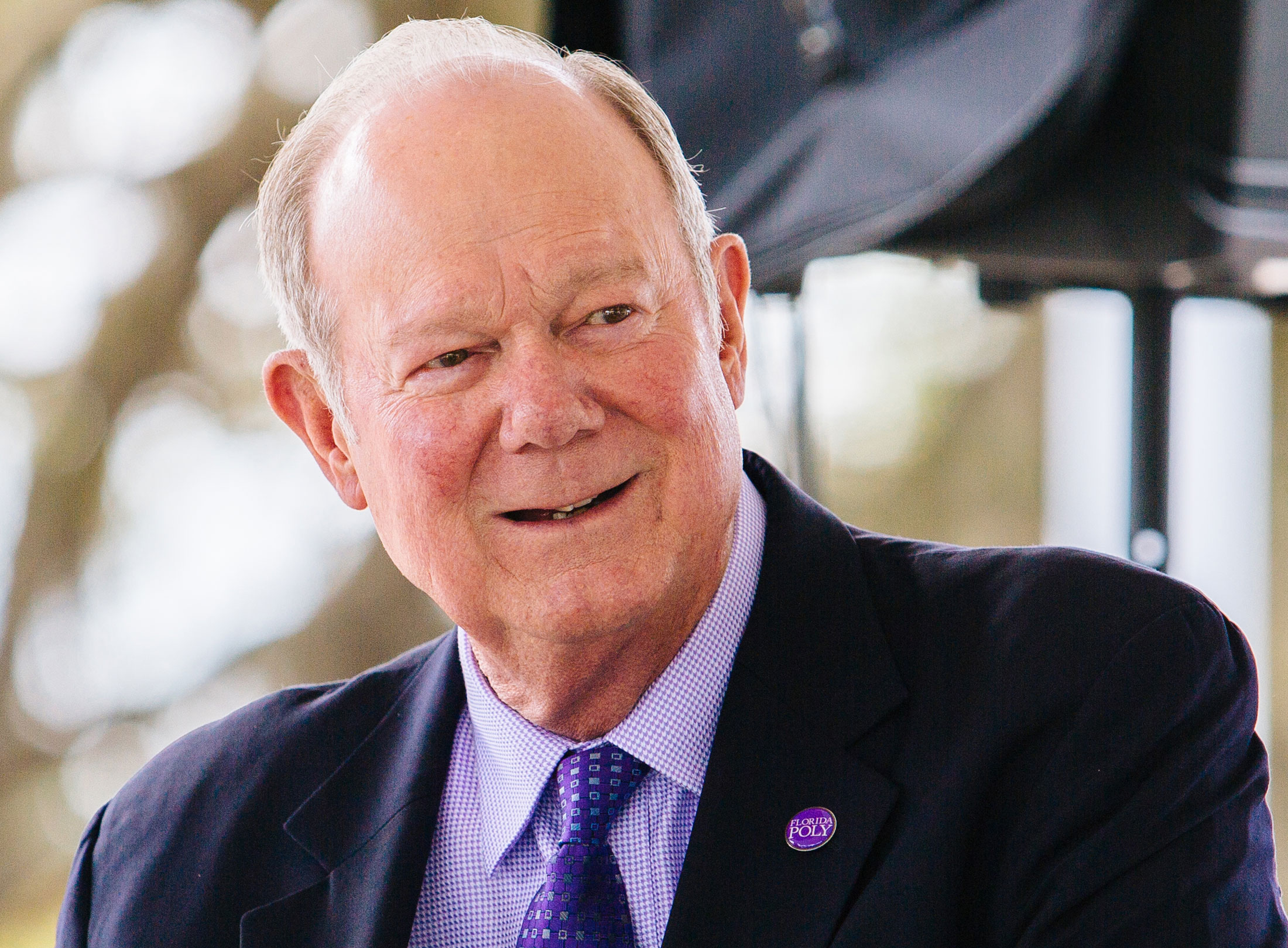 LAKELAND, Fla. – A scholarship program, supporting talented students in achieving their technology-fueled goals at Florida Polytechnic University, received a significant boost from the family of one of the school's first and biggest advocates.
The John R. Alexander Scholars Program honors the legacy of one of the University's most ardent and earliest supporters. Alexander passed away in 2018.
"John was a strong supporter of Florida Poly from its inception," said Sarah Jane Alexander, the wife of John R. Alexander. "He worked tirelessly to raise awareness and support for this new educational institution. Once Florida Poly became a university, he started the JD Alexander Scholarship fund in honor of our son who was instrumental in helping establish the school; however, after John's death JD asked that the program be renamed the John R. Alexander Scholars Program."
Sarah Jane Alexander and her family have committed to furthering the legacy of John R. Alexander's passions with a $1.5 million gift that invites other donors to double the gift through one-to-one matching contributions to the Alexander Scholars program with a total goal of $3 million to the program.
"For these talented students who otherwise could not afford an education, this is making it possible to not only get an education, but earn high-paying salaries upon graduation," Sarah Jane Alexander said.
Now called the John R. Alexander Scholars Program, the initiative helps Florida Poly recruit exceptionally high achieving students while paving the way for each scholar to realize their ambitions without the burden of substantial student debt.
"My dad certainly believed in helping people, and he spent most of his life helping individuals improve their lives and find more success," said JD Alexander, John R. Alexander's son. "This is just one of the expressions of that continued effort by my family to help everyone find paths to success."
JD Alexander was instrumental in the establishment of Florida Poly while serving as a state senator, and the University's main campus is named in his honor.
"I would love to see the scholars program grow to the point that a significant percentage of Florida Poly students are supported by the program," he said. "I think it would help the overall success of the University by supporting high-talent students who have the desire and ability to not only succeed at Florida Poly, but succeed in our state."
Alexander Scholars receive a new laptop and a $40,000 scholarship over four years at Florida Poly. They also enjoy special recognition upon graduation and guaranteed acceptance to Florida Poly's graduate program, if they meet GPA requirements.
"John realized the unique value of a STEM education and he was so excited and pleased about what Florida Poly meant to the world of higher education," Sarah Jane Alexander said. "To have a university dedicated to STEM (science, technology, engineering, and math) here in Florida is something that John was very proud of, and retaining talented students here in the state of Florida was very important to him."
Kathy Bowman, vice president of advancement at Florida Poly, said the matching gift will impact the lives of top students pursuing degrees at the University.
"We are incredibly honored to have Sarah Jane Alexander and her family create a legacy, honoring John R. Alexander's contributions throughout his lifetime, including leadership throughout the state and community and his lifetime of philanthropy," Bowman said. "The Alexander Scholars Program is a significant program at the University that is designed to attract outstanding students to Florida Poly, and the financial, academic, and technological support are designed to assist these scholars in their journey here."
"This scholarship is what solidified my decision to come to Florida Poly," said Sebastian Sage, an Alexander Scholar from Weston, Florida, majoring in engineering physics. "With this scholarship, I realized it would be way more affordable to come here than to go to any other school – I would have been nearly $200,000 in debt somewhere else and now I will be debt free."
Sage said he is excited to pursue a lucrative career in renewable energy or the space industry after he completes his degree.
Sarah Jane Alexander said she is delighted to hear about the impact the program has on students' lives.
"It thrills me to hear that this scholarship program is helping students attend Florida Poly and, even more so, providing valuable resources to help them be successful."
To learn more about the John R. Alexander Scholars Program, email foundation@floridapoly.edu.
Contact:
Lydia Guzmán
Director of Communications
863-874-8557