Florida Poly launches new Women's Club Soccer team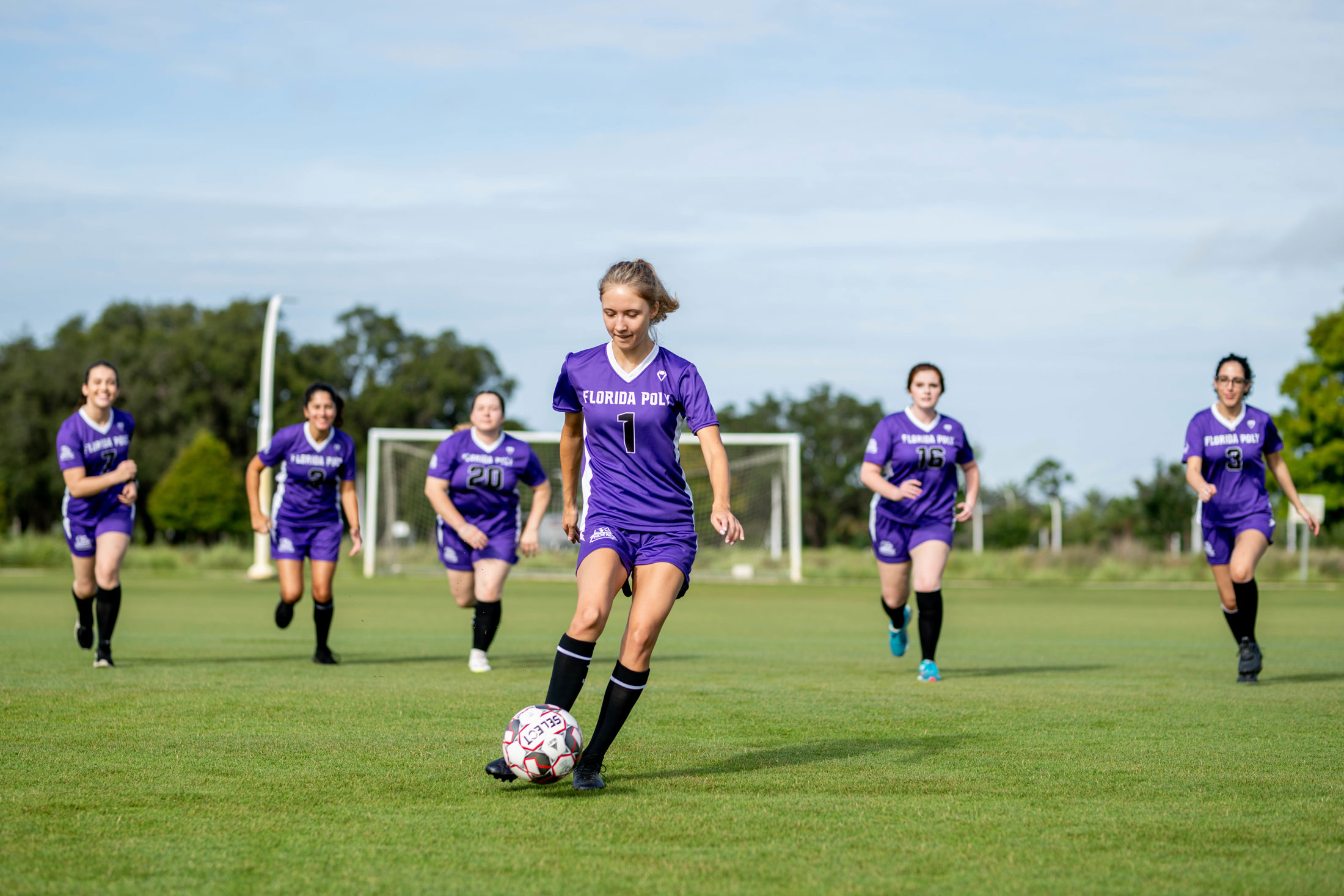 A new and excited Florida Polytechnic University Women's Club Soccer team has taken the field and is ready to take on the competition.
The team began coming together in the spring, championed by an effort from business analytics sophomore Madi Yonash. She played the sport her entire life and while she considered playing at the NCAA level, Yonash decided to prioritize her STEM studies and find a new outlet for her soccer ambitions.
Now Yonash is the captain of the new team which has quickly grown to more than 30 members strong, and she's working with them on sharpening their skills and mentoring the players who are newer to the sport.
"I am so excited," said Yonash, who is also the team's goalie. "It's great to see so many people on our team who are so excited to learn and be better as a team."
The new club soccer team and University-wide TEAMS initiative at Florida Poly fill an important void for many students. Nationally, more than 350,000 high school students play girls the popular sport, but only 7% play at the Division I, Division II, or Division III level.
"I think the general stereotype for really smart, innovative students into tech is that they don't play sports, and that's wrong," said Dr. Ben Matthew Corpus, vice provost for admissions and financial aid at the University.
The Florida Poly Women's Club Soccer team played its first game on Sept. 16 against the University of Tampa.
"We wanted to use this as an opportunity to get better," Yonash said, noting the ways that the club team has improved in the past several weeks.
Coaching the team is Taylor Cool, who has more than 10 years of coaching experience and has played the sport throughout his life.
"I've been impressed with the participation numbers at Florida Poly," Cool said. "The skill level varies depending on the student, and I'm trying to mesh all of that together and create a real positive environment for the team."
The last women's soccer game of the season will be at Florida Poly on Saturday, Oct. 23, when the team takes on Florida Atlantic University.
"The thing that's most important to me is the girls care about the team and each other," said Yonash, a graduate of Ridgeview High School in Orange Park, Florida. "Having that community is really important on campus."
Cool said having soccer as an outlet can be very beneficial for students.
"It gives the players another avenue to have a healthy lifestyle and also to meet other women on campus," he said. "We also talk about getting one percent better every day and how we can translate that to their personal life and work life."
Dr. Kathryn Miller, vice provost for student affairs, said the skills the players are learning will help them for a lifetime.
"This is a wonderful option for students to maintain a healthy lifestyle, building habits that will help them succeed in life while also creating solid bonds with their teammates," she said.
Miller said teams like Women's Club Soccer are being driven by student demand and will continue to grow.
"Florida Poly students are creating opportunities to engage in competitive club sports," she said. "Athletics are a critical element of positive mental health on campus."
Students interested in joining the new University's Women's Club Soccer team should visit the team's webpage to learn more.
Contact:
Lydia Guzmán
Director of Communications
863-874-8557