First-generation scholars driven to exceed expectations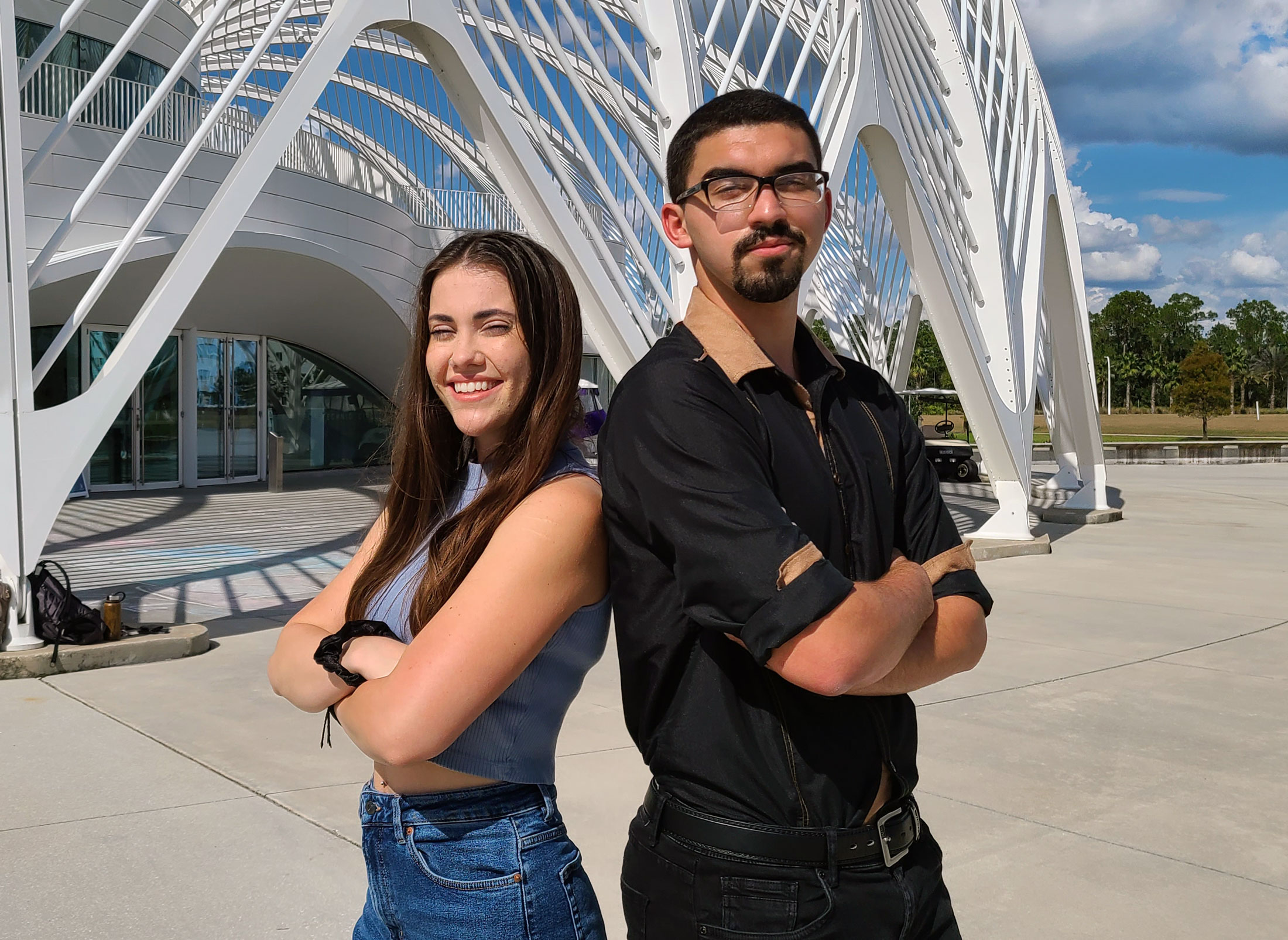 Florida Polytechnic University students Ahna Cecil and Justin Sanchez know firsthand that being the first in a family to pursue higher education comes with special responsibilities to do well and be successful.
"It's a lot of pressure, but I never looked at it as if I fail, all will go wrong," said Sanchez, a freshman majoring in mechanical engineering. "I have to succeed for the rest of my family to get ahead."
Preparing to serve his country
Growing up in Hialeah, Florida, Sanchez focused on working hard to set himself up for a rewarding future.
"I knew from a very early age that my parents were not going to help me with college because they couldn't," he said. "I knew I had to study hard to get scholarships and financial aid because if not, college would become practically impossible."
Sanchez's top-notch education is now being funded by the Saddle Creek Logistics Services Scholarship, Florida's Bright Futures Scholarship, a Federal Pell Grant, and the University's Nuclear Propulsion Pipeline Program, which offers a direct channel to the Navy's prestigious Nuclear Propulsion Officer Candidate Program (NUPOC).
"If it weren't for these, I definitely would not be in the position I am now where I can focus everything on school," he said. "Especially with NUPOC, I am able to get my degree while having a stable source of income after I graduate and lots of financial aid."
Entering the Navy as an officer will fulfill one of Sanchez's life's ambitions, allowing him to serve his country while becoming a nuclear engineer. Following his naval career, he hopes to one day turn his attention to becoming a business owner focusing on bioplastics and algae.
"The dream for 10 to 20 years from now is being in a stable economic position where I can help my family and hopefully help other researchers while also pursuing bioplastics and artistic ventures," Sanchez said.
Inspiring the next generation of students
For Cecil, a junior majoring in data science with a concentration in big data analytics, choosing to pursue a college education was daunting.
"My dad was like, 'Hey Ahna, you have to figure it out yourself,' because he didn't 'have the money to pay for college," said Cecil, from Pensacola, Florida. "I was scared I'd have to take out student loans or work full time while going to school full time."
Instead, she committed to her studies and secured several forms of financial assistance to pay for school. Cecil is the recipient of the Gidel Family First Generation Endowed Scholarship, Florida Poly Scholarship, Horatio Alger Association Scholarship, Florida's Bright Futures Scholarship, and a Federal Pell Grant. Another helpful factor is Florida Poly's low in-state tuition as compared with the state's other public universities.
Now, the Presidential Ambassador spends her time working on her studies and preparing for the future.
"The scholarships I've received have allowed me to focus on my education," she said. "I have no stress about the future because of them, and it's been really nice being able to focus on school and not working to support myself or putting a burden on my dad."
With graduation in sight, Cecil hopes to continue her education and eventually earn a Ph.D. in computer science with a focus on bioinformatics and machine intelligence.
"It's not a lot of pressure, but it's motivating to be the first in my family to achieve a college degree in a STEM field," said Cecil, who is a student worker for the Florida Poly Office of Advancement. "I would love to be in academia and become a professor one day and give back to students the way I have been supported and believed in."
Contact:
Lydia Guzmán
Director of Communications
863-874-8557