Sophomore becomes first US Navy Officer Candidate from Florida Poly NUPOC program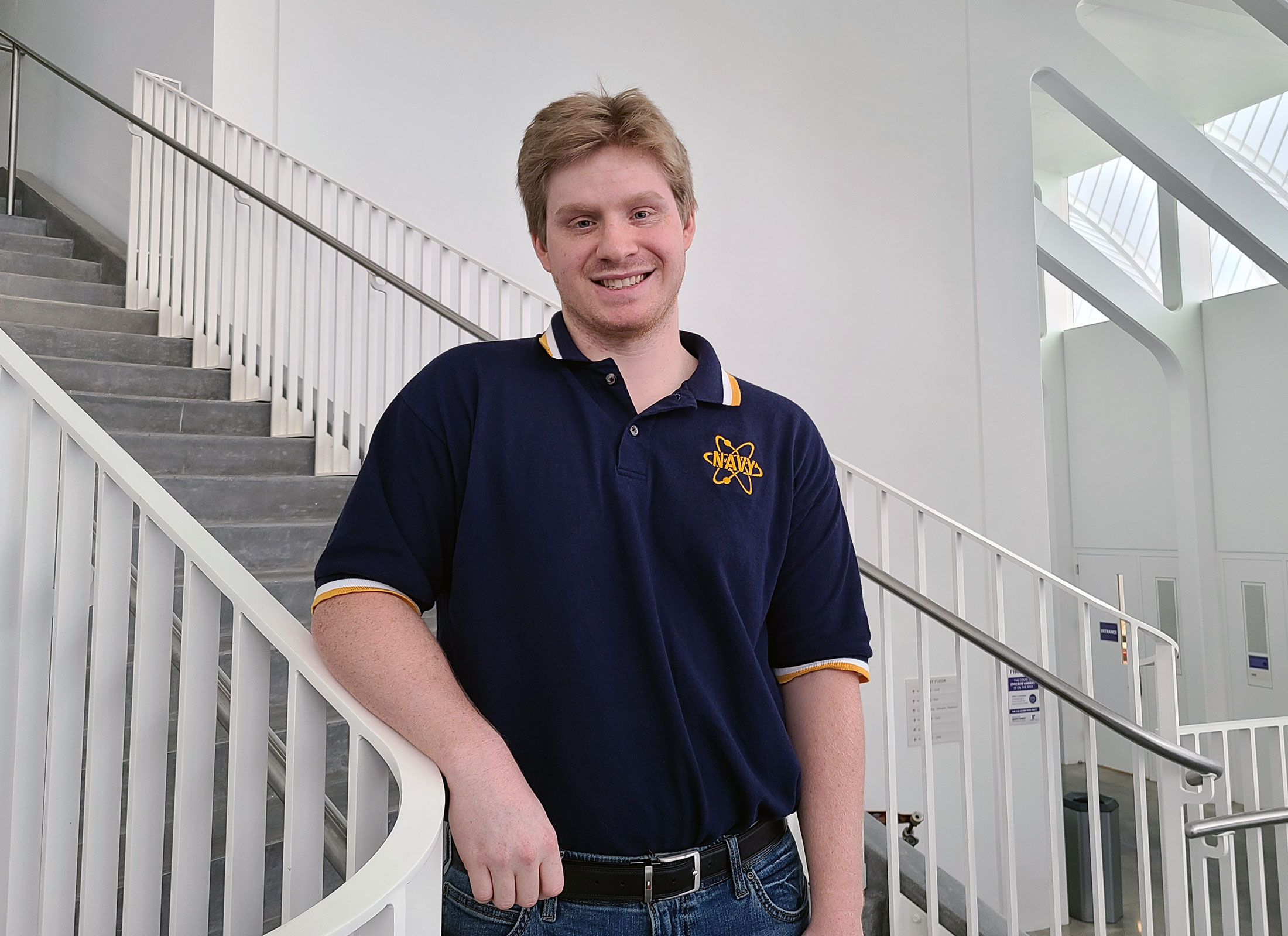 As Patrick Cole works toward his bachelor's degree at Florida Polytechnic University, he is now secure in the knowledge that he will have a steady income for the remainder of his education and a well-paying career waiting for him after graduation.
"I still can't believe it," said Cole, who recently was accepted into the U.S. Navy's elite Nuclear Propulsion Officer Candidate (NUPOC) Program through Florida Poly's NUPOC Pipeline Program, the first of its kind in the nation.
The mechanical engineering sophomore is the first student at Florida Poly to transition from the pipeline program to NUPOC.
"Being able to serve my country and finish my bachelor's at the same time is such a great opportunity," Cole said.
The Florida Poly pipeline program readies students like Cole for success in the NUPOC program. It is academically focused and prepares students to do well in the Navy's interviews and exams.
Students accepted into the pipeline program receive $10,000 over the course of their freshman and sophomore years of study. Once accepted into the NUPOC program, university juniors receive a salary of $53,000 for each of their last two years of school, as well as military health and life insurance benefits. Successful applicants also receive a $15,000 signing bonus and a $2,000 bonus after the completion of their post-graduate nuclear propulsion officer training.
Upon graduation, NUPOC graduates serve as Navy nuclear officers for five years. They do not have to perform any active-duty service while completing their studies.
"In addition to all the stated benefits, students walk away with a stature of prominence that will be with them forever," said Dr. Ben Matthew Corpus, vice provost for enrollment at Florida Poly. "This program provides a cohort of peers who provide support, guidance, and a like-minded sense of duty to this country through leadership, but also a level of intellectual expertise very much needed. Students also benefit from having a U.S. Navy officer provide mentorship, training, education, and insights into the leadership journey to oversee a U.S. nuclear submarine and potentially hundreds of personnel."
Cole, who recently was sworn into the Navy as an ensign, said he is looking forward to everything the NUPOC program and his coming naval career have to offer.
"This is going to make it so I don't have to worry about finances for the rest of my degree, which is something few students can say," he said. "The extra money will help keep me competitive with things I am interested in and I can focus on my education instead of stressing about a job."
The program's benefits are huge, but Cole said he is prepared to work hard for them as he pursues a surface warfare job specialty.
"It offers a lot, but you have to give a lot – don't expect free handouts," he said. "It's very secure, honorable job that is very rewarding and very challenging. You don't run into this kind of opportunity very often."
Contact:
Lydia Guzman
Director of Communications
863-874-8557