Robotics teams take on challengers throughout Florida and the nation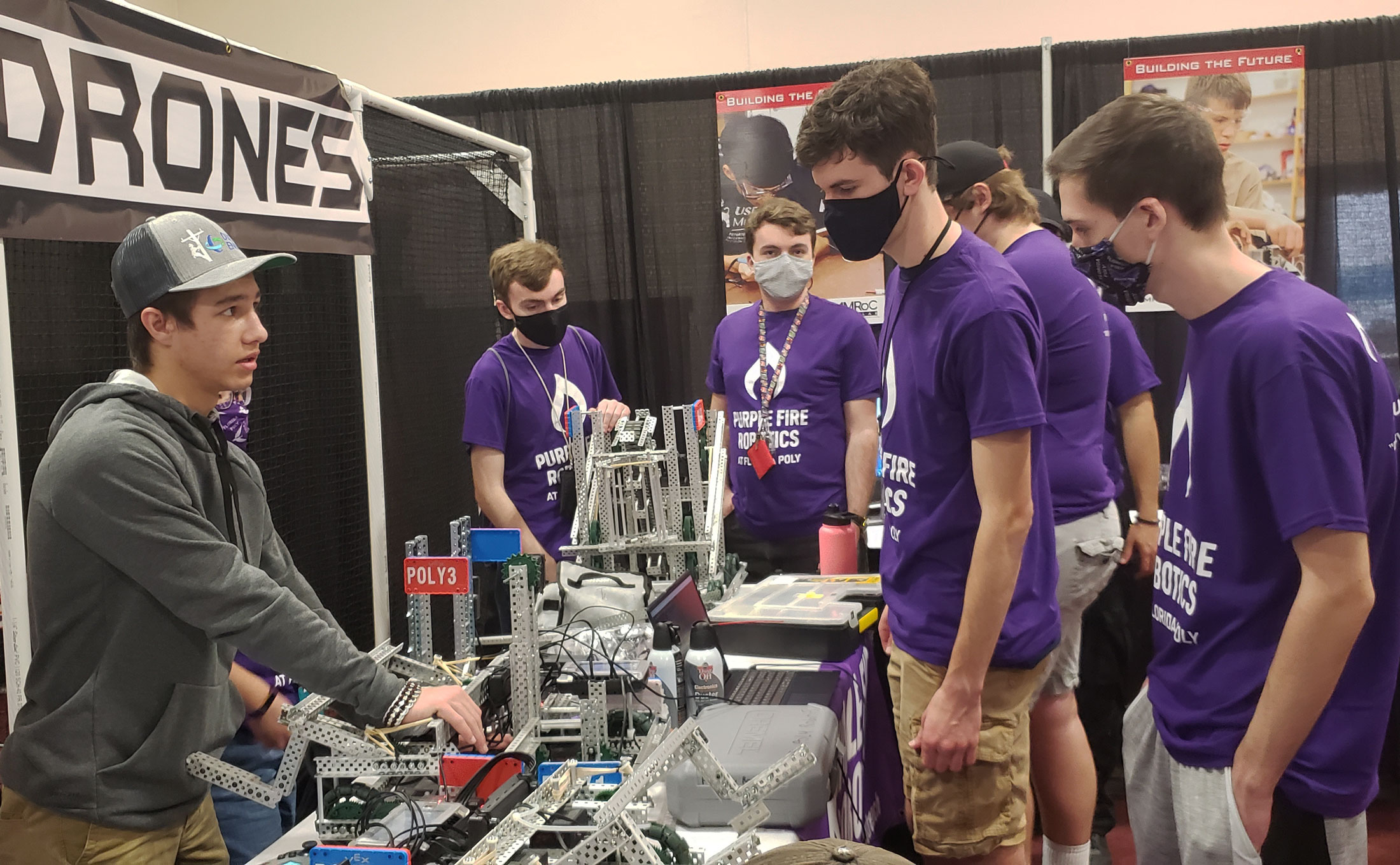 Combat and VEX U robotics teams representing Florida Polytechnic University have kicked off the spring competition season with strong showings against their opponents.
Two teams from Florida Poly's Purple Fire Robotics tested their combat robots, Insomnia and Katrina, at the State Fair Frenzy combat competition at the Florida State Fair in Tampa on Feb. 19. Insomnia, a one-pound robot with a vertical spinner designed to strike opponents with a powerful blow of more than five times that of an average punch.
"The competition was very tough with many different types of robots," Russell Williams, a sophomore majoring in mechanical engineering. "It was a really good, hard test that showed exactly what our robot is good against and where it can improve to win the competition."
The combat teams will next compete at the Norwalk Havoc Robot League contest in Norwalk, Connecticut, on March 26.
"It's the most difficult competition in the nation and we want to make sure our robots are ready for that kind of abuse," said Reid Canyon Kauffman, a junior majoring in electrical engineering.
Katrina, the team's experimental three-pound robot, is a whirring, spinning dynamo that leverages its velocity to attack its opponents.
"When it's spinning, it hits something and then you have a heavier weapon than most people would be able to use," said Dylan MacAllaster, a junior majoring in computer engineering.
The team has 17 combat robots, each with three to five people working on them. More than a dozen members of the Purple Fire team will compete in Connecticut.
VEX U Competitions
On Purple Fire Robotics' VEX U side, the team recently received the Excellence Award at the State Fair Frenzy VEX U Tournament in Tampa on Feb. 12. Overall, its two teams placed third and fourth in the competition.
"The tournament helped us realize what parts of the robot we could fix to make it better and what parts were no longer necessary," said Mihir Lad, a senior majoring in computer engineering and one of the chairmen of Florida Poly's VEX U section.
The teams took these upgrades to the Texas VEX U competition in Houston on March 4, where they faced teams from across the country. They have since been invited to compete in the 2022 VEX Robotics World Championship in Dallas, Texas, this May.
In this year's competitions, teams made up of two robots each worked to score points by moving rings and mobile goals to their home zone.
"What I love about it is the problem-solving – coming up with a solution, building it, programming it, and getting it to work in the end," said Victor Valero, a sophomore majoring in computer science.
Students don't need any experience to join Purple Fire Robotics, which is over 100 members strong; they only need a desire to learn and build something great.
"It feels good knowing we can be a positive outlet for students, and what's great about the club is even if you don't have any experience with robotics, we're all here to help," Kauffman said.
Visit the Purple Fire Robotics webpage to learn more.
Contact:
Lydia Guzmán
Director of Communications
863-874-8557