Robotics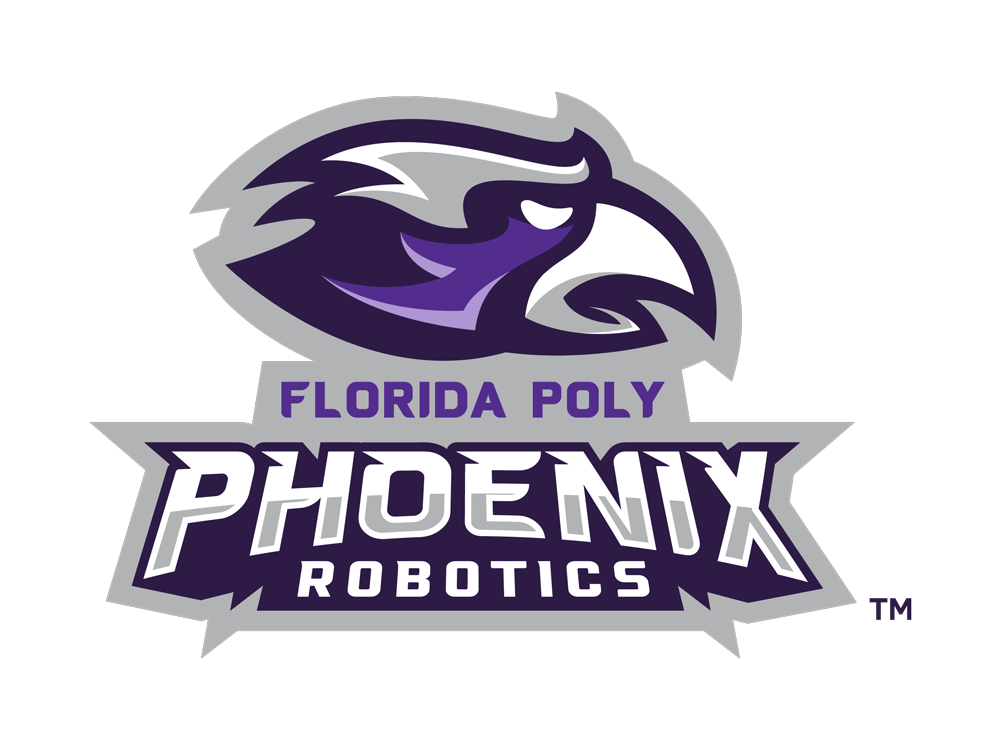 Florida Poly Robotics is the intersection of multiple STEM disciplines that work together to create intelligent machines.
Student teams design and develop a wide range of robots to perform in competitions throughout the United States and internationally. They include autonomous robots that work independently of a human operator and pre-programmed robots that perform tasks in a controlled setting.
Florida Poly Robotics aims to provide opportunities for students to excel, innovate, and learn robotics while providing an environment to thrive in engineering and computer science. Florida Poly Robotics was established in 2015, and in its debut year, the VEX U team placed third in the state of Florida at the Florida VEX U Qualifier and Skills Event. The Combat Robotics and VEX U teams travel nationally.
Student Teams
Our students are proud to be highly motivated and involved members of the Florida Poly community. Not only do the robotics teams offer an opportunity to meet people, apply classroom concepts, explore new technology, have fun, and make a difference, they also add relevant and substantive skillsets and characteristics to their professional portfolios as they launch into meaningful careers.
Our Programs and Robotics Working Together
Florida Poly Robotics is interdisciplinary and involves a diverse group of students who come from every major, given we are 100% STEM, and who all share a passion for robotics. Students from every major bring something special and important to the team.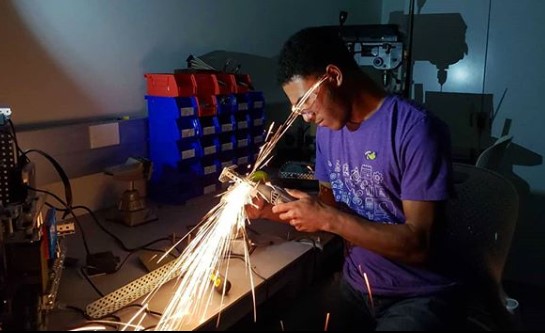 Mechanical Engineering
Our mechanical engineering students custom design and build the robots. They are responsible for developing designs that are creative and provide a competitive advantage over other teams.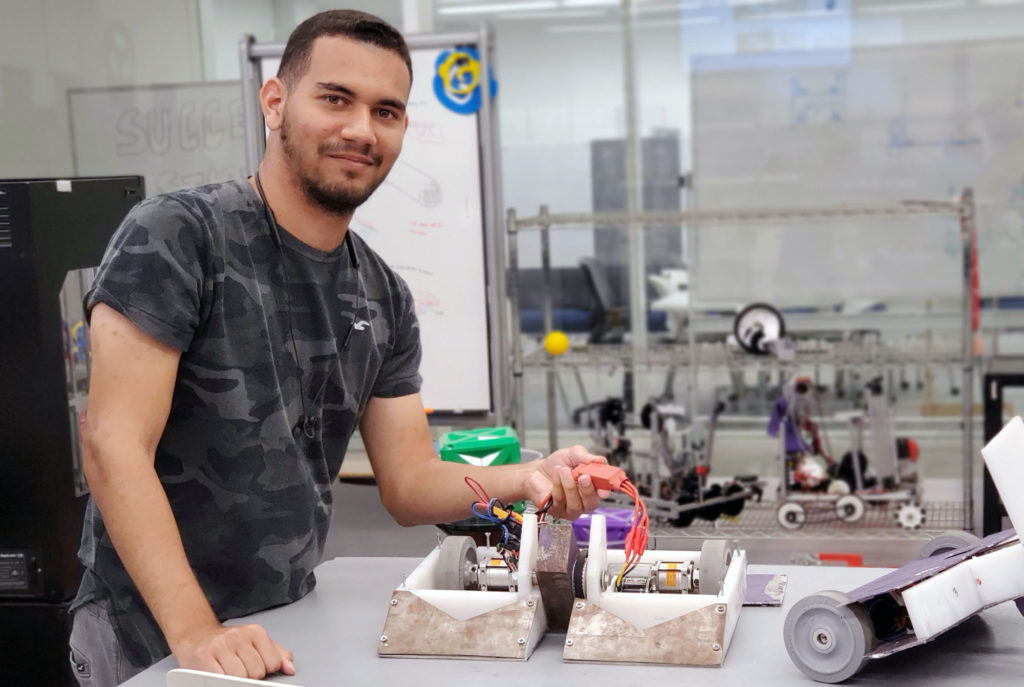 Control Systems
Students work with the circuits of our robots while applying their knowledge of power distribution and signal processing.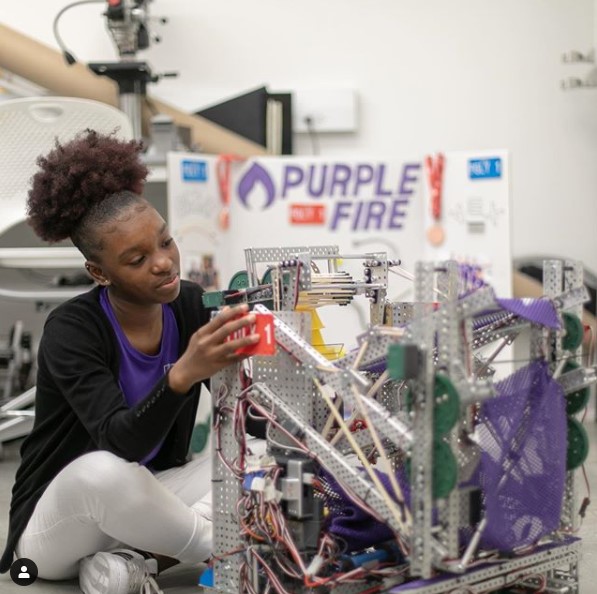 Engineering Mathematics
Students have a solid understanding of mathematics, data analysis, and computer programming, which delivers a large advantage to the team.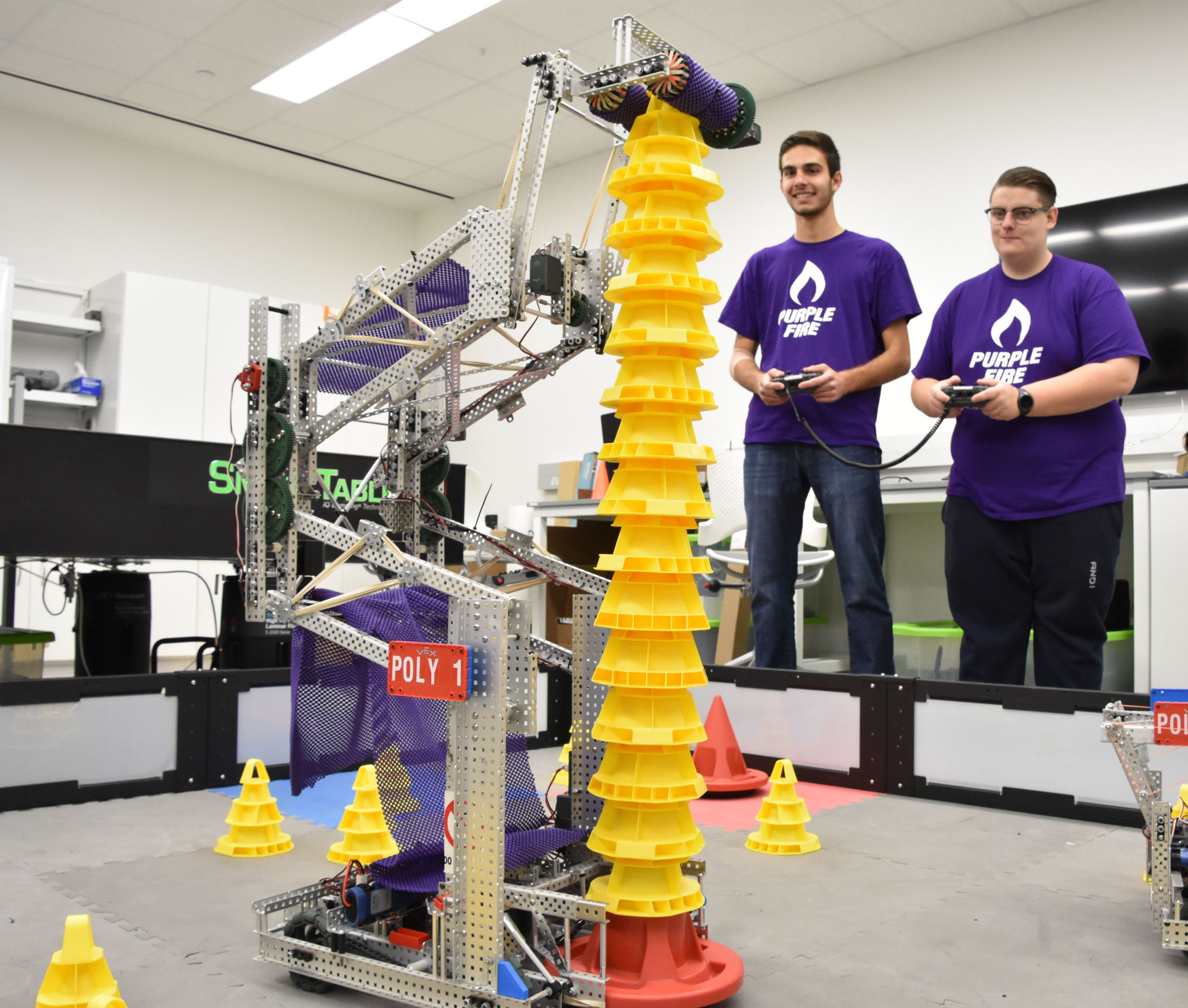 Machine Intelligence
Students apply their knowledge of advanced machine learning, reasoning, and self-correction to develop the machines' ability to move and communicate.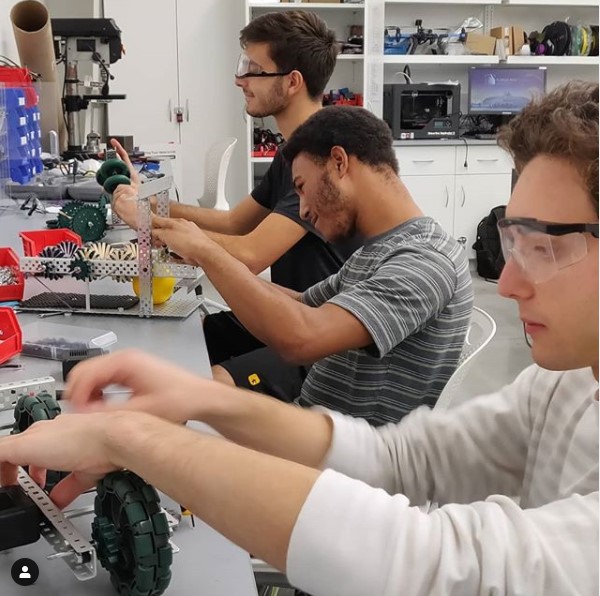 Computer Science
Our computer science students could be called the brain of our robotics team because they bring their knowledge of robotic software platforms to develop how the robots move and complete actions.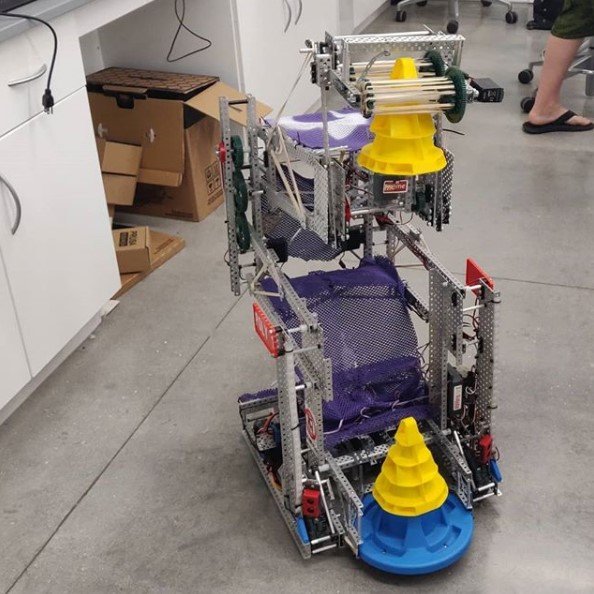 Autonomous Robotic Systems
Students use their knowledge of embedded systems control, mapping algorithms, and sensor integration to work on the hardware and software of the robots.
Teams
Florida Poly Robotics is a University-sponsored team (composed of VEX U and combat) that represents Florida Poly at state, regional, national, and international competitions. Separately, but under the same umbrella, Purple Fire Robotics is the student club division of Robotics, sponsored by the Student Government Association and providing students with campus connections and a support community. Purple Fire is the training ground for all Florida Poly Robotics teams (VEX U and combat) for university competitions. They also provide resources to support internal projects, host workshops and events, and conduct outreach events to promote STEM and robotics.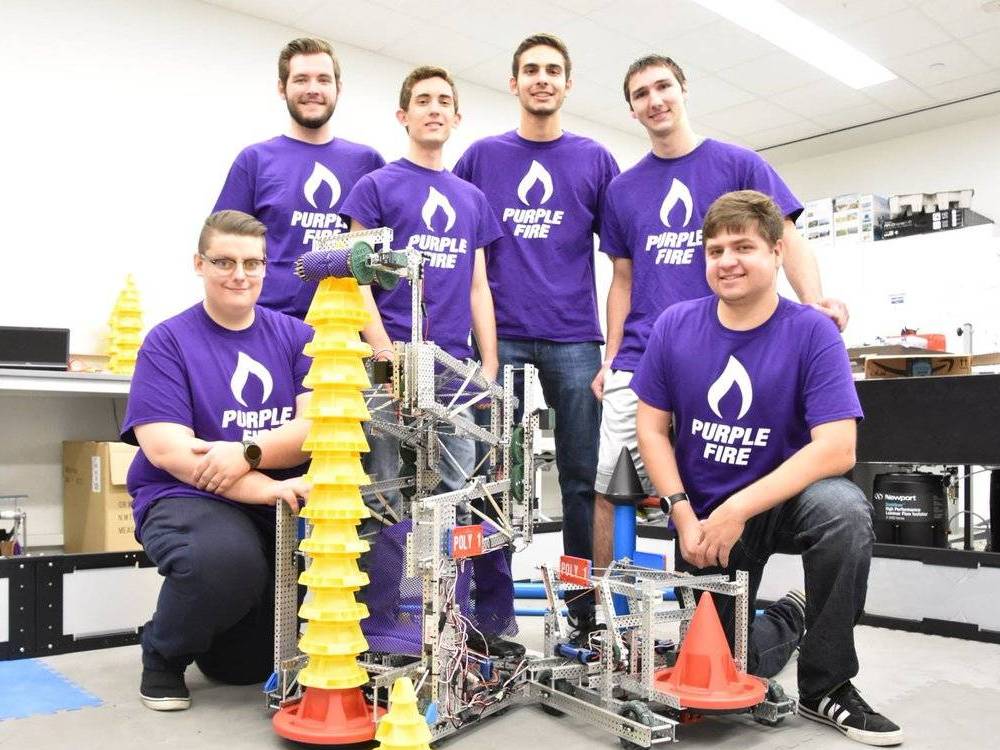 Vex U
The VEX Robotics Competition is a worldwide robotics competition organized by VEX and the Robotics Education & Competition Foundation (REC Foundation). Every year/season, a new objective-based game is revealed for which new robots must be built. Typically, the game requires a 24"x24"x24" robot and a 15"x15"x15" robot to be designed, built, wired, and programmed. VEX combines mechanical, electrical, and computer engineering with computer science in this multidisciplinary and well-established competition.

Recent Accomplishments:
Qualified for VEX (virtual) Worlds 2020
Placed third in Vaughn College VEX U Tournament (February 2020)
Qualified for VEX Worlds 2018
Won Judges Award in Design Division of VEX Worlds 2018
Placed 22nd in Design Division of VEX Worlds 2018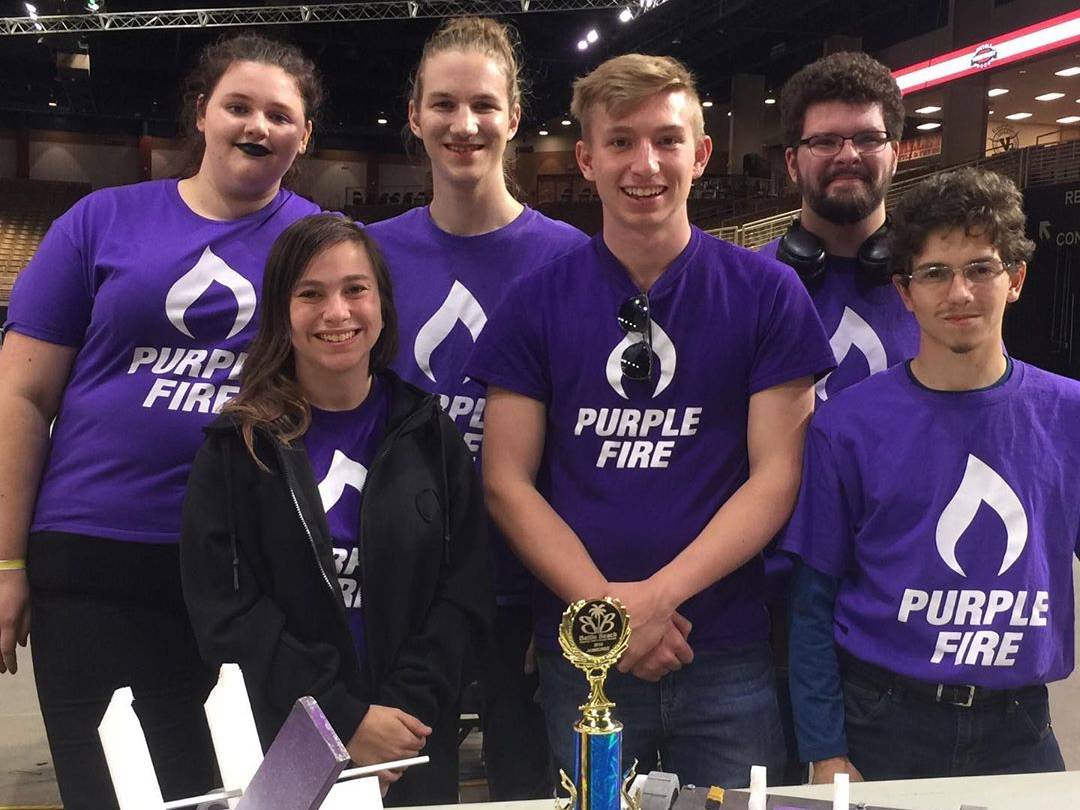 Combat
Our Combat division competes with robots that we design, build, and fight in competitions throughout the country. We currently have six robots, four of which fought in competitions last year, and one of which (our 250-pound robot) is still under construction. Our two 15-pound robots currently rank first in the state of Florida, among both university and hobbyist teams.
Recent Accomplishments:
15lb Hyperion won first place at SBOMD Fairfights 2020
15lb Themis won second place at SBOMD Fairfights 2020
15lb Hyperion won second place at BattleBeach 2019
Leadership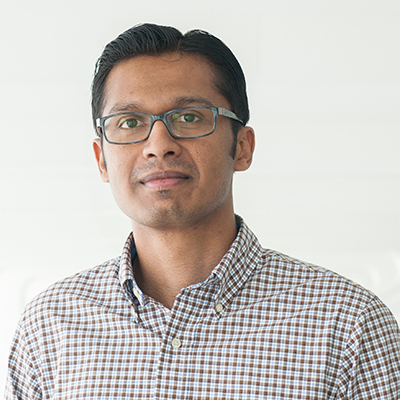 Faculty Advisor
Dr. Balasubramaniyan Chandrasekaran is an assistant professor in the Department of Electrical and Computer Engineering. His research interests are in the areas of robotics, sensor fusion, integration of hardware and software and its application in robotics and human-robot interaction.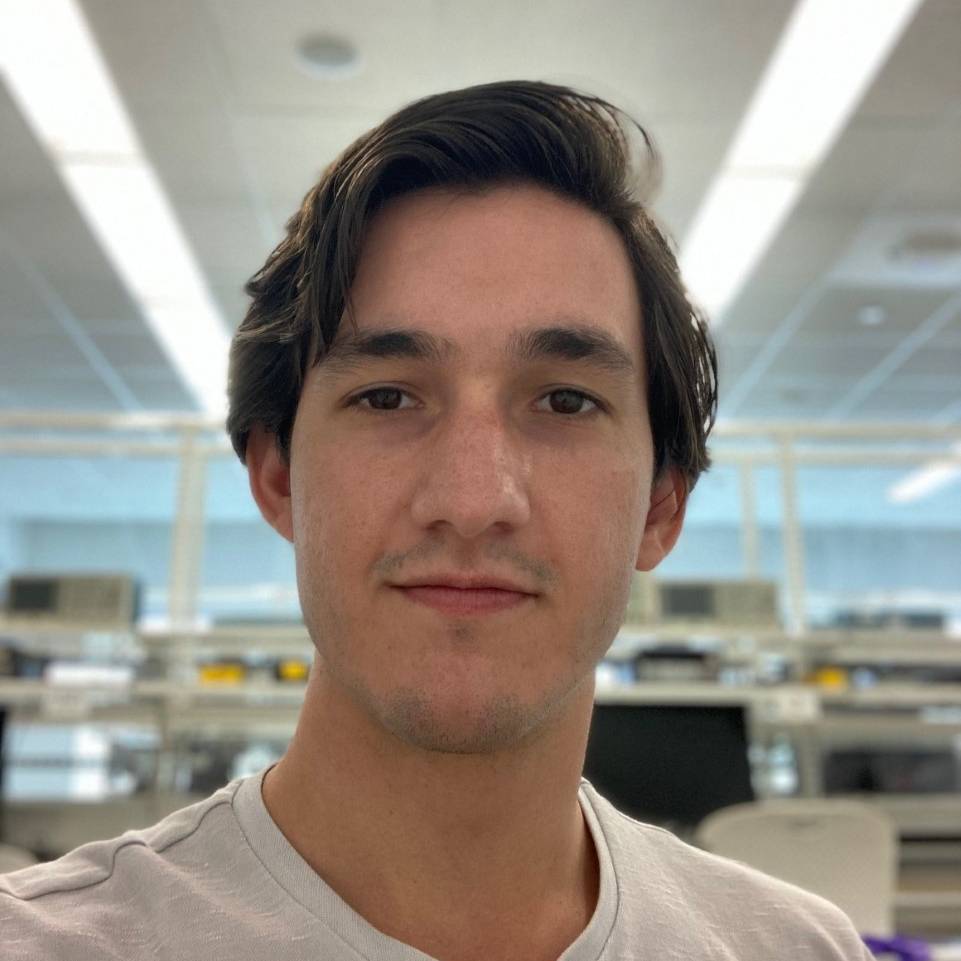 Faculty Advisor
Samuel de Oliveira joined Florida Poly as a laboratory technician in 2019. He graduated from the University of Central Florida in 2018 in mechanical engineering and subsequently completed a second internship at the National Institute of Standards and Technology, researching polymer degradation in solar panels. He also was a project manager at Phoslab Environmental.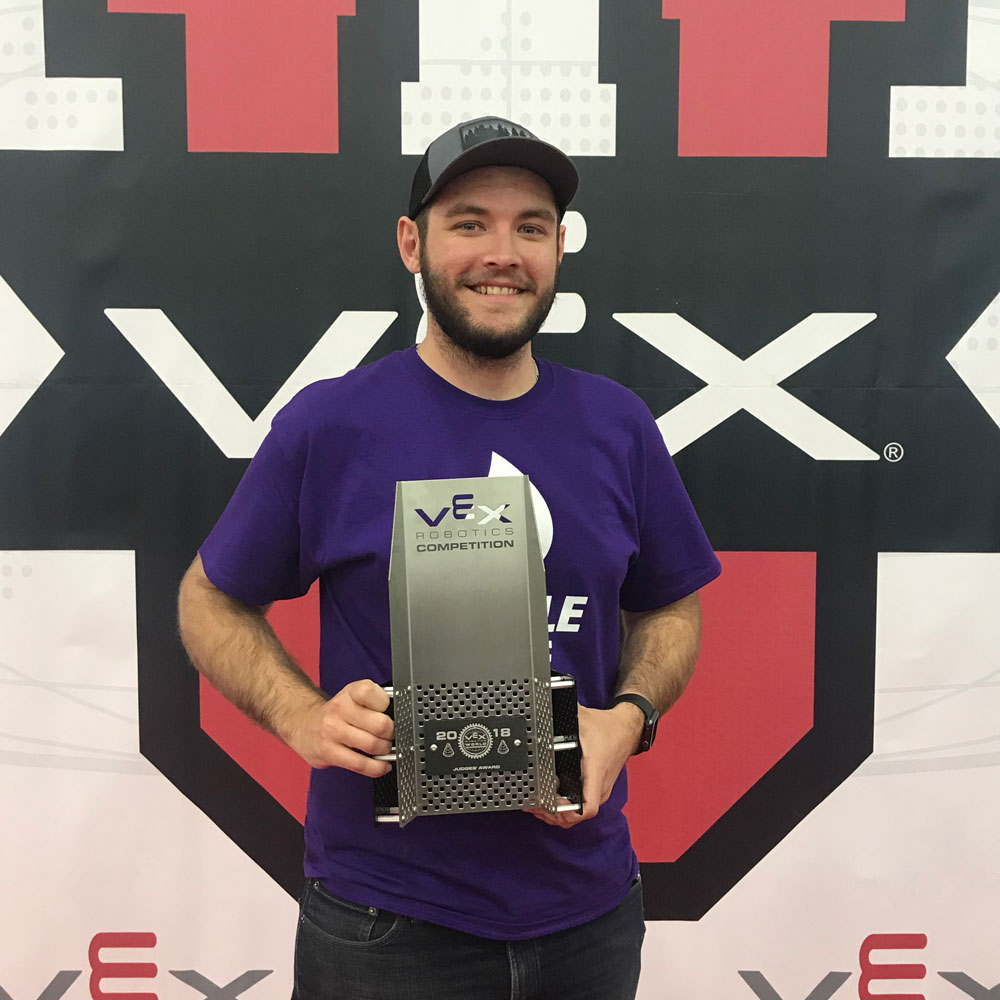 Robotics has always been a passion for Paul Teleweck `18, who has served as a design engineer and development engineer at Quattrone and Instalist. While at Florida Poly, he interned as an embedded engineer at JL Marine Systems and served as a teaching assistant in circuit analysis.
Paul Teleweck '18
Computer Engineering
Application
Florida Poly is currently accepting applications for the Robotics Team for the 2022-23 entering class. New freshmen, transfers, and graduate students must have a completed admissions application on file as well as a Florida Poly Robotics application submitted.
Scholarships
Talented and accomplished high school students who apply and are admitted to Florida Poly will be considered for a Florida Poly Robotics Scholarship depending upon their skill, letters of recommendation, co-curricular activities related to Robotics, academic merit, and achievements within robotics. Florida Poly Robotics Scholarships are limited and it is recommended to submit your robotics application by April 15th for scholarship review. There is no additional application other than the Florida Poly Robotics application form.
Design, planning, and practice meetings occur at least twice a week and at times on weekends prior to competitions and events. Currently there is no fee if you are eligible for a team.
Florida Poly Robotics is a time-intensive, team-centered activity that covers the length of the academic year and sometimes the summer depending upon competitions. As teams get more competitive, additional practices are sometimes needed to get coding, presentations, and robots ready to compete.
While we respect and honor students' commitments to other activities, our hope is that outside of your academic priorities, Florida Poly Robotics is next in line for your co-curricular commitment given our aspirations to compete at the highest levels of excellence.
Questions?
For more information about the Florida Poly Robotics, contact Ericka Loofe at Robotics@floridapoly.edu or 863-874-4774.