Florida Poly honors exemplary employees at 2022 Ablaze awards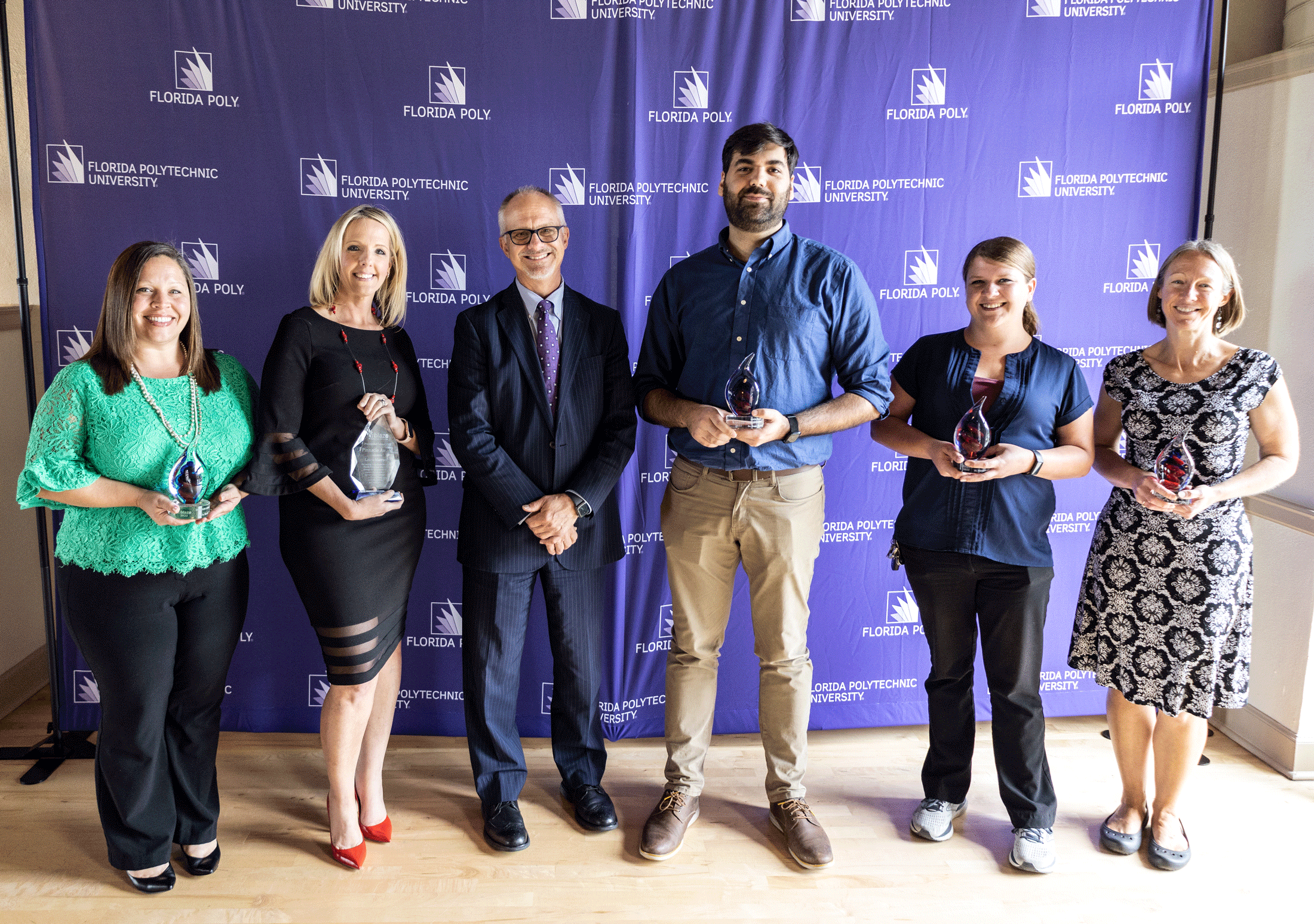 Outstanding faculty and staff members at Florida Polytechnic University were recognized on Wednesday, April 13, during the University's fifth annual Ablaze awards ceremony. The event shines a spotlight on the dedication, work, and successes of faculty and staff members and their many contributions to Florida Poly.
It was the first time the event was held in person since 2019. The ceremony, held at the City of Lakeland's Magnolia Building, was part of a weeklong celebration of employees and their contributions to the University's success.
"Our University is achieving national attention for our programs and student success, and none of that would be possible without the hard work of our remarkable team of employees," said Dr. Randy K. Avent, Florida Poly's president. "We value and are grateful for every employee, who together make Florida Poly a great place to work, learn, and explore."
Pinnacle Award
Laura Marrone, Florida Poly's associate director of procurement, received the highest honor possible for a University employee – the Pinnacle Award. The award recognizes an individual who exemplifies what it means to be a Phoenix, acknowledging their success and excellence in their career performance. Marrone was honored for her dedication to serving the Florida Poly community with a spirit of cooperation and good attitude, going above and beyond the requirements of her position. Among her actions were ensuring necessary expenses related to the University's COVID-19 response were processed quickly and helping to get COVID-19 tests and masks on campus in time for the spring 2022 semester.
Phoenix Spirit Award
Kelly Beall, University Relations coordinator, received the Phoenix Spirit Award, which recognizes an employee who "demonstrates a genuine and sincere interest in the well-being of others and serves as a source of encouragement and positive inspiration." Beall was described as a collaborative, attentive, dependable employee who demonstrates kindness and has a positive energy. Beall has worked with several departments at the University and was lauded for assisting both her current and previous teams with a high level of dedication, enthusiasm, and energy, going above and beyond for the benefit of her department and the entire University.
Excellence in Research Award
Dr. Doga Demirel, assistant chair of the Computer Science Department, received the Excellence in Research Award. He was recognized for his tenacious pursuit of research activities involving surgical simulation. He has been co-investigator of four National Institutes of Health-funded research projects, including the design, development, and evaluation of the Virtual Operating Room Team Experience (VORTeX) in collaboration with researchers from the University of Central Arkansas, Rensselaer Polytechnic Institute, and Beth Israel Deaconess Medical Center, a teaching hospital of Harvard Medical School. Demirel's leading-edge research also allows students the opportunity to be immersed in high-impact projects.
Excellence in Teaching Award
Dr. Elisabeth Kames, assistant professor of mechanical engineering, received the Excellence in Teaching Award, which recognizes a faculty member whose teaching practices are effective, reflect the highest standards, and inspire, promote, and sustain the intellectual development of students. Kames has been instrumental in delivering her department's hallmark design experience, taking the helm of the sophomore-level program and producing exceptional results. Kames also teaches upper-level courses and mentors other mechanical engineering faculty to be part of the skills and design team.
Exemplary Service to Others Award
Dara Griffis, administrative assistant in the Department of Academic Affairs, received the Exemplary Service to Others Award. Griffis' helpful attitude and willingness to go above and beyond to get the job done has been recognized by many. In addition to providing support for her department, including the Peer Learning Strategist Program, she also provided additional administrative support for the recent Southern Association of Colleges and Schools Commission on Colleges Accreditation (SACSCOC) reaffirmation of accreditation process. Griffis tackles complex and varied tasks with zeal while making sure to share a kind word with all those she encounters.
Contact:
Lydia Guzmán
Director of Communications
863-874-8557