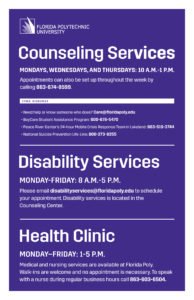 The Office of Disability Services coordinates accommodations for students with mental, physical, and developmental disabilities. Reasonable accommodations are determined on an individual basis after considering the specific disability and documentation of functional limitations in accordance with the ADA Amendments Act of 2008 (ADAAA), the Americans with Disabilities Act of 1990 (ADA), and Section 504 of the Rehabilitation Act of 1973.
In order to access these rights, an individual must present certain documentation from a medical or mental health provider in order to offer various accommodations to students. In the context of higher education, reasonable accommodations are modifications or adjustments in the academic environment that enable a qualified student with a disability equal access to the university's programs, courses, services and activities. Providing accommodations does not compromise the essential elements of a course or program, nor do they weaken academic standards. A reasonable accommodation cannot fundamentally alter the core learning objectives of the course, program, service, job, or activity.  They provide an alternative way to accomplish the requirements by eliminating or reducing disability-related barriers and providing a level playing field for students with disabilities. A reasonable accommodation cannot fundamentally alter the core learning objectives of the course, program, service, job, or activity.
The list below includes commonly requested accommodations. Specific barriers to academic inclusion are discussed with students and other accommodations may be provided on a case-by case basis.
Common accommodations include but are not limited to:
Alternative testing
Assistive technology
Course notes
Course attendance
Alternate format textbooks
Deaf/hard of hearing services
Reduced course load
Accommodations for food allergies
Transportation services
To start the process, students should request services below. If and when a student's application is approved, the Office of Disability Services will provide the student with a letter for their instructors. While it is ultimately the student's responsibility to ensure they have received the adjustments they need in the classroom, this office is the first point of contact for all students with disabilities and will try to ensure that every qualified person who needs reasonable accommodations on campus can get them.
Hours of Operation
Counseling and disability services are available:
Monday–Friday from 8 a.m. to 5 p.m., by appointment.
Walk-in hours are available.
To schedule an appointment, send an email.
Testing Center Hours
The Testing Center is open from 8:30 a.m.-8 p.m. Monday through Thursday and 8:30 a.m.-5 p.m. on Fridays. Only students with disability accommodations have access to the Testing Center. The Testing Center is located at Academic Success Center East in residence hall II. Students with accommodations may schedule their upcoming exam here.
Forms and Documents
Please note that all requests should be submitted by the student. While students may allow their parents or guardians to help them, students should not have anyone else (including their medical or mental health providers) submit on their behalf. Separate documentation from licensed evaluators and treatment providers is required to support a student's application and to verify any health conditions.
Please submit requests for disability services three weeks prior to the start of the semester so that we can ensure timely implementation of  any accommodations here.
Resources
 Johnson Scholarship
Please note: Because of concerns related to COVID-19, the application deadline has been extended to May 1
The Johnson Scholarship can offer significant financial assistance to qualified individuals. Below you will find a list of specific requirements for applying to this program, as well as the application packet. The packet requires a FAFSA form. While the FAFSA forms are due April 15 on the government's website, all other materials must be submitted by May 1 to the Office of Disability Services.
Attention Deficit Disorder/Attention Deficit Hyperactivity Disorder
Autism Spectrum Disorder
Blind or low vision
Deaf/hard of hearing
Orthopedic disability
Psychological, emotional, or behavioral disability
Speech/language disability
Specific learning disability
Traumatic brain injury
Other health disabilities
 2020-21 Scholarship
Additional Resources
Counseling Services provides mental health counseling for students who need help working through and overcoming personal problems.
The Health Clinic is provided by Lakeland Regional Health and is staffed by a registered nurse.