Commencement
Graduate Information
Information for Graduates
There are several
key dates and deadlines
for students who are graduating. The dates for each of these items is shared with students on the website, via the
Weekly Phoenix
, through emails from the Office of the University Registrar, and in the university's
mobile app
.
To request ADA accommodations, contact Michelle Disson at least three days in advance by sending an email to ada@floridapoly.edu or calling 863-874-8484. Requests received after the deadline will be processed, but the university cannot guarantee those requests can be fulfilled. Feel free to reach out if you have any questions or concerns.
Graduates will not be permitted to participate without wearing the approved cap, gown, and hoods (for Master's students only). Graduates are permitted to wear cords, medallions, or sashes that have been previously approved by the Office of the University Registrar. Bachelor's tassels are initially worn on the right of the cap and will be moved to the left when directed to do so in the ceremony. Master's tassels are worn on the left of the cap as the bachelor's degree has already been earned. Graduates are encouraged to wear professional attire under their gown. As you choose the clothing to wear, consider:
Commencement is taking place outside in a baseball stadium. The weather may be hot, so lightweight clothing and the use of sunscreen is recommended.
Top: A collared shirt, blouse, or semi-formal dress. Consider a tie if wearing a collared shirt for an extra touch.
Bottom: Slacks or a skirt. If choosing a long skirt, consider how the length of the skirt aligns with the length of the graduation gown.
Footwear: Avoid shoes that are too casual. You will be walking up and down stadium stairs and on a baseball field (dirt and grass), so consider wearing closed-toe shoes that do not cause you to sink, easily lose balance or trip in the turf. Dress shoes, two-inch block heels, or wedges are recommended.
Cap decorations are permitted as long as the decorations are appropriate, not offensive, or so elaborate that they cause a distraction to the ceremony. The gowns may not be altered in any way. Any decorations deemed inappropriate will need to be removed prior to the start of the ceremony.
Students are encouraged to Apply for Graduation at least two semesters prior to when they plan to graduate. Deadlines associated with this application are available on the Academic Calendar.
Graduates should park in the third-base parking lot and enter the stadium through the Third Base Gate. The student parking lot is accessed from Granada Street and Horton Way.
Graduates must check in at the Third Base Gate to receive their seating assignment and reader card. Graduates should check in no later than 9:30 a.m.
Guests and graduates will be wanded by security upon entrance and all bags will be checked. Clear bags are recommended to provide an efficient security process. Graduates should keep personal belongings brought to commencement to a minimum. Items such as purses, bags, or anything else that will not fit in your pockets should be left with your guests or should be securely locked in the trunk of your car prior to checking in. Graduates will be separated from their guests and will not have the ability to hand off or receive personal items once the ceremony has begun.
After handing off the reader card, graduates will receive their diploma cover. The diploma cover is yours to take home after commencement. Diplomas will be mailed after degrees have been conferred. Additional information will be emailed after commencement.
This year's Graduation Fair was held virtually to allow students to:
All graduates and guests are encouraged to pay careful attention to the weather forecast in the days ahead of the event and prepare accordingly. If rain is predicted, all attendees are encouraged to bring a poncho or rain jacket. Umbrellas will not be permitted in the stadium. In the case of lightning, the event may be delayed; however, the event will go on rain or shine. All related updates will be posted on the University's official Facebook and Twitter accounts.
Commencement items, including graduation announcements, class rings and diploma frames, are available through Herff-Jones.
Each year the Department of Student Affairs invites students to apply to sign the National Anthem at graduation. The application deadline was March 24 at 5 p.m.
Lifetouch is the official photographer for commencement. The photographers will have clear access to take photos of the graduates during the ceremony. Graduates and their families will have the opportunity to order commencement photos from Lifetouch. You will be sent a link to order your commencement photos when they become available. Visit events.lifetouch.com to find the photos taken at the 2021 Commencement.
Students will be able to remove their masks for the picture at home plate and before exiting the field. Students will be required to put their masks back on before returning to their seats.
Every person attending commencement is expected to accept personal responsibility for their actions by following all current CDC recommendations and University policies and procedures. Guidance from the U.S Center for Disease Control (CDC) continues to emphasize that everyone must follow all steps to protect themselves and others from COVID-19 at all times. This includes proper use of face masks, social distancing, and personal hygiene. It is important to note that CDC guidance is based on what is currently known about COVID-19 and its variants.
Each graduate will be given a reader card when they check in. Do not lose your reader card! The reader card must be kept with the graduate at all times as it will be given to the name reader before the graduate walks across the field.
A recording of the ceremony will be posted online within a week of the event.
There will not be a rehearsal this year due to COVID-19 protocols.
Share your Florida Poly pride before, during, and after the ceremony by tagging your pics #FLPolyGrad on Facebook, Twitter, and Instagram.
Each year the Office of Student Affairs invites students to apply to serve as the student speaker at graduation. The deadline was March 24 at 5 p.m.
Everyone who enters the stadium will pass through a security checkpoint. All bags must be clear. Large bags are discouraged to streamline the entry process.
Each graduate will receive four guest tickets. The location in the stadium for the guest seating will be randomly assigned, but the four seats will be together.
Students may pick up their tickets in the Office of the Registrar (IST Building, room 2052) between 8 a.m. and 5 p.m. April 26-28.
Every guest in attendance is required to have a ticket. In an effort to maintain COVID-19 precautions, additional tickets are not available for the 2021 commencement ceremony.
Students must bring a photo ID when picking up their tickets. If you would like a friend to pick up your tickets for you, email graduation@floridapoly.edu with the name of the friend who will be picking up the tickets for you. That person will need to bring their photo ID for the tickets to be released.
About to Graduate?
Graduation doesn't signal the end of your journey with Florida Poly.
Check out these resources and opportunities to connect and give back to your university.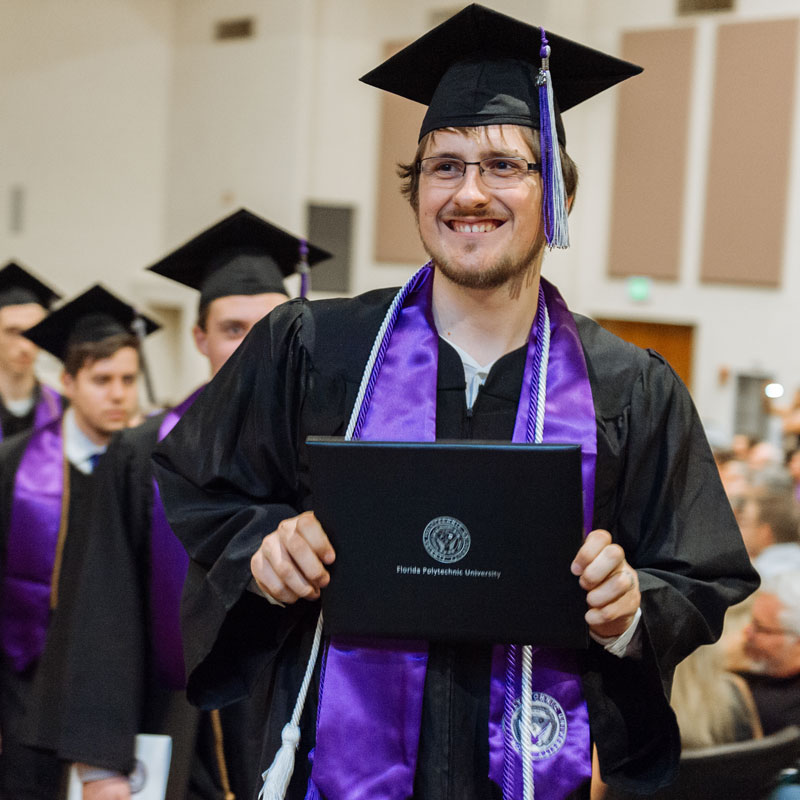 Commencement items, including graduation announcements, class rings and diploma frames, are available through
Herff-Jones
.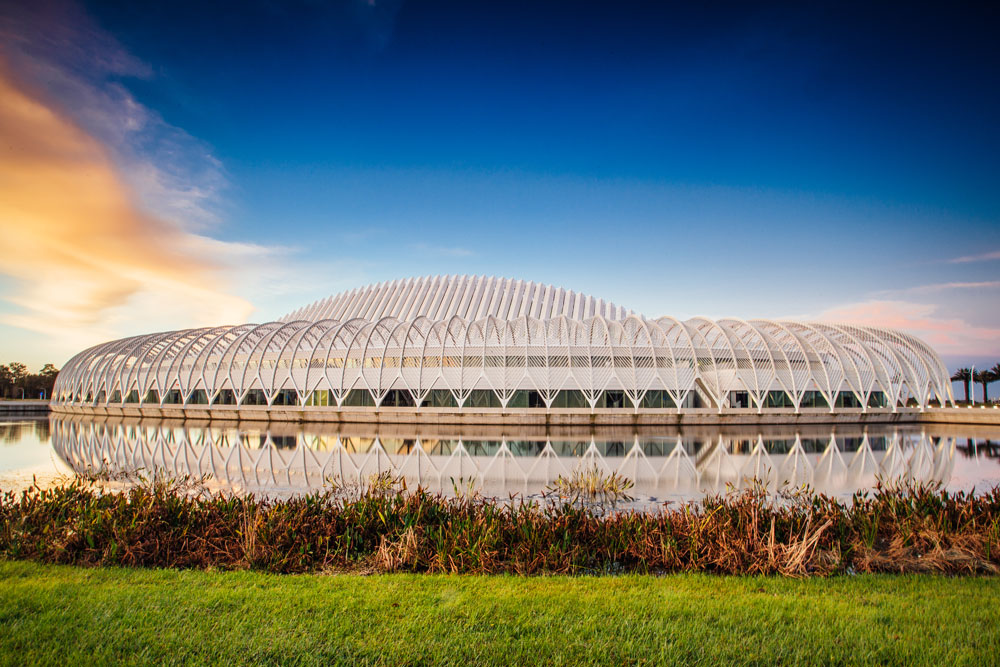 All graduates have the opportunity to participate in the Senior Class Gift. For more information visit floridapoly.edu/alumni.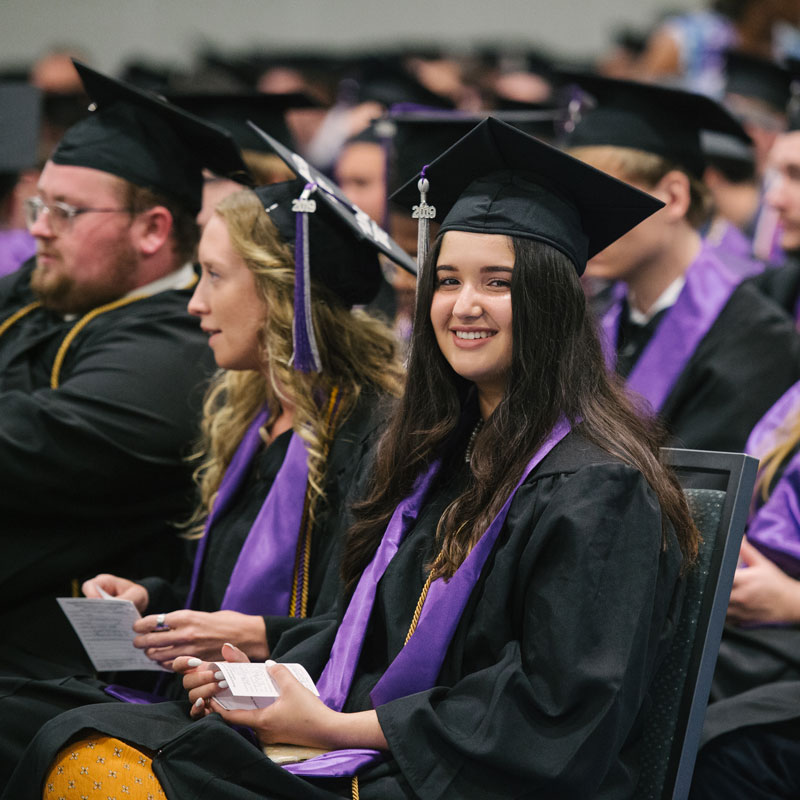 As a member of the
Alumni Association
, you can join in our efforts to foster the mission of the University, network with fellow alumni and inspire future generations of STEM leaders.