New SGA leadership working to support students through COVID-19 and beyond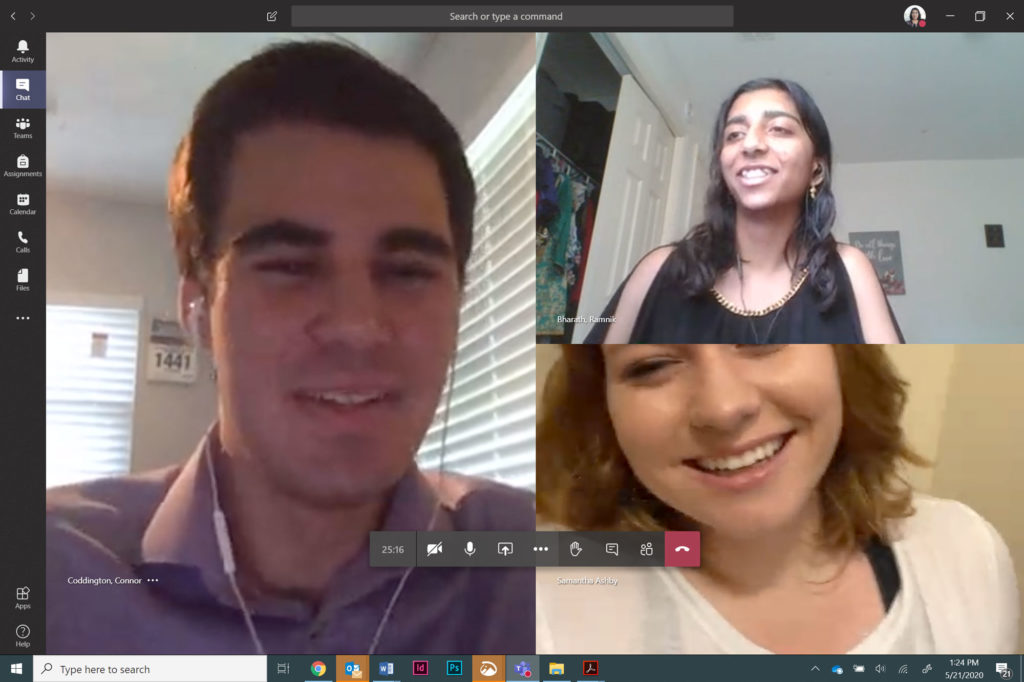 The Florida Polytechnic University Student Government Association boasts a large number of first-time members and leaders as it heads into the fall 2020 semester. The new leadership is spending the summer months planning and working to improve student representation, support, and engagement.
However, the circumstances they're working under couldn't be more different than typical years due to COVID-19.
"The biggest thing we've done so far is we have reduced the Activities and Service Fee for Summer A and C by one-third," said new SGA President Connor Coddington. "Because of COVID-19, the students are being affected in numerous ways and we didn't want to financially burden them further. We know there won't be as many activities happening and we didn't feel it was right to fully charge for that."
Coddington, a senior majoring in computer science, is leading the SGA after most recently serving as junior representative and senate president.
"It feels weird being the old one now," the Orlando, Florida, native said. "I was very recently looking up to people wondering if I'm doing the right thing and now people are coming to me and asking the same questions that I asked a couple of years ago."
Among them is sophomore Ramnik Bharath, the SGA's student media director. The computer science major is putting her social media and marketing skills to good use in her efforts to promote SGA and the University.
"Since I am brand new to SGA, I am using my past experiences and past leadership positions to help inform my actions," said Bharath, from Sebring, Florida. "I have a list of goals and guidelines and I'm moving forward with a plan of action knowing exactly what is expected of me."
For SGA Vice President Samantha Ashby, the opportunity to take on a leadership role fits perfectly with her goals as a student.
"I came to Florida Poly specifically because I wanted to get involved," said Ashby, a junior from Orlando, Florida, who is majoring in mechanical engineering. "Because this is such a small university, your input actually matters. I joined the executive board because I wanted to take my ideas and work with others to make them happen. My big focus now is to increase student involvement."
Ashby said efforts like a new campus clubs application will be helpful to students, especially if activities such as club row are changed or moved to a virtual environment due to COVID-19 restrictions.
Coddington said there are many ways for students to get involved with SGA throughout the summer and into the fall. He suggested that students follow the SGA on Facebook to stay informed and also attend its virtual meetings.
"If anyone wants to get involved, they can reach out to me and I can find a place," Coddington said.
In the meantime, he is working to meet the challenges of his new role in a changed environment and is excited to serve on the Board of Trustees as its student representative. He also is serving on the University's task force charged with developing plans to return students to an on-campus learning environment.
"Student government has come so far at Florida Poly in the past few years and it's exciting to see how much we can still accomplish," Coddington said.
Florida Poly SGA:
Connor Coddington, student body president
Samantha Ashby, vice president
Jake Greenberg, treasurer
Spencer Bishop, chief of staff
Gabrielle Simms, sustainability chair
John Privitere, safety chair
Kevin Hines, senate president
Nathaniel Chiarenza, Campus Activities Board president
Ramnik Bharath, student media director
Gus Lipkin, interim standards and enforcement officer
Amal John, audit and budget chair
Cedriss Saint-Louis, graduate representative
Antonio Hendricks, pro tempore
Victoria Andrade, student organization chair
Benjamin Dinal, information communication committee chair
Tyler Garrison, chief justice
Contact:
Lydia Guzman
Director of Communications
863-874-8557