Florida Poly Police build safety through community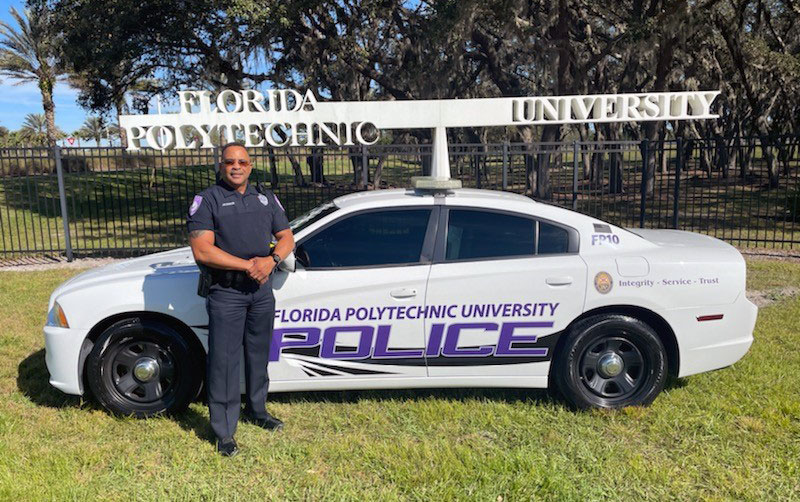 With a commitment to campus safety and a friendly attitude, the Florida Polytechnic University Police Department prides itself on connecting with students and building relationships with those they serve and protect.
"In traditional law enforcement, you may not get to know the true meaning of community policing," said Chief Richard Holland, who previously worked at the Polk County Sheriff's Office for 26 years before retiring as a captain. "We want to make sure students are comfortable with us. Maybe they've had run ins with law enforcement in the past, but they see a totally different side of police here."
This takes the shape of casual chats on campus, safety trainings, and fun events like "grilling with the cops" and "pool with the cops."
"We connect with them and also mentor and coach them," Holland said. "In traditional law enforcement, you don't have those opportunities to make a bigger impact the way the University police does."
Officer Tommie Jackson said the Florida Poly Police Department's approach to policing is dramatically different than traditional city policing.
"Street policing is different. You're dealing with a lot of different and intense and sometimes combative situations," Jackson said. "Here we try to give the students a feel of parental figures and try to let them know we are approachable, and that they can talk to us about anything. We're always here for them."
Although COVID-19 restrictions led to fewer scheduled events in 2020, the police department hasn't slowed down in building these connections.
"When you get to know an officer, you know they're human beings," Holland said. "And at a University, we have four years to actually talk to students and have time to engage with them."
National Law Enforcement Appreciation Day is Saturday, Jan. 9, and the department is gearing up for a busy semester when classes start on Monday, Jan. 11.
In October, the Florida Poly Police Department earned accreditation from the Commission for Florida Law Enforcement Accreditation. The department is staffed by career law enforcement professionals who have retired from other agencies.
"You don't have any of us out here that are first-time rookie cops starting in police work," Jackson said. "We all have great social skills and that has a big impact on students, staff, and faculty."
Holland said this experience and the relationships the officers have built across campus are key to their success.
"Having that trust where a student comes to the police to talk to us about family issues and the hardships they're having is beneficial to everyone," he said.
This special trust extends to every aspect of the job.
"These are highly decorated officers who I trust with my life, and I know when I go home the University is in good hands," Holland said.
Contact:
Lydia Guzman
Director of Communications
863-874-8557