Fulbright scholars explore educational opportunities at Florida Poly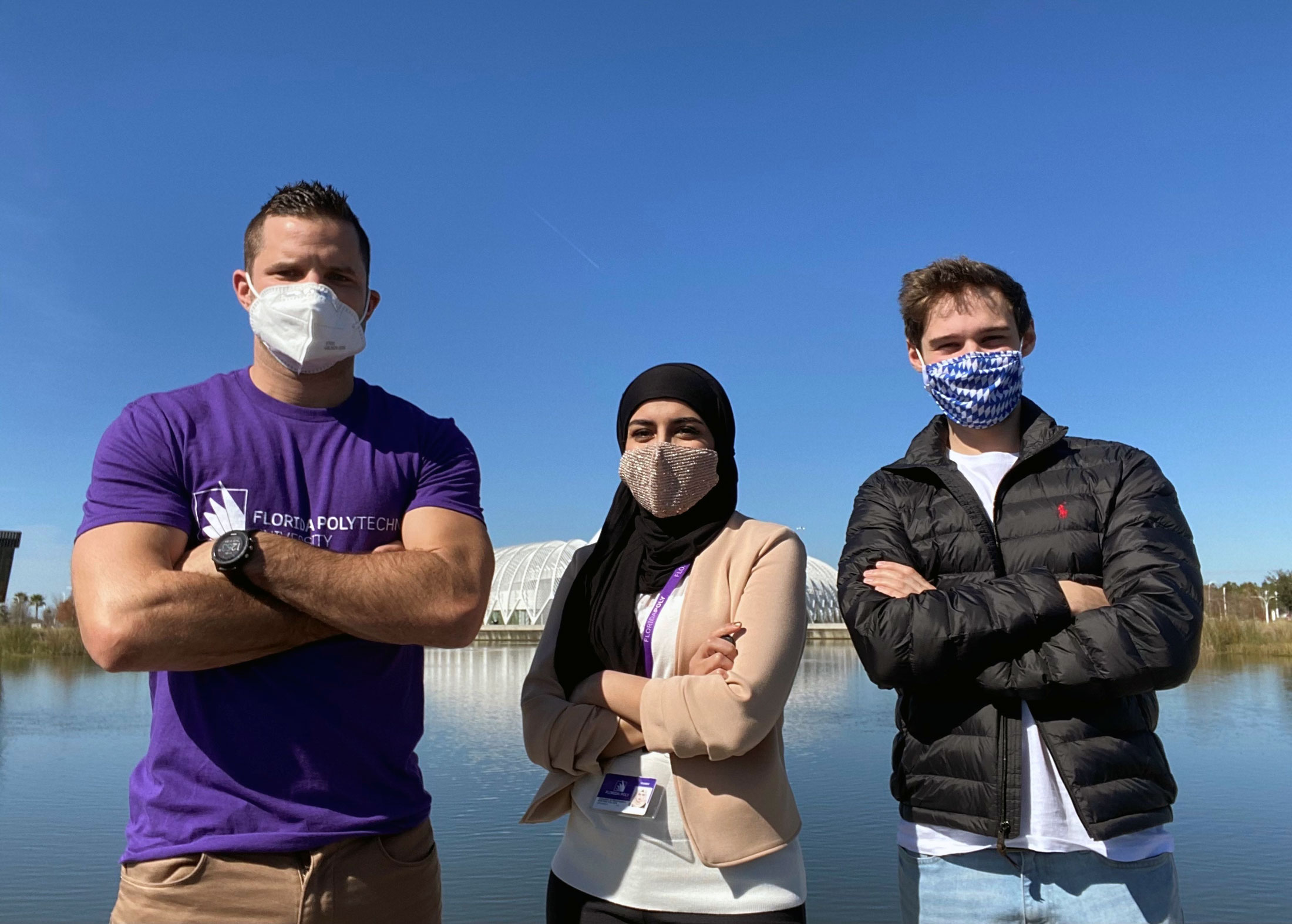 Florida Polytechnic University is helping three Fulbright scholars broaden their cultural experiences while they pursue an advanced graduate education.
Graduate students Clinton Elliott from Australia, Zubaidah Al-Mashhadani from Iraq, and Michael Theiler from Germany are eager to absorb all they can from the University.
"Florida Poly has offered me the opportunity to work closely with faculty members in research and practical work," said Al-Mashhadani, who arrived at Florida Poly from Baghdad, Iraq, in the summer of 2019. "I have gained great academic knowledge and am working on my research and pursuing publications. I definitely got what I was looking for when I applied to this University."
Al-Mashhadani has stepped up to help acclimate her new Fulbright peers, Elliott, from Cairns in Queensland, Australia, and Theiler, from Ingolstadt in Bavaria, Germany. Elliott and Theiler arrived at Florida Poly recently for the start of the Spring 2021 semester.
"She has shown us the University and introduced us to her friends and members of the staff," Theiler said. "This will be a good experience for me."
Theiler discovered a love of cars at a young age, training as an automotive mechatronic technician. He continues to pursue this passion through studies in electrical engineering and electromobility.
"I chose the electrical engineering program because I want to help shape the mobility of the future," said Theiler, who set his sights on studying in Florida after visiting the area in 2019.
"I loved Florida, and the University was appealing because it's focused on engineering," said Theiler, who will study at Florida Poly for one semester. "The weather is really good, and the people are so friendly and open-minded."
Continents away, Elliott's interest in studying in Florida was piqued when he met a Fulbright scholar in 2016. He was intrigued by the Fulbright program and sought a location with a tropical climate similar to his home in Australia. Elliott is now pursuing a master's degree in engineering management and will attend Florida Poly through 2022. His thesis is focused on solar exportation feasibility to markets that have less solar radiance.
"I am an electrical engineer by profession and an instrumentation electrician by trade," Elliott said. "Ultimately, I want to move into upper management roles and start a solar company in my hometown because we have some of the best solar radiance in the world there."
For Al-Mashhadani, who graduates from the University this semester, the Fulbright experience has been fulfilling. She is studying electrical and computer engineering and is working on developing an agricultural ground robot that navigates autonomously in the field.
"It monitors the ripe fruits and exports the number of each class to the user so they can provide equipment for harvesting where it's needed. It also detects any diseases in tomato plants and classifies them," she said.
Since 2017, Florida Poly has hosted six graduate students through the Fulbright Program, as well as one Fulbright Chair. Four University students also have studied in Canada as part of Fulbright Canada's Killam Fellowship Program, and Dr. Sesha Srinivasan, chair of Florida Poly's Department of Natural Sciences, was selected to the Fulbright Specialist Program.
Mustapha Achoubane, Florida Poly's associate director of international relations, said the University is proud to be part of the prestigious Fulbright Program because it strengthens the University's standing internationally while attracting some of the brightest minds in science, technology, engineering, and math.
"All of these students have been nominated by their countries and they are the best of the best," he said. "I hope one day we see a Florida Poly Fulbright student become a head of state or Nobel laureate."
Contact:
Lydia Guzman
Director of Communications
863-874-8557