Financial aid opens doors of opportunity to hundreds of Florida Poly students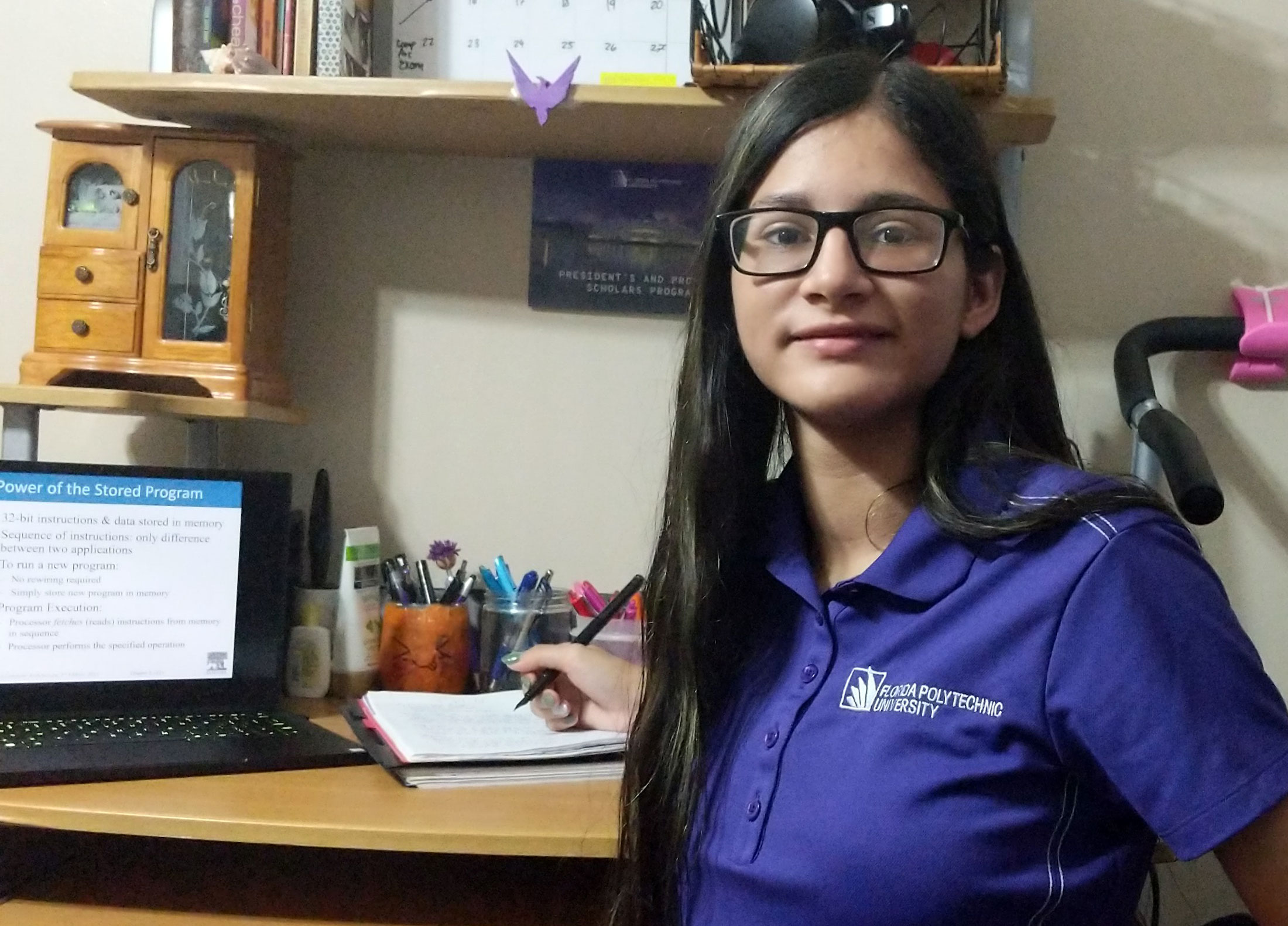 While a student at Tampa Bay Technical High School, Maricelly Nascimento knew she'd need extra financial help to make her academic dreams become a reality.
"My dad doesn't make much money – less than $15,000 a year, so he cannot pay for anything," said Nascimento, a junior majoring in computer science at Florida Polytechnic University. "I knew if I was going to go to college, I was going to pay for it on my own, find transportation on my own, and pay for the dorms on my own."
Fortunately, through a combination of grants, scholarships, student employment, and other assistance, Nascimento has been able to fund her education while focusing on her studies. Today, she is a student employee in the Office of Financial Aid, which helps students like her find and understand the kind of financial aid they need.
"If I didn't have assistance, I don't think I would have gone to Florida Poly, if I went to college at all," said Nascimento, a first-generation college student. "Financial aid has made it possible for me to go to college and pay for my housing and transportation."
February is Financial Aid Awareness Month, and Dr. Ben Matthew Corpus, vice provost of enrollment at Florida Poly, said ensuring students have access to need- and merit-based aid is a priority for the University. It is ranked among the best universities in Florida for top performance at a low cost and the most affordable mechanical engineering degree programs.
About 32% of Florida Poly students receive federal Pell Grants, he said. In all, about 85% of Florida Poly students receive some sort of financial aid, averaging $9,500 annually.
"It's a critical priority to give more students access to STEM degrees, given the demand in the job market and the fact that there are not enough affordable options for high-end STEM degrees," Corpus said. "Because our students don't have the significant debt that other institutions do, they have more flexibility and can chase their dreams without the anxiety of bone-crushing debt when they get out.
"They're not forced into careers just because of the money they have to pay back."
Corpus said this opens the door to students accepting jobs with employers such as nonprofit organizations, community groups, and the government.
This flexibility is very appealing for Nascimento.
"I know I'm passionate about computer science and I'm passionate about problem solving," Nascimento said. "I want to do some sort of freelancing where I can work on projects I'm passionate about and can choose when I work and basically work for myself."
Nascimento said students should not limit themselves when applying for forms of financial aid.
"Applying for all types of financial aid possible is key, even if you think you might not get it," she said. "There's always a chance that you might, and it's a chance worth taking."
Contact:
Lydia Guzman
Director of Communications
863-874-8557