Q&A: Jaimie Davis readies for a high-voltage career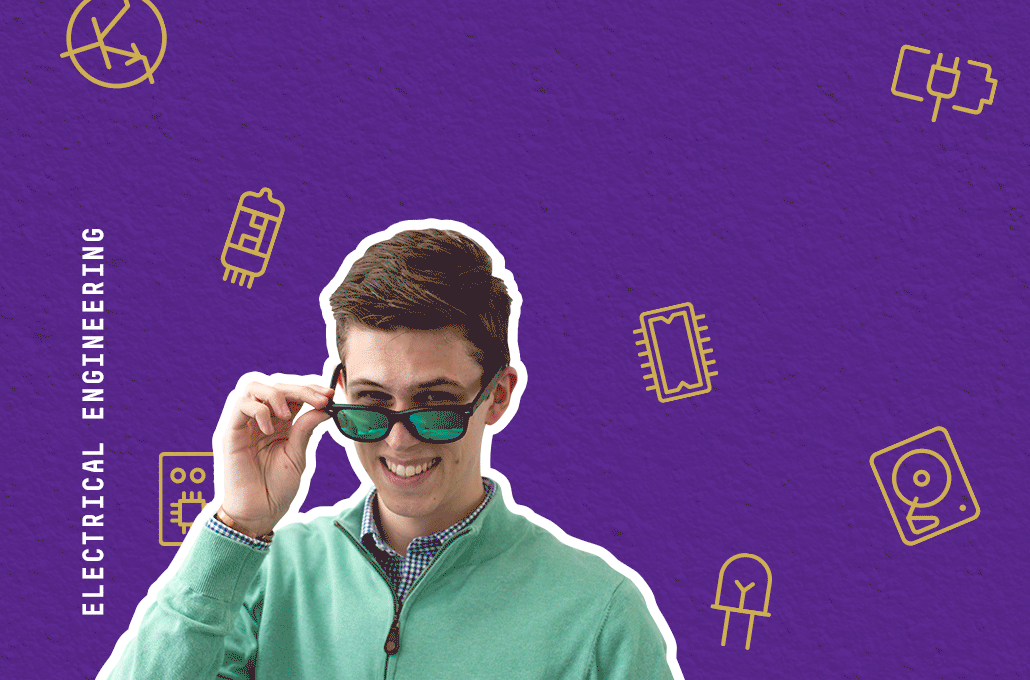 Jaimie Davis '21 embraced every opportunity that came his way at Florida Polytechnic University. The electrical engineering major is a graduate of Florida SouthWestern Collegiate High School in Fort Myers, Florida. He is the founding president of the Mu Omega Chapter of the Institute of Electrical and Electronics Engineers Eta Kappa Nu (IEEE-HKN) academic honor society and the Florida Poly chapter of SPIE, the international society for optics and photonics.
What was your greatest accomplishment at the University?
Establishing the honor society would by my greatest accomplishment. Starting this society is something I know will propel me forward and give students opportunities and something to work for with regard to their scholarship, character, and attitude. It takes a lot to be represented by this honor society, and being able to be represented by it is humbling.
Why did you choose your major?
Electricity is everywhere nowadays, and I thought it would allow for a broader range in career paths. My interest started back in my adolescence when I was constantly building machines with Fischertechnik, which are like German Legos. I always tried to make my life easier with them, building automatic card shufflers or a Rubik's Cube solver. Later, I would do game jams and discovered I loved coding. After I graduated from Florida SouthWestern State College with my AA degree, I chose electrical engineering because my past experience with machines and programming and my arts degree were all there and I wanted to bring them together with this all-encompassing degree.
How well do you feel Florida Poly prepared you for life after graduation?
Amazingly well. Florida Poly, and especially the faculty, have plenty of opportunities for students to have projects, and to learn how to design, how to work with team members, and work by yourself. It's been an ever-learning experience to engage with others and learn how to get projects done. It's all been there and definitely helped me with my internship and will continue to help me in my career.
What was your favorite course and why?
My favorite course was digital logic design. This was one of my first courses that I took related to my major. It changed my perspective on numbers and taught me how to design intricate circuits within a lab and recognize ways to implement binary logic in other courses. The next semester, I had the pleasure of becoming a student education assistant and helping students with the course.
Where did you complete your internship and what did you gain from the experience?
I did my internship at the Florida Department of Transportation and it was a lot of fun. I did many things regarding geographic information systems and traffic operating systems, which includes the control systems used for traffic lights. Being able to work on US 98 near my house in Lakeland, I was able to implement systems that help save lives for drivers and the people walking there.
What did you enjoy most about your time at Florida Poly?
The greatest part is the opportunities I've been given to connect outside the community, including to Florida Dance Theater, but also connecting to Florida Poly and its students through the clubs I've been part of. I've made a very big impact by founding the first honor society. I feel so great being able to leave the place better than I found it.
What are your long-term career goals?
Five years from now, I would love to see myself at an engineering firm, maybe a company that deals with design, overseeing a team and being on the project management side, getting things done and seeing things come to fruition. Longer term, after I've made my mark, I want to bring it back, maybe at Florida Poly, as a professor. I can see myself later in life helping those who helped me and helping the next generation as a professor.
What does earning your degree mean to you?
This is a culmination of so many thousands of hours of intense work, whether it be working with my peers or working on a project. It also opens the door to becoming a professor of engineering one day and being able to work with some of the best engineers, and to become a professional engineer working alongside those I look up to.
What advice would you give an incoming freshman?
When I came in as a freshman, my first thought was that I wanted somebody who I could look up to and show me the ropes. One professor introduced me to another professor and that has opened all these doors and had a snowball effect. I am constantly offered opportunities, and it's because I took the initiative to stay after class, talk to them, and get to know them. The more you present yourself to them, the more opportunities they will present to you.
Editor's note: This story is part of a series of Q&As with some of Florida Poly's Class of 2021 graduates.
Contact:
Lydia Guzmán
Director of Communications
863-874-8557