IEEE-HKN students get their hands dirty to beautify Lakeland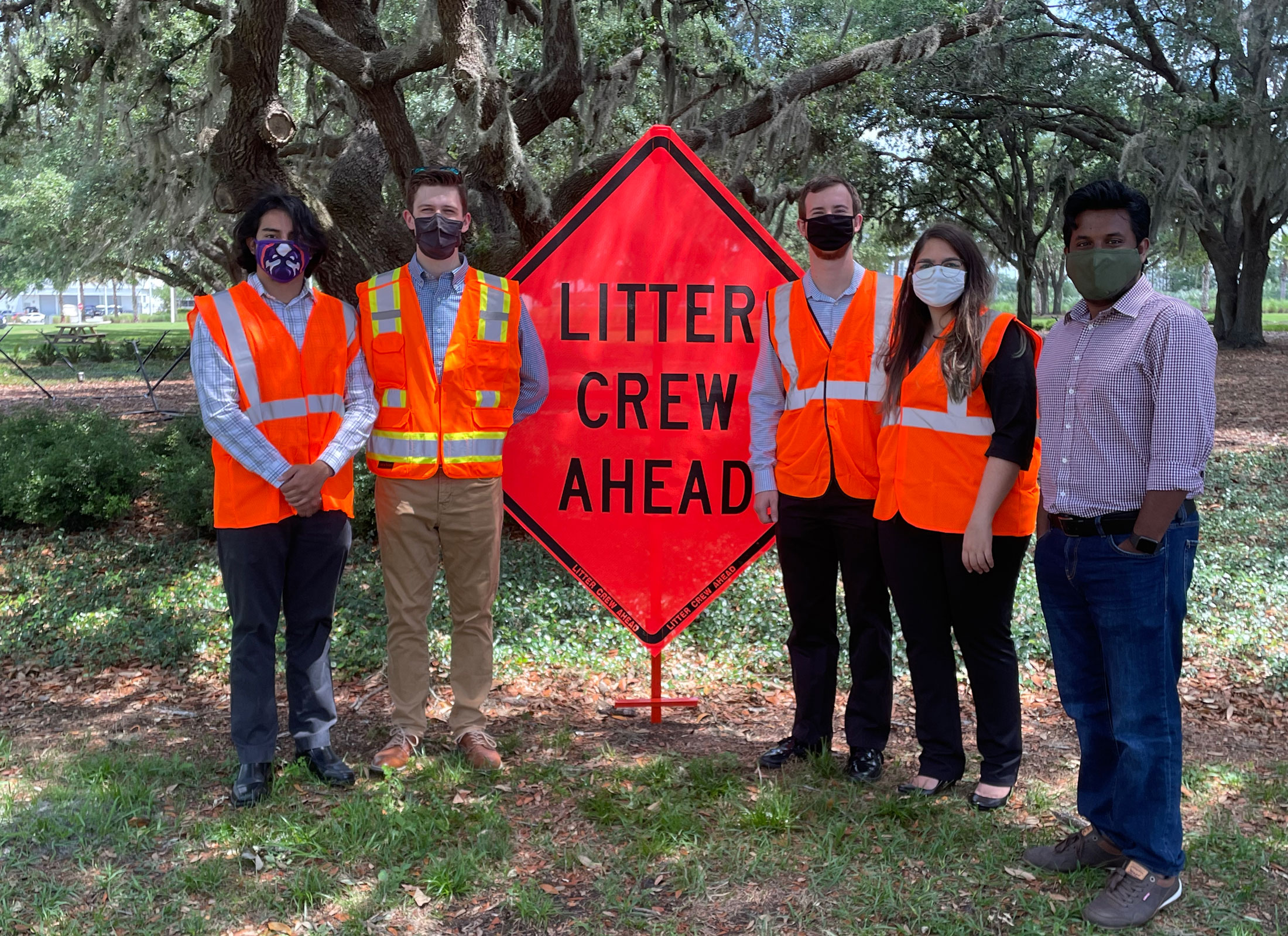 Just off Interstate 4 near the Florida Polytechnic University campus, a group of students is working to ensure a long stretch of road remains clean and reflects the University's commitment to the community.
The Mu Omega Chapter of the Institute of Electrical and Electronics Engineers Eta Kappa Nu (IEEE-HKN) academic honor society at Florida Poly has joined the Florida Department of Transportation's Adopt-A-Highway Program and recently held its first quarterly cleanup of an approximately two-mile stretch of road on State Road 33 near I-4.
"Not only does this make our community better, but it lightens the load on the Department of Transportation so they can put more money into making safe roadways and less in trying to clean them up," said Jaimie Davis '21, the club's founding president.
Before the cleanup, members received safety and cleaning equipment on loan from the state, as well safety training for all participants. A ribbon-cutting ceremony for the road's adoption took place on Monday, April 26.
"We are civic-minded individuals who will hopefully make a difference in our community by beautifying this section of it," said Davis, an electrical engineering major from Fort Myers, Florida.
In addition to the Adopt-A-Highway effort, the honor society has regularly been volunteering at the Blessings and Hope Food Pantry in Lakeland, Florida. Its members also tutored students in advance of finals week.
"Dedication to service is a major component of IEEE-HKN's mission. We, as a chapter, focus on undertaking projects that will provide a platform to serve the department, University, and community," said Dr. Ashiq Sakib, assistant professor of computer and electrical engineering at Florida Poly and the chapter's faculty advisor.
Sakib said in addition to helping the community, the effort will bring students together and create lasting bonds beyond the chapter's members.
"Our members are doing outstanding work and I am proud of them," he said of the group, which held its first member induction in September 2020 and welcomed its newest members on April 23.
Riley Kiefer '21, the club's founding vice president, said he is excited to see how the Mu Omega Chapter will continue building a legacy in the years to come.
"One of the things our club never had a chance to do together was to be together in person, until now," said Kiefer, a computer science major from Tampa, Florida. "Now that we have built our constitution and framework, we can move forward to continue representing the honor society and Florida Poly in a great way."
Contact:
Lydia Guzmán
Director of Communications
863-874-8557