2019 Florida Poly look back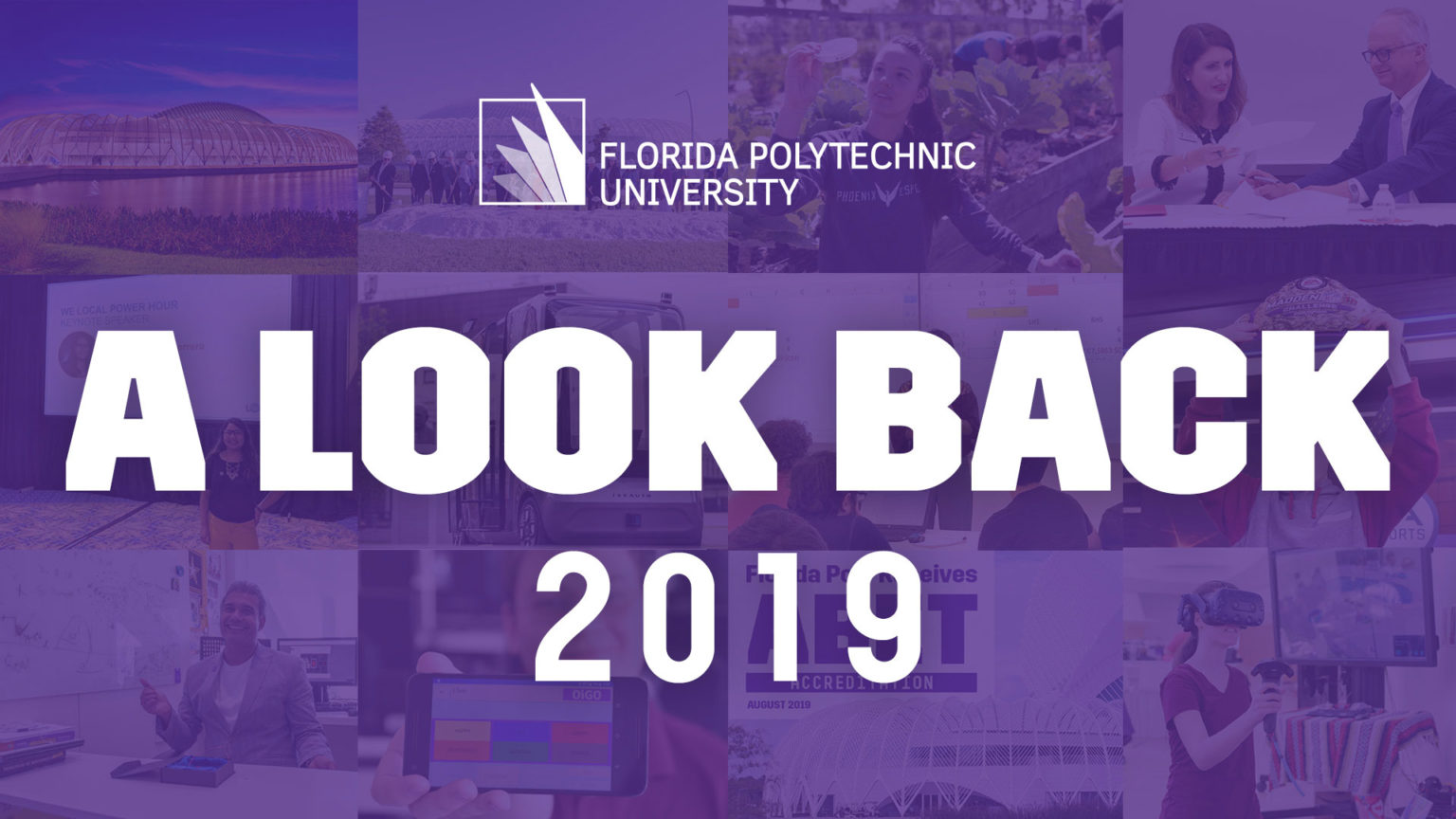 The Florida Polytechnic University community celebrated many milestones and achievements in 2019. New accreditation, degrees, partnerships, grants, and victories marked 12 successful months in the University's history.
Florida Poly generates $289 million in annual economic impact
The results of an economic impact assessment showed just how much Florida Poly contributes to the local and state economies each year. In all, the University generates more than $289 million annually in overall economic activity. The October study showed that about 61% of the economic impact is driven by the skills, credentials, and increased earning capacity of graduating students. Read the Florida Poly news article.
Partnership with Estonian university TalTech boosts autonomous vehicle research
Florida Poly announced a partnership with Estonian university Tallinn University of Technology (TalTech) in April. The two institutions are working together to advance the research and application of autonomous vehicle technology in Florida and Europe. The work will enhance development of AV technology within downtowns, university campuses, and other controlled settings while creating work and study opportunities around the implementation and testing of this technology. Read the Florida Poly news article.
Student brings home EA Madden NFL Championship win
Business analytics major Christian Lomenzo bested thousands of online gaming competitors in March to win the EA Madden NFL 19 Challenge and a grand prize of $35,000. He secured the victory in a nail-biting overtime play that ended in an 80-yard walk-off touchdown. Read the Florida Poly news article.
ABET accreditation awarded to engineering and computer science degrees
The University celebrated in August when several degree programs were accredited by the Computing and Engineering Accreditation Commission of ABET, the global accreditor of college and university programs in applied and natural science, computing, engineering, and engineering technology. Graduates in computer engineering, computer science, electrical engineering, and mechanical engineering now not only have new proof of their stellar education, but access to even more highly sought after jobs. The accreditation was retroactive to 2017. Read the Florida Poly news article.
Students develop app to help voice emotions for those who can't
A group of five Florida Poly seniors worked with Tampa, Florida, technology company Assistive Communications Technologies to develop a mobile app to assist people with brain-based language impediments to express their emotions. The OiGO app allows users to select the emotion they are experiencing and a reason why it is being felt. The project was unveiled in February. Read the Florida Poly news article.
Students show off game design for industry pros at game expo
Dozens of student game developers showed off their creations at a large-scale game expo attended by the Florida Poly community as well as industry professionals. The games included virtual reality, combat, racing, puzzles, multi-player platforms and more. The April event highlighted both the technical skill of students and their ability to channel their creativity into the latest gaming trends. Read the Florida Poly news article.
Florida Poly celebrates second four-year class commencement
The University held the second four-year commencement ceremony of its history in May. Nearly 300 students crossed the stage to mark the completion of their degrees at the ceremony. The commencement speaker was retired U.S. Air Force general and former astronaut Kevin P. Chilton, who encouraged the graduates to never stop learning. Read the Florida Poly news article.
National Science Foundation awards two grants to the University
Two research efforts were funded by the National Science Foundation this fall. In September, a $600,000 grant was announced that is funding research into strengthening the ethical identity of engineering students and future STEM professionals. In October, Florida Poly's Advanced Mobility Institute was awarded an NSF grant to fund the development of a large-scale Hardware-in-the-Loop simulation facility for the testing and verification of connected and autonomous vehicle (CAV) technology. Read the Florida Poly news articles: ethical identity grant, CAV grant.
Polk State students gain seamless path to Florida Poly with historic agreement
The presidents of Florida Poly and Polk State College signed a transfer-articulation agreement in July that established a seamless pathway for graduates of the college to continue their education at the University. Read the Florida Poly news article.
Three new degrees expand University's educational reach
Florida Poly started the 2019-2020 academic year with three new degrees: Environmental Engineering, Engineering Mathematics, and Engineering Physics. The new programs expand the academic offerings for students as they seek to pursue a high-demand STEM (science, technology, engineering, and math) degree. Read the Florida Poly news article.
University breaks ground on state-of-the-art research building
The University broke ground on its second academic building in September, the Applied Research Center. The 85,000-square-foot facility will house research and teaching laboratories, as well as student design spaces, conference rooms, and faculty offices. The architecturally unique building will be located on the northwest side of campus, adjacent to the Innovation, Science, and Technology Building. Read the Florida Poly news article.
Professor earns international award for work using nanotechnology in disease diagnosis and treatment
Dr. Ajeet Kaushik, an assistant professor of chemistry, received the prestigious Universal Scientific Education Research Network (USERN) Prize. He was named a laureate in the field of biological sciences during the group's fourth annual congress in November Budapest, Hungary. Kaushik was recognized for work using nanomaterials to create biosensors that detect the biomarkers of a disease at very low levels. Read the Florida Poly news article.
Professor creates engineering scholarship with $100,000 gift to Florida Poly
Dr. Muhammad Rashid, professor and chair of the electrical and computer engineering department, demonstrated the faith he has in the University's education of the next generation of engineers in October when he and his wife created the Drs. Muhammad H. and Fatema Rashid Future Generation Engineering Scholarship Endowment Gift. The couple's $100,000 gift will fund scholarships for students pursuing degrees in electrical, computer, or cyber security engineering at Florida Poly. Read the Florida Poly news article.
Entrepreneurship program receives international recognition
The Florida Poly entrepreneurship program was recognized internationally in September with its selection as a finalist by the Global Consortium of Entrepreneurship Centers. The program was selected for its work creating the Phoenix Nest, a pioneering software system designed to support students throughout the innovation process. Other finalists included Harvard University, Pennsylvania State University, Texas A&M University, and Florida State University. Read the Florida Poly news article.
Alumna delivers keynote speech at conference of the Society of Women Engineers
Mechanical engineering alumna Veronica Perez Herrera '18 was selected to deliver a keynote speech in February during the Society of women Engineers WE Local conference in Tampa, Florida. Read the Florida Poly news article.
Contact:
Lydia Guzman
Director of Communications
863-874-8557