2021 Ablaze awards honor outstanding employee contributions at Florida Poly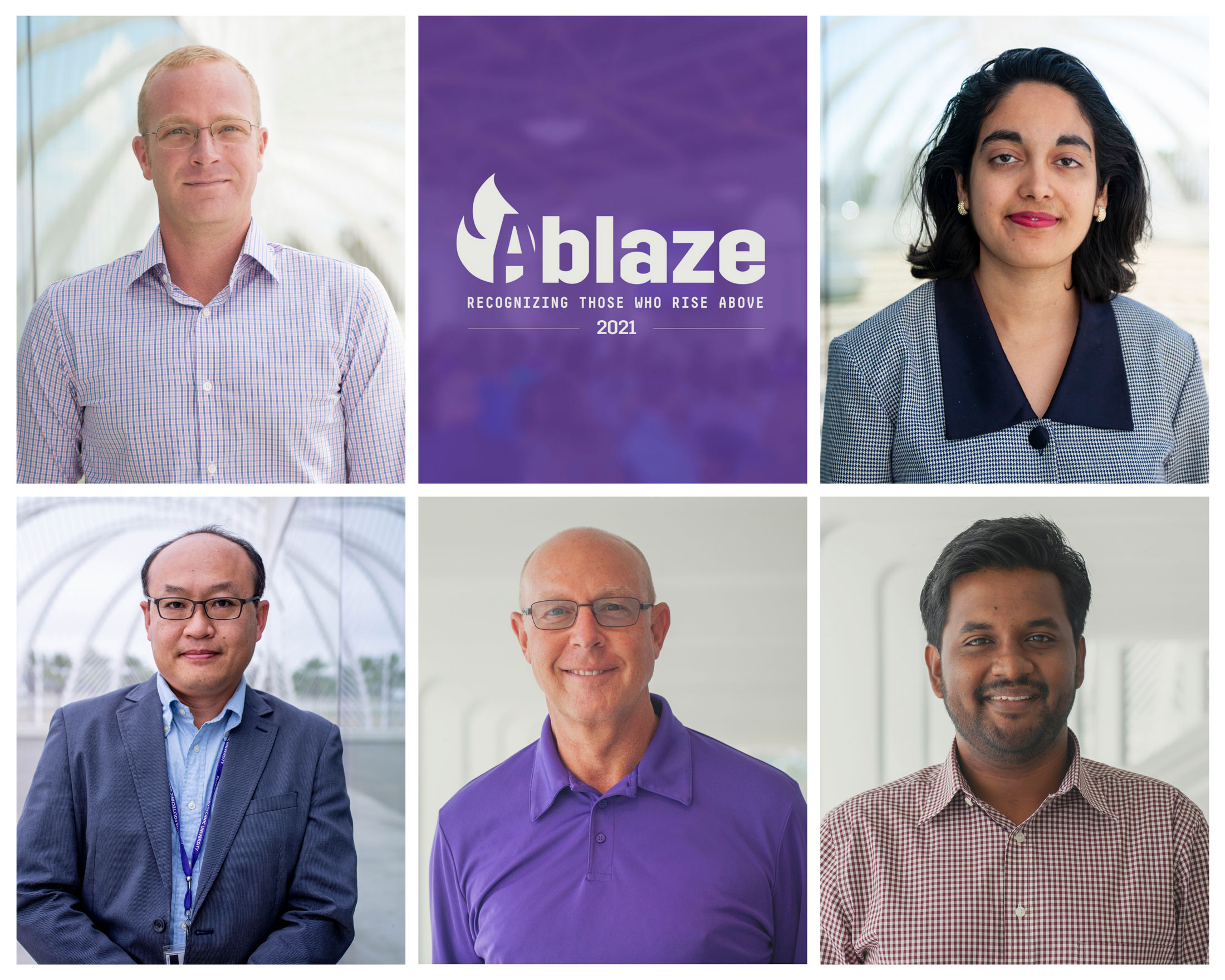 LAKELAND, Fla. – Florida Polytechnic University celebrated its fourth annual Ablaze awards ceremony to honor the hard work, determination, and perseverance of its employees in helping the University achieve its academic goals.
The event was held on Friday, April 16, and recognized employees who have demonstrated excellence in areas such as teaching, service to others, and research. This year's event was virtual due to ongoing COVID-19 precautions.
"Without the tremendous dedication and hard work of each of you, we could not have achieved all that we've done during the last year," said Dr. Randy K. Avent, Florida Poly's president.
These achievements included the University's debut in U.S. News & World Report's list of top colleges without a Ph.D., and WalletHub's ranking of Florida Poly as one of the best in the nation for career outcomes. New initiatives and programs like the Florida Poly Band, Hacking 4 Defense, and the Nuclear Propulsion Pipeline Program also were cited.
The ceremony was the culmination of a week of activities honoring employees and their dedication to the University.
"We are seeing real results from the hard work you put in every day," Avent said to the University's employees.
Pinnacle Award
Dr. Matt Bohm, director of industry engagement and capstone projects at Florida Poly and an associate professor of mechanical engineering, received the Pinnacle Award, the highest honor for a University employee. The award recognizes an employee who rises to the top through hard work, commitment, and excellence. Bohm was honored for his commitment to student success and his hard work in increasing the University's business and community connections. His work brings together people from all departments, creating multidisciplinary projects that increase opportunities for the University's students, Avent said. As the COVID-19 pandemic took hold in 2020, Bohm led the University's efforts in providing face shield components to local health care providers. "Your commitment to students and colleagues serves as an example to each of us, every single day," Avent said.
Excellence in Research Award
Dr. Sanna Siddiqui, assistant professor of mechanical engineering, received the Excellence in Research Award. She was recognized for her efforts in moving the materials characterization lab into its current status as a research laboratory capable of creating research-grade results, as well as for publishing three unique articles in high-quality journals based on her work at Florida Poly. Siddiqui also was the recipient of the 2020 ASME Young Engineer Turbo Expo Participation Award. She is an active reviewer for quality mainstream journals and has authored three independent proposals this year.
Excellence in Teaching Award
Dr. Younggil Park, associate professor of mechanical engineering, received the Excellence in Teaching Award. Park was described as a professional who improves any project in which he is involved. "He exemplifies excellence in teaching through his patience and vigilance to motivate students to pursue excellence, and become confident in themselves, their ability to learn and grow, and be future-minded, not only in their careers, but through his personal engagement, he shows them how to shape who they want to be as people," said Dr. Tom Dvorske, vice provost of academic affairs, who presented the award.
Phoenix Spirit Award
Larry Locke, director of finance and development operations in the Office of Advancement, received the Phoenix Spirit Award for consistently displaying kindness, support, and a willingness to help both inside and outside of his department. Locke was described as a man who displays genuine concern for others and invests time in cultivating relationships across the University.
Exemplary Service to Others Award
Dr. Ashiq Sakib, assistant professor of electrical and computer engineering, received the Exemplary Service to Others Award. Sakib was instrumental in establishing the Mu Omega Chapter of the Institute of Electrical and Electronics Engineers Eta Kappa Nu (IEEE-HKN), Florida Poly's first academic honor society. As the chapter's faculty advisor, he has worked to ensure its members engage in meaningful projects. Additionally, Sakib has led his undergraduate student assistants in planning and executing various academic, social, and welfare projects, including partnering with the Microsoft Student Ambassadors program to conduct a Microsoft Mentorship Pilot Program.
Contact:
Lydia Guzmán
Director of Communications
863-874-8557