Wrap up 2022 with these top 10 stories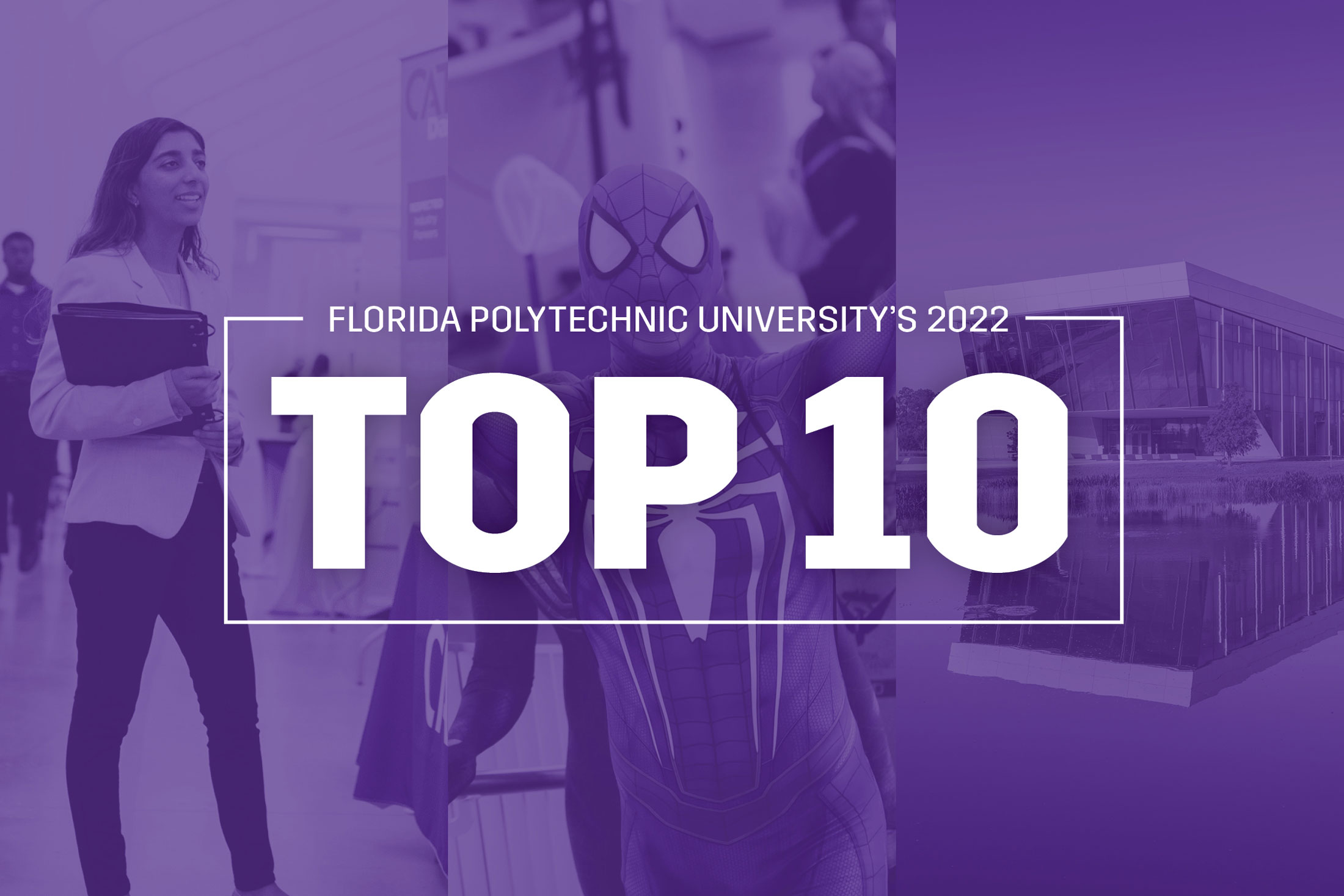 So many big things happened for Florida Polytechnic University in 2022. We launched degrees, opened the long-awaited Applied Research Center, and saw the return of a beloved campus tradition. The students, faculty, and staff at Florida Poly worked hard to make possible all of the achievements of the past year. As we look ahead, 2023 is poised to be better than ever.
Florida Poly celebrated the completion and ribbon cutting of the Applied Research Center on campus in August. The 90,000-square-foot cutting-edge facility doubled the University's lab and research space, and allowing students a fuller, more comprehensive academic experience. The $47 million building was designed to become a research hub for innovation and a magnet for high-tech industry.
The University enjoyed yet another year of outstanding national and regional rankings. In its 2022-2023 Best Colleges list, U.S. News and World Report ranked Florida Poly as the No. 1 public college in the Southern region, No. 1 best college in the region for veterans, and No. 2 among schools in the region whose students graduate with the least debt, among others.
Florida Poly faculty continued to show their dedication to advancing research in their field in 2022. Five researchers were recognized as being among the top 2% of scientists globally on a prestigious annual list compiled by Stanford University. Two faculty members were recognized for their lifetime body of work and citations, and four were recognized for their work and citations in the preceding year.
Fortune 500 company IFF and Florida Poly gathered in October to celebrate the start of construction on the company's new Global Citrus Innovation Center. This is the first industry partner with a facility on campus. The 30,000-square-foot facility will support global citrus research and development, and will include sensory and experience venues, research labs, processing, analytics departments, and a fully equipped citrus garden. IFF also will provide hands-on internships and job opportunities for students, and will fund and collaborate on faculty research, sponsoring senior capstone projects, and supporting academic programs.
According to the new educational research and comparison tool MyFloridaFuture, released by the State University System of Florida in 2022, Florida Poly's graduates earn an average of $57,900 one year after graduation, the highest among all state universities. With targeted degree pathways aligned to meet the needs of industry and community that is 100% STEM, the University's graduates often earn high-wage, high-tech positions with some of the biggest names in science and industry.
New Master of Science degrees in data science and engineering management were introduced for the fall 2022 semester. The degrees were created in response to high industry demand and growing campus enrollment. "There is big demand in many disciplines for high-quality training programs in data science," said Dr. Rei Sanchez-Arias, assistant chair of the Department of Data Science and Business Analytics.
Florida Poly Trustee Gary C. Wendt, who has been closely involved with the University since 2017, donated $2 million to support the creation of new leadership initiatives for students. "Gary has already made an impact on Florida Poly as a committed trustee, sharing his expertise and insight over the years to successfully help the University move forward," said Dr. Randy K. Avent, Florida Poly's president. "This generous contribution will carry on his legacy of tenacity and leadership for our University for many years to come, and we are very grateful."
The award-winning Innovation, Science, and Technology Building – the dramatic showpiece of Florida Poly's campus, was featured on the international TV show "How Did They Build That?" on the Smithsonian Channel. The series highlights the world's biggest and best architectural marvels and shines a spotlight on all those who bring the jaw-dropping buildings to life. The IST was designed by famed Spanish architect Dr. Santiago Calatrava.
A summer internship at NASA's Jet Propulsion Laboratory offered Alex Perera '21 a chance to work on an incredible project at one of the world's most respected employers. The graduate student was part of a team that created a digital twin of a high-altitude balloon that records information about the world around it when it is aloft. The digital twin is an identical counterpart of a real-world physical system or process, and is used to predict outcomes of various scenarios.
Florida PolyCon, the University's most spirited on-campus tradition, returned to Florida Poly after a two-year hiatus due to the pandemic. The student-run event attracts thousands of visitors to campus, where a daylong celebration of comics, anime, videogames, movies, and all things geek takes center stage. It included experiences such as cosplay contests, an arcade, student-created video games, Nerf battles, and more.
Contact:
Lydia Guzmán
Director of Communications
863-874-8557