Here are Florida Poly's top 10 stories of 2021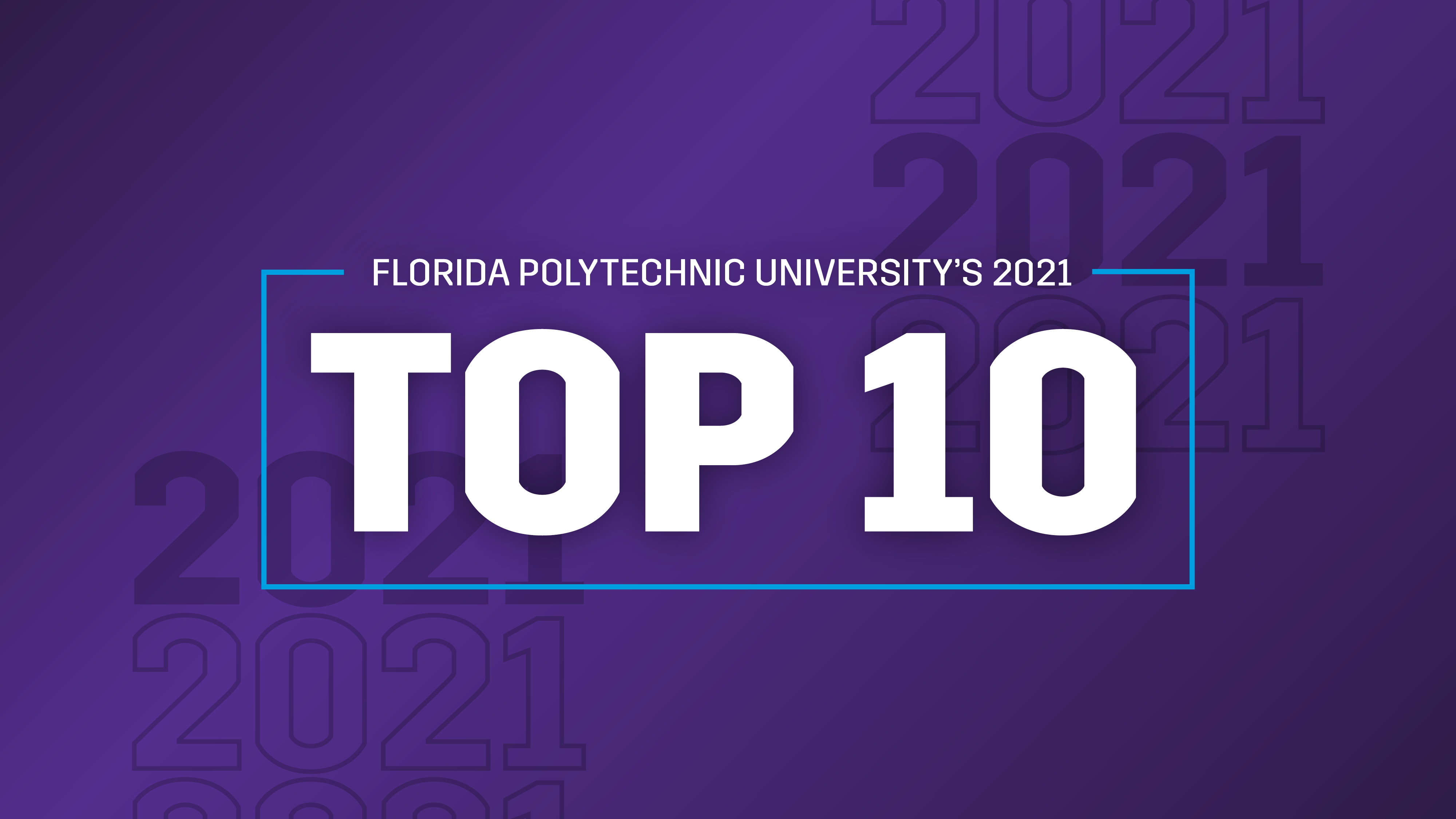 The end of 2021 marks a year filled with national recognition, exceptional growth, and incredible achievements. Amid a changed global landscape, the Florida Polytechnic University community worked hard to continue growing and moving forward. The year's highlights included impressive U.S. News and World Report and other rankings, international accolades for stellar faculty members, and innovative opportunities for hands-on learning.
Read the list of Florida Poly's top 10 stories of 2021, or watch the video below.
1. Florida Poly earns top national rankings
The University's outstanding national and international rankings received widespread attention in 2021. It was named the #1 public college in the South and the #26 public engineering program without a Ph.D. nationally by U.S. News and World Report. Florida Poly also received high rankings for best career outcomes, and international recognition for its outstanding data science program.
The gleaming Applied Research Center (ARC) set to open in mid-2022 received full funding from the state Legislature in June to complete the building's construction. Ready to take its position in transforming research, collaboration, and industry engagement, the ARC milestone was a point of pride for the University.
The campus community celebrated a major milestone in September when the Board of Governors approved a partnership with Fortune 500 company International Flavors & Fragrances to build a new facility on campus. The start of what will one day be a bustling research park, the major partnership will facilitate unprecedented levels of industry collaboration and engagement on the Florida Poly campus.
Dr. Ajeet Kaushik, Dr. Hisham Mahmood, and Dr. Patrick Zhang made the prestigious annual list of the world's top scientists compiled by Stanford University this December. The professors individually published their cutting-edge research in leading academic journals, which was subsequently widely cited in others' work, earning them spots on the list.
As other institutions struggled to attract high-talent students amid the pandemic, Florida Poly welcomed its largest incoming class ever in August with more than 625 new students. New student GPAs were also higher than ever, making this the University's most academically talented class as well.
On International Women in Engineering Day on June 23, Daniele Mendez '19 stepped into the spotlight, sharing her success as a software engineer at Lockheed Martin Aeronautics.
Dr. Sanna Siddiqui's research into 3D-printed nickel-based metal superalloy materials used in jet and rocket engines gained significant media and campus attention in September. The $150,000 National Science Foundation grant she secured will help advance knowledge about whether the 3D-printed materials perform as well as conventionally produced parts.
Florida Poly freshman put their growing knowledge to the test in October when they were tasked with building and programming a functional robotic arm from a collection of parts and with minimal guidance. The result was a hands-on experience that displayed STEM education in action.
The family of late Florida Poly champion John R. Alexander honored his legacy with a $1.5 million gift in May that generously supports the education of promising students. With $40,000 scholarships, a new laptop, and other benefits, the Alexander Scholars program is making a big difference in the lives of Florida Poly students.
The University announced an agreement with Florida Southern College in February for a public-private partnership to allow students to earn a STEM bachelor's degree from Florida Poly and a Master of Business Administration from Florida Southern in five years or less. The partnership is the first of its kind in the region.
Video: 2021 Top 10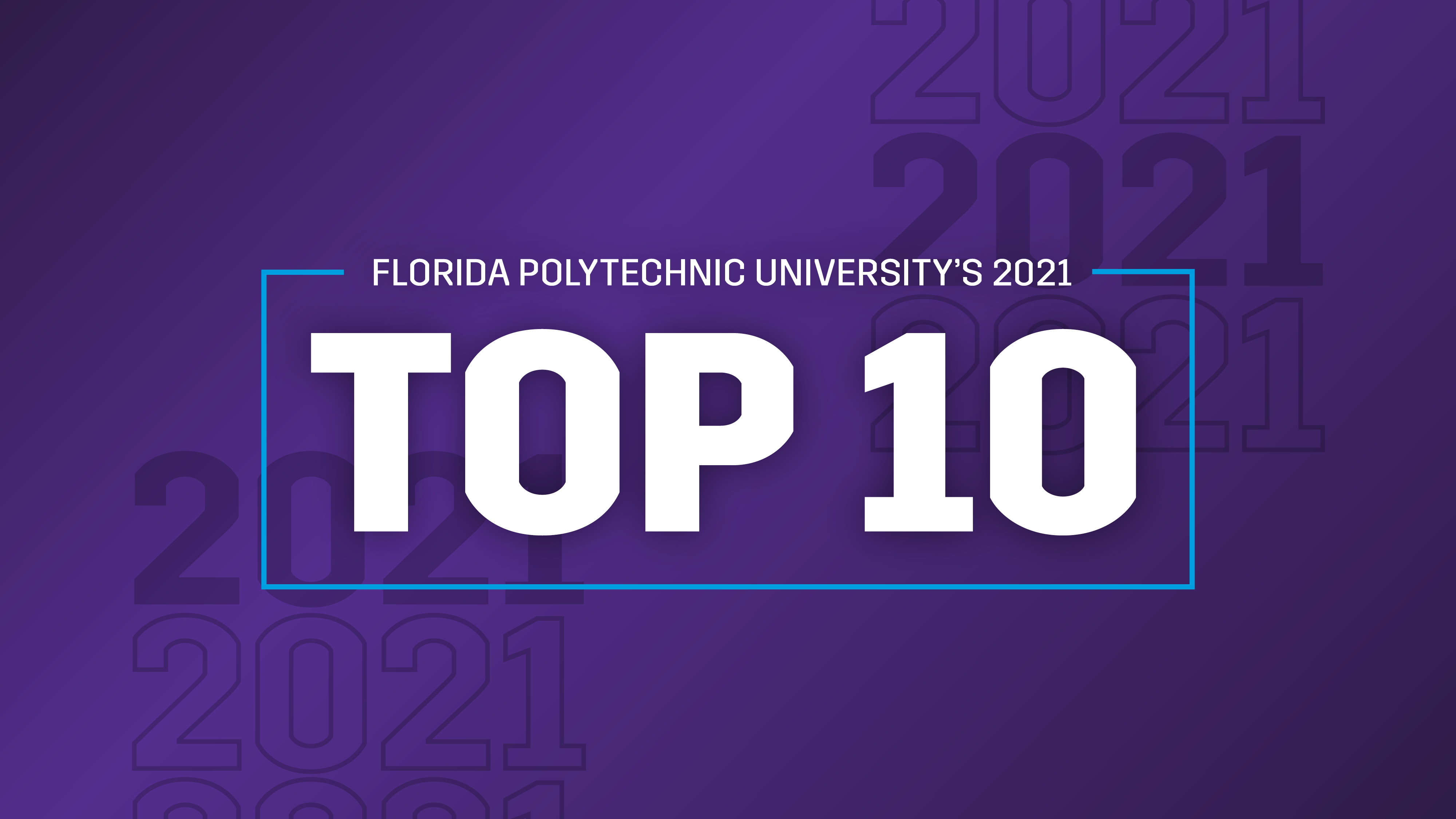 Contact:
Lydia Guzmán
Director of Communications
863-874-8557