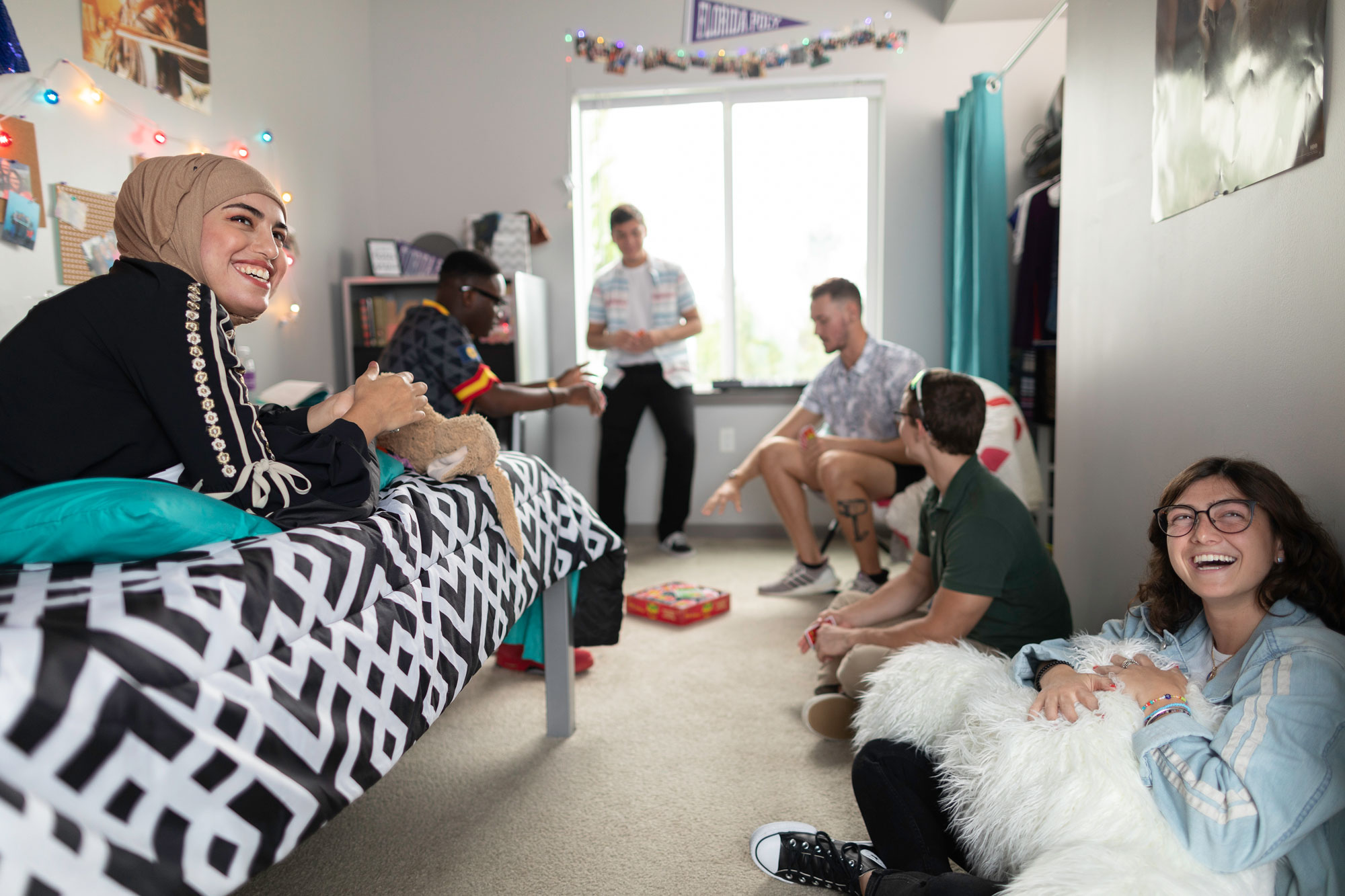 Residential Life Handbook
The Phoenix life is just more than academics. It is about having new experiences, about discovering new educational and social opportunities, and about stepping out on your own as an adult. It is as much about the way you live as the classes you take.
Living on campus will help you make the most of your Florida Poly experience. The Office of Housing & Residential Life plays an integral role in our students' education and development. We support Florida Polytechnic University's mission by providing services, policies and programs that enhance academic and social experiences in a safe, friendly, and challenging residential community. We feel that campus living combines the essential elements for a successful college experience. We believe that students who live on campus are stewards of our residential community and are encouraged to take responsibility for their success. There is a growing sense of shared community in our residence halls; a sense of living, learning, respect of each other, and of commitment to the community. We are excited for you to be a part of that!
Email or call 863-874-8789 to contact or schedule an appointment with the Office of Housing & Residential Life. The Office of Housing & Residential Life is located in Residence Hall Phase 2. For more information on Housing and Residential Life see the Residential Life Handbook.
Mission Statement
Florida Poly's Office of Housing & Residential Life partners with students to enhance the residential experience and create an inclusive living-learning environment that encourages students' emotional, intellectual, and personal growth. Housing & Residential Life is committed to providing intentional learning through programmatic offerings, academic connections and social networks while valuing collaboration and being an impactful community member.
Vision Statement
The vision of the Office of Housing & Residential Life is to offer students a living-learning environment that supports and promotes leadership, collaboration, innovation, adaptability, and development.
Housing & Residential Life Staff
Housing & Residential Life is proud to have assembled a staff of talented and committed students and professionals to develop and maintain a great residential and campus environment for you.
Oversees all functionalities and operations of the Office of Housing & Residential Life and supervises Housing & Residential Life Coordinators. They serve as a Student Conduct Representative for Florida Polytechnic University and serve as a member of the CARE Team. They serve as a liaison between Florida Polytechnic University and Capstone.
Professional, live-in staff members that work within the Office of Housing & Residence Life and oversee the day-to-day operations and student activities of the residence halls including, but not limited to, student staff recruitment and selection, student staff training, educational and community programming and events, and resident support and outreach.
Paraprofessional student staff members that live and work in the residence halls while attending school full-time. They are responsible for the day-to-day operations of the halls to which they are assigned, including providing support services directly to students, mentoring Resident Assistants (RAs), and overseeing all educational, social, and operational activities and programmatic efforts.
Full-time students who live in the residence halls and are responsible for a particular community of students that live on campus. They provide support, act as a resource for students, coordinate social and educational programs and events, and enforce University, Housing & Residential Life, and Capstone community standards and policies within the campus and residential community.
Full-time professional staff member that works within the Office of Housing & Residential Life and oversees the day to day operations for assignments, billing and contracting.