Bachelor of Science
Applied Mathematics
The Root of All Human Progress
Program Highlights
Our applied mathematics program offers an alternate track to standard engineering degrees and develops a stronger understanding of the underlying science and mathematics of engineering, as well as the application of the scientific methods to engineering problems.
Solving Today's Engineering Problems
The program prepares students to be knowledgeable in conceptual understanding of mathematics and its application in engineering and other technical environments.

All Applied Mathematics majors participate in an interdisciplinary capstone project and an internship under the guidance of a faculty member.
Applied Mathematics Careers
Graduates of the B.S. in Applied Mathematics understand how applied mathematics leads to mathematical models, theories, and applications that contribute to diverse areas of science. You will be well prepared for technical R&D jobs, developing new knowledge in the sphere of engineering problems, or pursuing graduate study in math or engineering.
Job Growth
An Applied Mathematics bachelor's degree offers very diverse employment opportunities in research, space and astronomy, healthcare, engineering and applied mathematics. Graduates of Applied Mathematics major can find opportunities as engineers/Mathematicians /Software Engineer in national laboratories, high-tech (GE, GM, Raytheon, Harris, Intel, IBM, Google, Mosaic etc.), Department of Defense, Air force and Military, NASA, Higher Education (MS or PhD programs), regional, state and federal government agencies.
Jobs using mathematics, statistics, and operations research are projected to grow by 33% nationwide between 2016 to 2026.
Salary Ranges
The average mathematical engineering salary in the United States is
$89,817
as of May 28, 2020, but the salary range typically falls between
$69,554
and
$105,691
.
Applied Mathematics
Dr. Michael Brilleslyper, chair of Florida Poly's Department of Applied Mathematics, is modernizing curriculum to make it accessible, relevant, and current.
Research Facilities
Florida Poly's Department of Mathematics faculty collaborate with colleagues in computer science, computer and electrical engineering, and data science on research associated with the University's Advanced Mobility Institute (AMI), an institute dedicated to testing and certification methodologies for autonomous vehicles.
This interdisciplinary relationship provides unique opportunities for students to apply mathematical principles to engineering problems in real world and research-based settings.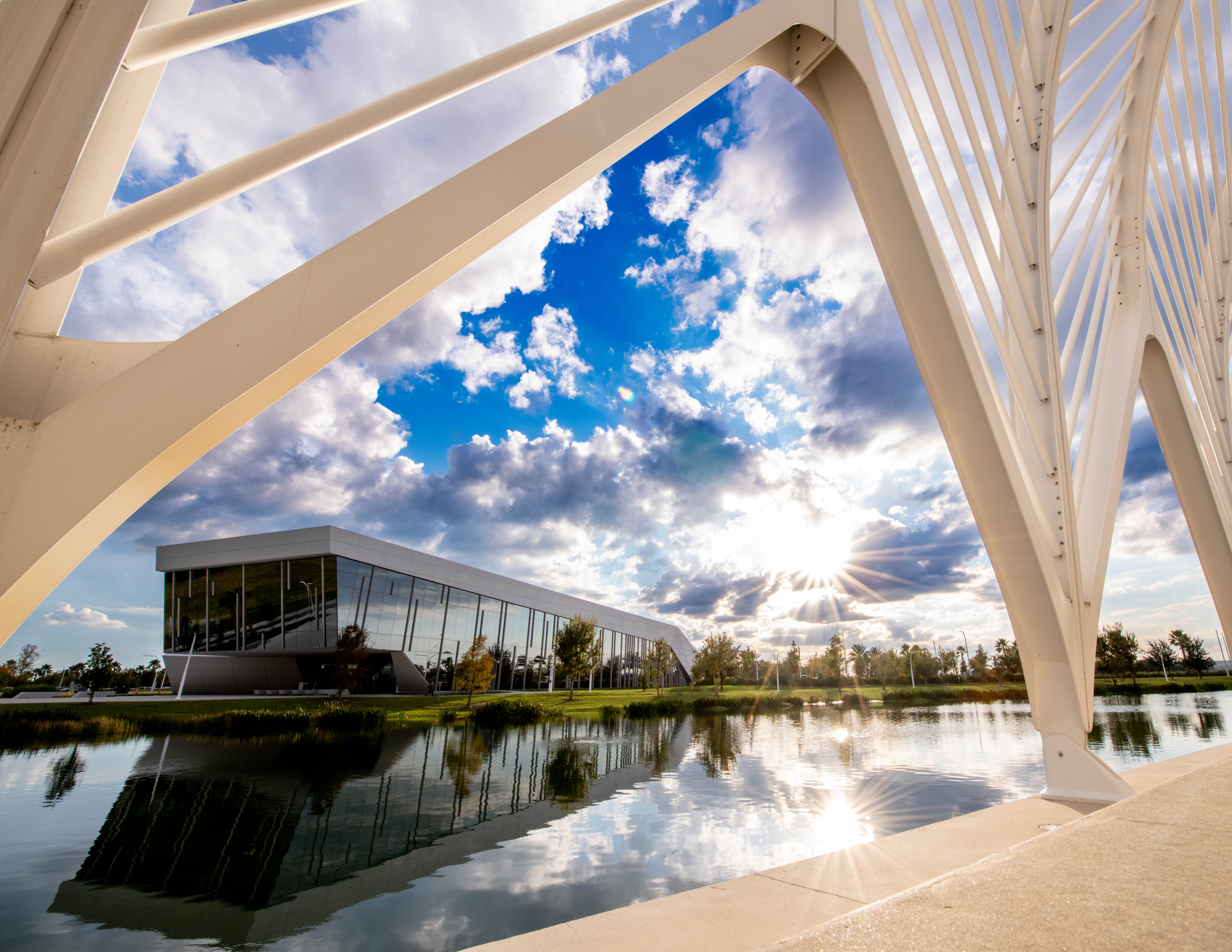 Barnett Applied Research Center
Florida Poly's 90,000-square-foot Barnett Applied Research Center (BARC) was created as a research hub for the Central Florida region to become a magnet for high-tech development around the school. The Barnett Applied Research Center houses research and teaching laboratories, student design spaces, conference rooms, and faculty offices. The building also provides study areas for graduate students, and a small amount of administrative space.
SunTrax
SunTrax is a large-scale, cutting-edge facility dedicated to the research, development, and testing of emerging transportation technologies in safe and controlled environments. Many of the opportunities are related to tolling, ITS, and automated and connected vehicles. Additionally, the entire site is a connected environment for testing Vehicle-to-Infrastructure (V2I) and Vehicle-to-Vehicle (V2V) communications.
Make Your Passion a Career
We're here to give you the resources to land your dream internship, work alongside faculty in groundbreaking research, and to develop leadership skills to stand out in the workplace.
Internships are an important part of setting up you up for success after college and are a requirement for you to graduate.
Conduct research along side faculty that is improving lives and changing businesses, with impact ranging from local Lakeland community to the outer-reaches of space.
We understand the importance of feeling prepared, and we are committed to your success here and beyond. That's why we have resources to support you in your continued career development.
Get Involved Outside the Classroom
We have an active student organization community with more than 35 clubs that vary based on specific academic interests, professional development, and activities just for fun.
Math Club
The Math Club at Florida Poly seeks to promote a healthy environment for students to embrace higher-level mathematics and
develop an appreciation for mathematics in STEM-related careers.
SPIE
SPIE welcomes anyone interested in optics, lasers, and optoelectronics. This international society is driven by project-oriented researchers looking to discover new technologies involving electromagnetic radiation.
Program Requirements
Your future as a trusted professional and confident problem solver begins with some essential skills. Your General Education courses give you:
Critical Thinking Skills…so that you can both make and follow a reasoned argument and develop habits of organized thinking and rational analysis.
Communication Skills…so that you can translate thoughts into words (spoken and written) and make the complex simple.
Exposure to Arts/Humanities and Social/Behavioral Sciences … so that you see all problems in their larger human context.
Mathematical Reasoning…so that you find and follow the quantitative thread connecting all scientific inquiry.
Scientific Reasoning…so that you can apply the scientific method to phenomenon big and small.
Your B.S. in Applied Mathematics requires 120 credits — typically 15 credits across eight semesters. You will complete 12 general education credits (Arts/Humanities and Social Science).
Click here for your complete plan of study for the B.S. in Applied Mathematics.
Click here for your complete degree planner for the B.S. in Applied Mathematics.
Ready to be a Phoenix? Learn about our admissions requirements.
Applied Mathematics in the News
Want to be a Phoenix? Get in touch with Admissions.