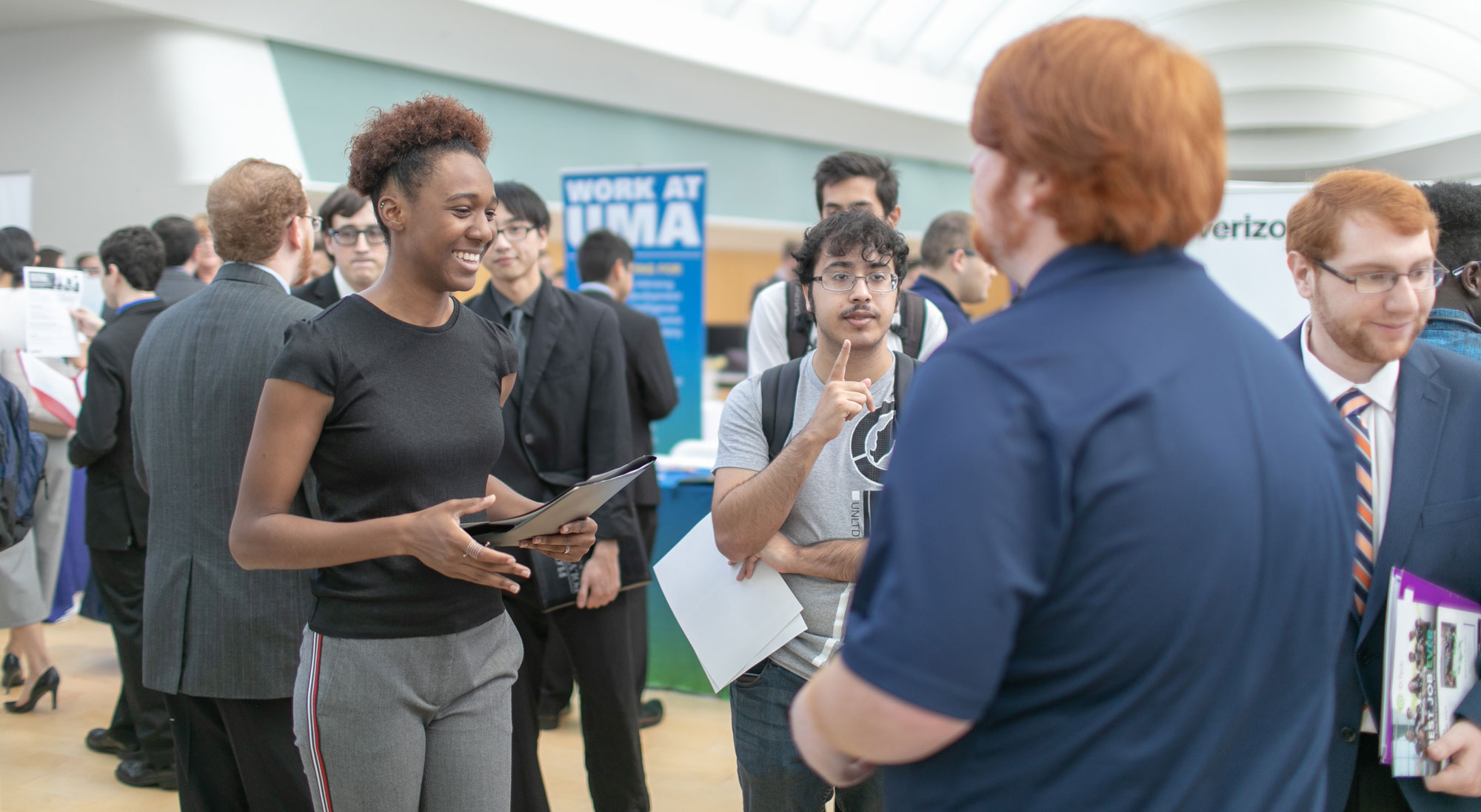 Career and Internship Fairs
Career Services hosts a career and internship fair each semester.
These events provide students with an opportunity to meet and learn more about companies (nearly 100) from various STEM related fields with headquarters across Florida, who are looking to hire for full-time, part-time, and internship opportunities.
This year's fairs will be held October 5, 2023 from 10am to 2pm, and February 13, 2024 in the Barnett Applied Research Center.
For Students: Information and reminders are shared in the Weekly Phoenix in the weeks leading up to the events. Students can register for the Career Fairs on Handshake.
For Employers: We invite all companies looking to hire STEM talent to attend the Spring Career Fair on February 13, 2024 from 10am - 4pm. This fair will take place on campus in the Barnett Applied Research Center. All fees are waived for the Spring Career Fair. Recruiters who would like to attend the Spring Career & Internship Fair can register on Handshake or can contact Career Services.
Tips for Success
Being prepared is the key to being successful at any on-campus career and internship fair or networking event. Here are some tips that can help you be the most prepared:
Know who will be there.

Log into Handshake and look through the list of companies that will be in attendance. Research them and know which companies you would like to speak with.

Know what you will say about yourself, your skills, and what you can bring to the company.

Go over your resume, and know what might need more clarification, and what your best qualities/traits are.

Prepare your resume.
Dress for success.

Business attire. This includes but is not limited to, shirt and tie, blazers, dress pants or skirt, professional dress, or two-piece suit. All clothes should be ironed/steamed prior to being put on.

Use good body language.

Maintain eye contact
Refrain from slouching or leaning on anything.
Remember to smile.

Speak with confidence.

Be clear and concise.
Practice what you are going to say (your elevator pitch).
Practice the STAR method. Go here for additional information.

Be prepared to chat.

Know how much time you have available, so you don't cut anyone off mid conversation.
If a conversation is going well, be ready to continue that conversation into a more casual context.
Know what you want to tell others about yourself (i.e. projects you've worked on, applicable experience you have, and even hobbies).

Get contact information.

Make sure you exchange business cards, give the employer your resume, or an email at the very least.

Cast a wide net.

Talk to as many companies as you can without rushing through any conversations.
Follow-up with a thank you email along with your resume.

This is why contact information is important. A follow-up email shows that you valued their time.

Consider reaching out to recruiters you met on LinkedIn.

This is a professional networking site built to help you through your career.

Reference someone you engaged with at the fair in the opening paragraph of your cover letter.

Your first paragraph should include how you heard about the company/job posting that you are applying for.

Maintain contact.

Don't let your connection fade away after a single encounter.
Find time to periodically stay connected with your new connection (i.e. Linkedin, email, etc.).