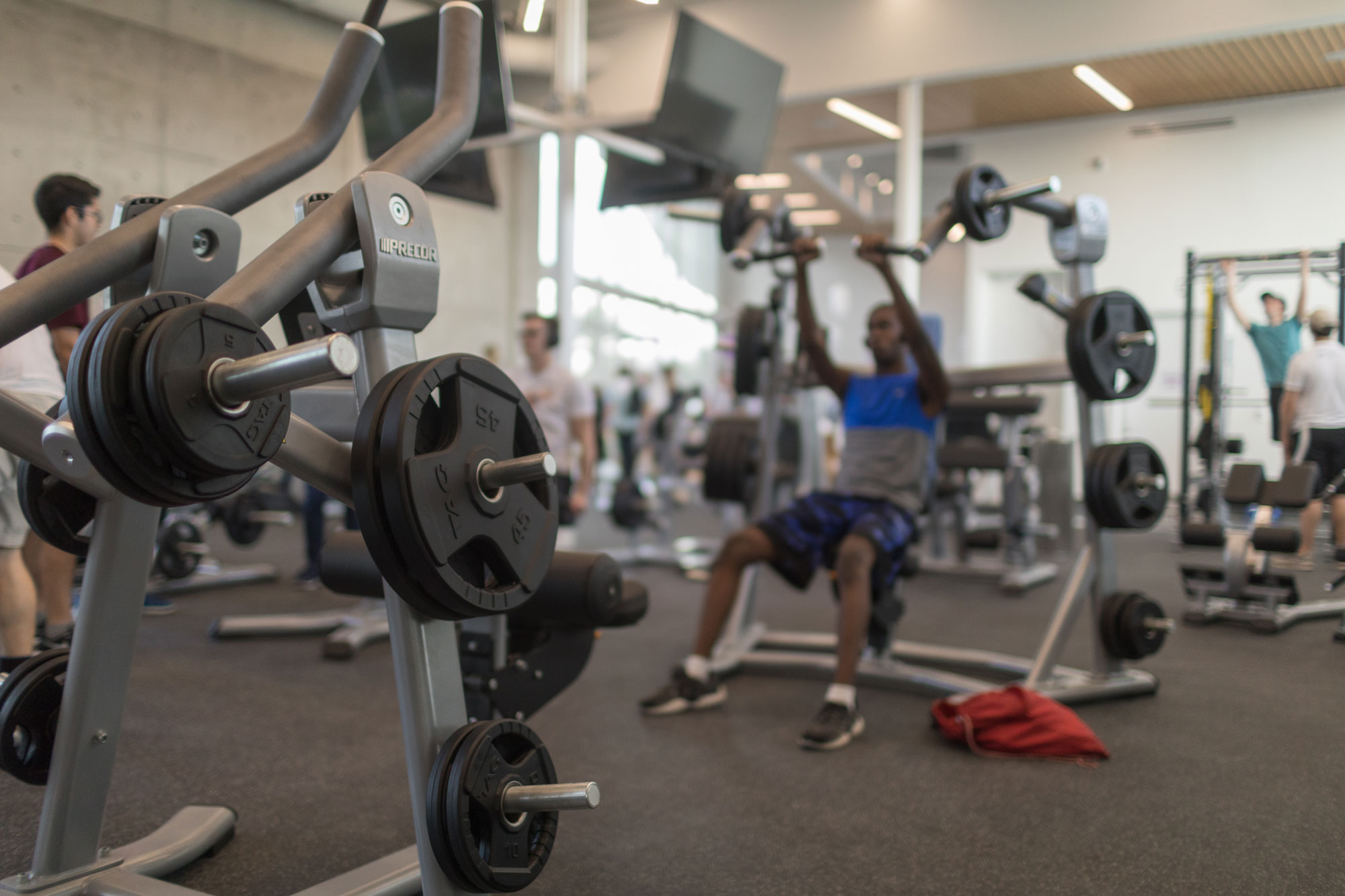 Fitness Center
We have transformed the old concept of a weight room into a clean, open, and functional area to help you reach your fitness goals.
Fitness Center
Florida Poly's Fitness Center is located in the Student Development Center. The Student Development Center is 9,700 sq. ft. and home to our state-of-the-art fitness space.
What's in the fitness area?
2 power racks
12 plate loaded machines
12 pieces of cardio equipment
Cable machine
Assisted dips/pull-ups
Resistance bands
2 full racks of dumbbells
Extensive kettlebell set
The multipurpose room allows students to have a space to reinvent the way they move. Students can reserve the room or drop in during open hours and as long as the room is available they can use it. The room is great for dancing, circuits, group workouts, studying, and anything else you can imagine.
Our greatest resource is our staff. We are here to support you. We want you to be comfortable and feel welcome at the gym. Ask us for a tour, how a machine works, or for a spot during your lift.
Membership
The facility is open to all students at no cost. Employees can purchase a membership for $10 a month.
Membership is required to use facilities. Apply today at the front desk of the Wellness Center.
Membership Includes:
Access to Fitness Center
Group fitness classes
Personal training (separate fee)
Access to recreation fields during non-intramural times. (Schedule posted in Fitness Center)
Participation in Intramural Programs: Open to students, faculty and Florida Poly staff only. (Not available to retirees, alumni, associate members or guests)
Weight Room Hours
Day
Time
Monday
6-8 a.m. /12-11 p.m.
Tuesday
6-8 a.m. /12-11 p.m.
Wednesday
6-8 a.m. /12-11 p.m.
Thursday
6-8 a.m. /12-11 p.m.
Friday
6-8 a.m. /12-11 p.m.
Saturday
10 a.m.- 2 p.m.
Sunday
4-9 p.m.

Holiday and school closure hours vary.
Group Fitness Classes
Yoga Classes
Zen yoga is a gentle yoga class geared toward those looking to find their breath and flow with their body in a series of relaxing poses and deep stretches.
Napercise is a 45-minute, stress relieving stretch class. There will be 25 minutes of light stretching to lower the heart rate and lower stress, followed by 20 minutes of a meditative power nap.
Power Yoga is fitness-based vinyasa class geared to get the heart rate up through a dynamic flow that links your breath with your movement. Prepare to sweat!
Cardio Classes
Core Storm: A 30-minute exercise sequence focused on developing the abdominal muscles.
Zombie Apocalypse Cardio: A 30-minute cardio routine designed to get you physically conditioned to survive if a zombie apocalypse breaks out.
Phoenix HIIT: A 30-minute high-intensity interval training class designed to increase heart rate quickly and bring it back down during active recovery.
Services
Open gym for self-paced workouts
Cardio machines equipped with smart technology for Netflix, YouTube, tracking & more
Group fitness classes
Small group training
Personal training
Fitness assessment
Equipment orientation
Active practicums and lectures
On-site/on-campus classes/training

Available upon request for Florida Poly departments and staff

Campus distance map for walkers, joggers & runners
Assumption of Risk
Each person applying for membership must fill out a one-time waiver form.