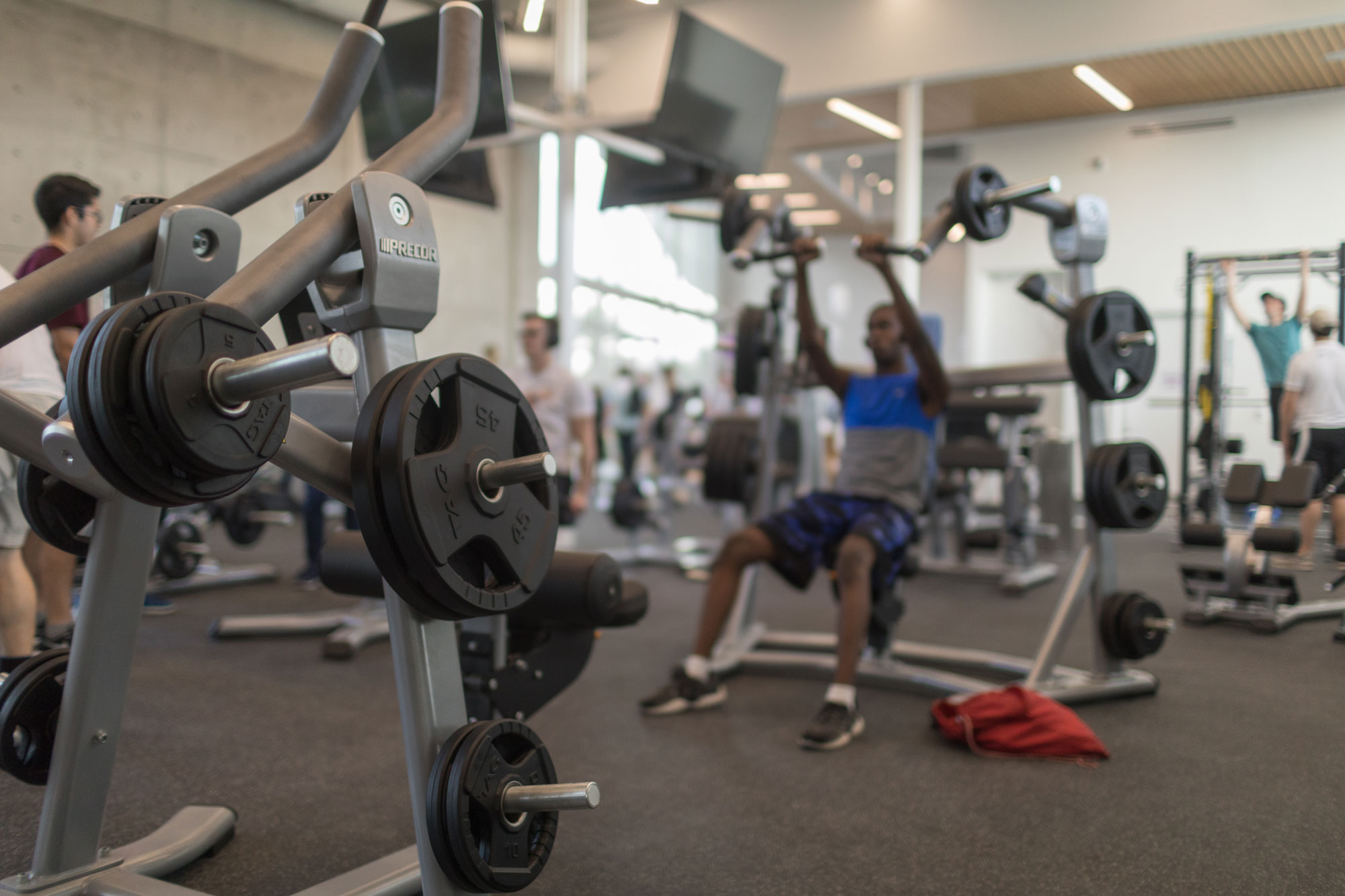 Fitness Programs
Florida Poly's recreation program provides opportunities for students, faculty, and staff to engage in physical activities to create healthy lifestyle habits and improve their physical and mental well-being.
Students are invited to work out in the Fitness Center, go for a swim, or take advantage of the beach volleyball, basketball, and tennis courts. There's also plenty to do on the recreation fields and there's always time to grab a hammock from the Student Development Center and enjoy a little relazation in the Oak Grove.
Fitness Center
The Fitness Center, located in the Student Development Center, is open to all Florida Poly students. Employees may use the facilities with an active membership.
What's in the fitness area?
2 power racks
12 plate loaded machines
12 pieces of cardio equipment
Cable machine
Assisted dips/pull-ups
Resistance bands
2 full racks of dumbbells
Extensive kettlebell set
The multipurpose room allows students to have a space to reinvent the way they move. Students can reserve the room or drop in during open hours and as long as the room is available they can use it. The room is great for dancing, circuits, group workouts, studying, and anything else you can imagine.
Our greatest resource is our staff. We are here to support you. We want you to be comfortable and feel welcome at the gym. Ask us for a tour, how a machine works, or for a spot during your lift.
Group Fitness Classes
Phoenix HIIT: A 45-minute high-intensity interval training class designed to increase heart rate quickly and bring it back down during active recovery. Classes are offered Monday through Friday at 7 p.m.
Water Aerobics: A 45-minute low-impact class designed to improve joint stability, coordination, heart health, and strength. Class is offered Wednesday at 3 p.m.
Services
Open gym for self-paced workouts
Cardio machines equipped with smart technology for Netflix, YouTube, tracking & more
Group fitness classes
Small group training
Personal training
Fitness assessment
Equipment orientation
Active practicums and lectures
On-site/on-campus classes/training

Available upon request for Florida Poly departments and staff

Campus distance map for walkers, joggers, and runners
Assumption of Risk
Each person applying for membership must fill out a one-time waiver form.